Meet the Richardsons is a brilliantly funny mockumentary series starring the real-life couple Jon Richardson and Lucy Beaumont. The Dave series chronicles the daily lives of the celebrity couple as they play exaggerated versions of themselves while many famous guest stars come and go. So, if you also like Meet the Richardsons here are some shows you could watch next.
Staged (Britbox)
Synopsis: David Tennant and Michael Sheen star as two actors whose West End play has been put on hold due to Covid-19, but whose director has persuaded them to carry on rehearsing online.
Married (Hulu)
Synopsis: Married is a half hour comedy about being miserably in love. Russ (Nat Faxon) and Lina Bowman (Judy Greer) can barely remember what life was like before kids, debt, and suburbia rained on their romance — but every once in a while, in between the arguments about their declining sex life and who's driving carpool, they are reminded what drew them together in the first place — they're best friends. The show also features Russ and Lina's friend AJ (Brett Gelman), who is recently divorced and pretending he's over his wife, and their other friend Jess (Jenny Slate), who is married to a much older man who can't keep up with her. Married was created by Andrew Gurland (The Virginity Hit, Mail Order Wife), who wrote and directed the pilot script and serves as Executive Producer/Showrunner, alongside Executive Producers Paul Young and Peter Principato.
---
Also Read: Comedy Shows Like 'Episodes' To Watch If You Miss the Series
---
Episodes (Paramount+ & Showtime)
Synopsis: Matt LeBlanc stars as Matt LeBlanc in Episodes, the hilarious comedy series about remaking a comedy series. When husband and wife writing team Sean and Beverly set out to reproduce their British TV hit for an American network, all of their worst fears come true as Hollywood lives up to its reputation for absurdity. Not only does the network cast Matt LeBlanc in the starring role, but Matt takes the lead in deviously twisting their beloved series into a terrible cliché, while testing the couple's marriage with diversions and temptations.
---
Also Read: Shows Like 'Everybody Loves Raymond' To Watch If You Miss the Series
---
Synopsis: Everybody Loves Raymond, a comedy about Ray Barone, a successful sports writer and family man whose parents and brother happen to live across the street. Mom Marie loves to meddle in Ray's life, while older brother Robert resents his success, and Dad Frank just makes snide comments and raids the refrigerator. Nevertheless, Ray manages to keep an easygoing outlook and a sense of humor, leaving the hard issues to his more practical wife, Debra.
---
Also Read: Shows Like 'Curb Your Enthusiasm' To Watch While Waiting For Season 12
---
Curb Your Enthusiasm (Max)
Synopsis: Larry David has it all–so why does he seem intent on making a mess of his life? Larry David stars as…Larry David in this acclaimed verite-style comedy series that follows him at home, at work and around town, as he lands himself in various predicaments with both fictional and real-life personalities.
---
Also Read: Shows Like 'Arrested Development' To Watch If You Miss the Series
---
Arrested Development (Netflix & Hulu)
Synopsis: Holding the Bluths together just barely is son Michael Bluth (Jason Bateman), the only normal guy in a family that's chock full of nuts. Hardworking and sensible, Michael's certain he's going to be given control of his family's Enron-style corporation upon the retirement of his father (Jeffrey Tambor). The fact that he's passed over instead for his mother (Jessica Walter) is only a blip when compared to his father's immediate arrest for dubious accounting practices, and the resulting freeze on the family's previously limitless wealth. Bereft of money, and even less family love, the Bluths have to band together in their moment of need–not easy when everyone's looking out for number 1. In addition to his scabrous parents, Michael has to contend with his lothario older brother (Will Arnett), his basically useless younger brother (Tony Hale), his greedy twin sister (Portia DeRossi), and her sexually ambiguous husband (David Cross). Michael's only comrade in sanity is his son George Michael (Michael Cera), but then again, the teenage boy harbors a secret crush on his cousin (Alia Shawkat).
---
Also Read: Shows Like 'Breeders' To Watch While Waiting For Season 4
---
Breeders (Hulu)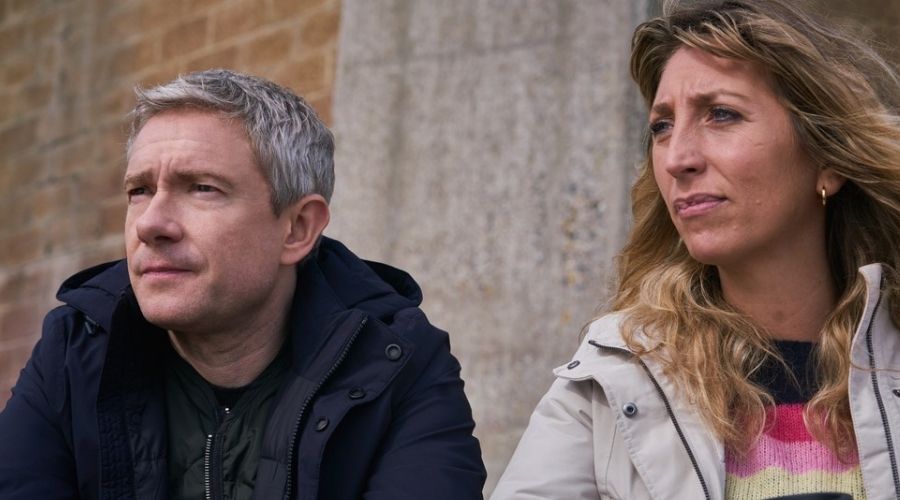 Synopsis: FX's Breeders is an uncompromising comedy that explores the lives of Paul (Martin Freeman) and Ally (Daisy Haggard) as they juggle full-time careers, aging parents, a mortgage and the unenviable curveballs of parenting their young children. When Ally's estranged father appears on their doorstep, the family essentially takes on a third child – but this one comes with baggage and opinions.
---
Also Read: Shows Like 'Lucky Hank' To Watch While Hoping For Season 2
---
Lucky Hank (AMC+)
Synopsis: From the executive producers of Breaking Bad and Better Call Saul, Bob Odenkirk is Lucky Hank. An English department chairman at an underfunded college, Professor Hank Devereaux toes the line between midlife crisis and full-blown meltdown, navigating the offbeat chaos in his personal and professional life – oddly proving tantrums get better with age.
---
Also Read: Shows Like 'You're the Worst' To Watch If You Miss the Series
---
You're the Worst (Hulu)
Synopsis: An original comedy from writer and executive producer Stephen Falk, You're The Worst puts a dark twist on the romantic comedy genre. Narcissistic, brash, and self-destructive "Jimmy Shive-Overly," played by Chris Geere (The Spa), thinks all relationships are doomed. Cynical, people-pleasing, and stubborn "Gretchen Cutler," played by Aya Cash (The Wolf of Wall Street), knows that relationships aren't for her. So when they meet at a wedding, it's only natural that the two of them go home together and, despite their better judgment, begin to find themselves falling for each other. Rounding out the cast is Desmin Borges (The Good Wife), who plays "Edgar Quintero," Jimmy's once homeless, war veteran roommate, and Kether Donohue (The Carrie Diaries) as "Lindsay Jillian," Gretchen's best friend and former partner in crime who's now struggling with a life of domesticity.