Line of Duty is one of the most intense and thrilling series ever made. Created by the consistently brilliant Jed Mercurio, the BBC series follows a special unit that uncovers police corruption. Line of Duty has given us many heart-pounding stories but we had to say goodbye to our favorite characters in 2021 as the series ended after six brilliant seasons. So, if you also miss the series here are some similar shows you could watch next.
---
Also Read: Shows Like 'Bodyguard' To Watch While Hoping For Season 2
---
The Bodyguard (Netflix)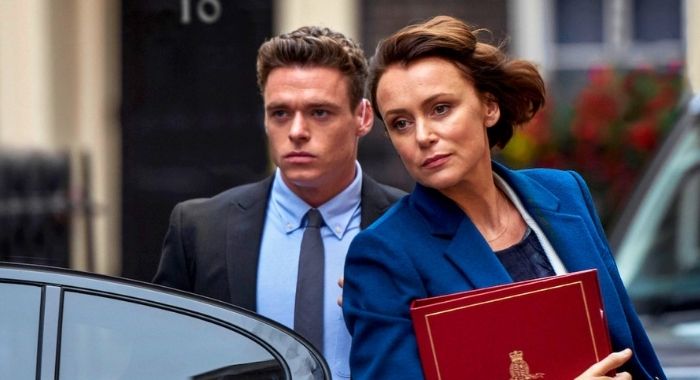 Synopsis: Set in and around the corridors of power, Bodyguard tells the fictional story of David Budd (Richard Madden), a heroic but volatile war veteran now working as a Specialist Protection Officer for the Royalty and Specialist Protection Branch (RaSP) of London's Metropolitan Police Service. When he is assigned to protect the ambitious and powerful Home Secretary Julia Montague (Keeley Hawes), whose politics stand for everything he despises, Budd finds himself torn between his duty and his beliefs. Responsible for her safety, is he actually her biggest threat?
We Own This City (Max)
Synopsis: Executive produced by George Pelecanos (The Deuce) and David Simon (The Wire) — and based on the book by Baltimore Sun reporter Justin Fenton — We Own This City is a six-hour, limited series chronicling the rise and fall of the Baltimore Police Department's Gun Trace Task Force. It examines the corruption and moral collapse that befell an American city in which the policies of drug prohibition and mass arrest were championed at the expense of actual police work. The cast includes Jon Bernthal (The Walking Dead, Show Me a Hero), Josh Charles (The Good Wife, In Treatment), Wunmi Mosaku (Lovecraft Country), and Jamie Hector (BOSCH, The Wire), among many others. See the full cast here.
---
Also Read: Shows Like 'Luther' To Watch If You Miss the Series
---
Luther (Britbox & Pluto TV)
Synopsis: On a moral crusade, with only his convictions for company, John Luther (Idris Elba) is a deeply troubled man, a philosophical cop possessed by the insoluble problem of evil and justice in a Godless world, who gets pulled to the very edge of temptation.
Synopsis: In early 1990s Boston, Assistant DA Decourcy Ward (Aldis Hodge) forms an unlikely alliance with a corrupt yet venerated FBI veteran, Jackie Rohr (Kevin Bacon). Together, they take on a case that ultimately changes the city's entire criminal justice system.
The Responder (Britbox)
Synopsis: Chris drives a frontline response vehicle in his home town of Liverpool. Night after night he faces crime, violence and addiction on the streets, whilst battling against personal demons that threaten to destabilise his work, his marriage and his mental health.
Sherwood (Britbox)
Synopsis: A politically pertinent thriller about a community torn apart by two shocking killings. A complex political past means that the industrial villages around Sherwood Forest have often been divided communities. But when two local residents are killed, old wounds are reopened and the town is engulfed in tension and fear. It's down to police chief Ian and London met police officer Kevin to solve the case. Can they help this fractured community heal? Drawn from real-life events, Sherwood is a shockingly relevant thriller about a burgeoning lack of trust in police and government and the way long-buried political tensions can resurface to devastating effect.
The Shield (Hulu)
Synopsis: Breaking the conventional formula of the cop genre, THE SHIELD plays out in a tough, morally ambiguous world in which the line between good and bad is crossed every day. It focuses on the tension between a group of corrupt but effective cops led by Detective Vic Mackey, a captain with the burden of bringing them down as well as reducing crime in her district, and a City Councilman out for his own political gain.
Berlin Station (MGM+)
Synopsis: Berlin Station is a contemporary spy series that follows Daniel Miller (Richard Armitage), an undercover agent who has just arrived at the CIA station in Berlin, Germany. Miller has a clandestine mission: to determine the identity of a now-famous whistleblower masquerading as "Thomas Shaw." Guided by jaded veteran Hector DeJean (Rhys Ifans) Daniel learns to contend with the rough-and-tumble world of the field officer – agent-running, deception, danger and moral compromises. As he dives deeper into the German capital's hall of mirrors and uncovers the threads of a conspiracy that leads back to Washington, Daniel wonders: Can anyone ever be the same after a posting to Berlin?