Letterkenny is surely one of the best sitcoms which has captured the hearts and minds of millions of people. The Canadian sitcom started out on a video-on-demand service Crave, but because of the popularity of the series, it got acquired by Hulu. Letterkenny shows the rural life of people in a small town named Letterkenny and tells their problems. The series mainly follows Wayne and his family and friends living and dealing with people in Letterkenny. The beloved Canadian series recently aired its eleventh season and if you already binged it here are some shows you might want to check out next.
---
Also Read: Shows Like 'Shoresy' To Watch If You Like the Series
---
Shoresy (Hulu)
Synopsis: Foul-mouthed, chirp-serving, mother-loving, fan favorite character, Shoresy (Jared Keeso) joins the Sudbury Bulldogs of the Northern Ontario Senior Hockey Organization (aka The NOSHO) on a quest to never lose again.
The Ranch (Netflix)
Synopsis: Set in a Colorado ranch, this multi-camera comedy series stars Ashton Kutcher, Danny Masterson, Sam Elliott and Debra Winger. The show follows Colt's (Kutcher) return home after a brief and failed semi- pro football career to run the family ranching business with his older brother Jameson "Rooster" (Masterson) and father Beau (Elliott), whom he hasn't seen in 15 years. Winger stars as Colt's and Rooster's mother, Maggie, who runs the local town bar.
Bless this Mess (Hulu)
Synopsis: This new single-camera comedy follows newlyweds Rio (Lake Bell) and Mike (Dax Shepard) as they make the decision to move from big city New York to rural Nebraska. After dropping everything (including their jobs and overbearing mother-in-law) to make the move from skyscrapers to farmhouses, they soon realize that the simpler life isn't as easy as they planned. Rio and Mike must now learn how to weather the storm as they are faced with unexpected challenges in their new life as farmers. The series stars Lake Bell as Rio, Dax Shepard as Mike, Ed Begley Jr. as Rudy, Pam Grier as Constance and JT Neal as Jacob.
---
Also Read: Best Shows Like 'Schitt's Creek' To Watch If You Miss the Series
---
Schitt's Creek (Hulu)
Synopsis: Schitt's Creek, created by Eugene Levy and Daniel Levy, follows a wealthy family who suddenly find themselves broke and forced to live in Schitt's Creek, a small town they once bought as a joke. It centers on an outrageously wealthy video store magnate, Johnny Rose (Eugene Levy); his former soap-star wife Moira (Catherine O'Hara); and their two adult children – the self-described black sheep of the family David (Daniel Levy) and career socialite Alexis (Annie Murphy). With their pampered lives a memory, they struggle to find jobs and relationships, and most importantly, figure out what it means to be a family in the makeshift but loveable town they've reluctantly come to call home.
---
Also Read: Best Shows Like 'Reservation Dogs' To Watch While Waiting For Season 2
---
Reservation Dogs (Hulu)
Synopsis: From Co-Creators and Executive Producers Sterlin Harjo and Taika Waititi, Reservation Dogs is a half-hour comedy that follows the exploits of four Indigenous teenagers in rural Oklahoma who steal, rob and save in order to get to the exotic, mysterious and faraway land of California. "Bear Smallhill" (D'Pharaoh Woon-A-Tai) is destined to be a warrior, and a leader. The only problem is he's not a good fighter, and the gang doesn't really consider him the leader. But with the guidance of a questionable spirit guide, he just might get there. "Elora Danan" (Devery Jacobs) may be the true leader of the group. But she's so focused on getting to California, and so oblivious to her own power, that she often can't see the beauty and goodness in herself and all around her. Street-smart tough girl "Willie Jack" (Paulina Alexis) is the beating heart of the group. She's always looking out for her crew. Meanwhile, "Cheese" (Lane Factor) is the gentle, quiet ride-or-die who is so willing to go along with the group that he never stops to consider what his own dreams might be. One year ago, Daniel, the fifth member of the Reservation Dogs, died. Struggling to make sense of the loss, the remaining four blame their boring, small town and its ability to crush the spirit. They decide to honor Daniel by adopting his dream of getting to California as their own. To succeed, they will have to save enough money, outmaneuver the methheads at the junkyard on the edge of town, constantly dodge conspiracy-obsessed Lighthorseman "Big" (Zahn McClarnon) and survive a turf war against a much tougher rival gang, led by the enigmatic "Jackie" (Elva Guerra). Reservation Dogs has Native rappers, catfish, Indigenous superstitions and spirits both hilarious and terrifying, laughter, tears, unexpected grandmothers, decent people, terrible people and a cavalcade of supporting characters who color and shade this already vibrant world.
---
Also Read: Shows Like 'Kim's Convenience' To Watch If You Miss the Series
---
Kim's Convenience (Netflix)
Synopsis: This multi-award-winning series features the lives of a Korean-Canadian family who run a convenience store in Toronto. The series is based on Kim's Convenience by Ins Choi.
---
Also Read: Comedy Shows Like 'Eastbound & Down' To Watch If You Miss the Series
---
Eastbound & Down (HBO Max)
Synopsis: As a baseball star, Kenny Powers had it all: money, fame, obsessed fans. But he threw it all away in a haze of hard-living and complacency. HBO presents this riotous comedy series starring Danny McBride as the former pitcher who finds himself out of baseball and reduced to teaching Phys Ed at the North Carolina school he once attended.
---
Also Read: Shows Like 'Derry Girls' To Watch If You Miss the Series
---
Derry Girls (Netflix)
Synopsis: Set in Derry Northern Ireland in the 1990s, Derry Girls is a candid, one-of-a-kind comedy about what it's like to be a teenage girl living amongst conflict. It's a warm, laugh out loud funny and honest look at the lives of an ordinary family living through the Troubles in the early nineties. Armed police in armoured Land Rovers, British Army check points and 'peace' walls are all an everyday reality for Erin. But, despite all that, she has other things to worry about, like the fact the boy she's in love with (actually in LOVE with), doesn't know she exists. Or that her Ma and Aunt Sarah make her include her weirdo cousin in EVERYTHING she does. Or that head teacher, Sister Michael, refuses to acknowledge Erin as a literary genius. Not to mention the fact that her second best friend has ALMOST had sex, whereas Erin's never even kissed anyone yet. Like all teenage girls, Erin has her own Troubles. Derry Girls is based on writer Lisa McGee's (Indian Summers, Being Human) own experiences of growing up in Northern Ireland amidst immense civil conflict.
---
Also Read: Best Shows Like 'It's Always Sunny in Philadelphia'
---
It's Always Sunny in Philadelphia (Hulu)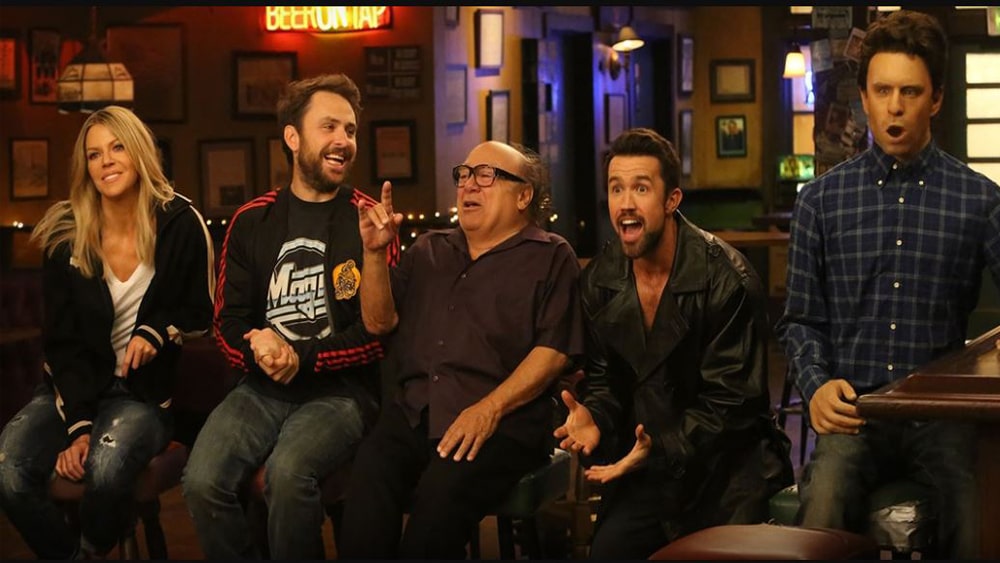 Synopsis: It's Always Sunny in Philadelphia features Mac, Dennis, Charlie, Sweet Dee and Frank, five ne'er-do-wells who own and operate Paddy's Pub in Philadelphia. Their constant scheming usually lands them in a world of hurt, yet they never seem to learn from their mistakes. As they say, some things never change. So prepare for more depraved schemes, half-baked arguments, and absurdly underhanded plots to subvert one another.
The Young Offenders (The Roku Channel)
Synopsis: The Young Offenders is a coming-of-age comedy series following the adventures of loveable rogues Conor and Jock alongside their mother/guardian Mairead as she tries to keep them on the straight and narrow through friendship, loyalty, laughter and lots of mischief. The Series will expand on characters already seen in the smash film of the same name, as we watch the lads encounter love, loss, peer pressure and morality, jam-packed with laughter, but also with a lot of heart.