Legacies is one of the best teen fantasy series out there and it is based on the characters from the hit CW series The Originals. Legacies tells the story of Hope Mikaelson, daughter of the werewolf and vampire hybrid Klaus Mikaelson, as she attends the Salvatore School for the Young and Gifted to control her immense powers. The series premiered in 2018 and ran for four seasons until it got canceled by the network. So, if you are bummed that the series got canceled you could watch these series that are similar to Legacies.
---
Also Read: Best Shows Like 'The Vampire Diaries' To Watch If You Miss the Series
---
The Vampire Diaries (HBO Max & Peacock)
Synopsis: The Vampire Diaries is yours for eternity! This passionate eight-volume collection traces the supernatural vampire love triangle between Elena Gilbert and the Salvatore brothers Stefan and Damon – from their first meeting at Mystic Falls High, through college, to the shocking return of Elena's doppelganger Katherine Pierce, who's hell-bent on revenge and destroying Mystic Falls. Elena's diary entries filled with tragic loss and romantic longing, Stefan's steadfast devotion to right and wrong, and Damon's cynical, devil-may-care attitude are the touchstones of this pulsing, action-packed series that grabbed vampire-loving viewers worldwide by the heart…and never let go.
---
Also Read: Best Shows Like 'The Originals' To Watch If You Miss the Series
---
The Originals (Netflix)
Synopsis: New Orleans sets a decadent, sensuous stage for the turbulent saga of the original vampire family. Conflicted siblings Elijah, Rebekah and vampire/werewolf hybrid Nicklaus are the bearers of the Mikaelson legacy, a family who built and ruled the French Quarter only to be exiled a century ago. When they return to reclaim the heart and soul of their beloved city from Klaus' former protégé, the diabolical, charismatic vampire Marcel Gerard, they ignite a long-smoldering power struggle between witches, werewolves and vengeful vampires—as well as passion, revenge, bloodlust and a primal desire to continue the familial bloodline.
---
Also Read: Shows Like 'The Order' To Watch If You Miss the Series
---
The Order (Netflix)
Synopsis: At Belgrave University, college freshman Jack Morton joins a fabled secret society where he's thrust into a dangerous game of life or death. As Jack goes deeper, he uncovers dark family secrets and an underground battle between werewolves and the magical dark arts.
---
Also Read: Fantasy Shows Like 'The Magicians' To Watch If You Miss The Series
---
The Magicians (Netflix)
Synopsis: Based upon Lev Grossman's best-selling books, The Magicians centers around Brakebills University, a secret institution specializing in magic. There, amidst an unorthodox education of spellcasting, a group of twenty-something friends soon discover that a magical fantasy world they read about as children is all too real— and poses grave danger to humanity.
---
Also Read: Witchy Supernatural Shows Like 'Chilling Adventures of Sabrina' You Should Watch
---
Chilling Adventures of Sabrina (Netflix)
Synopsis: Chilling Adventures of Sabrina imagines the origin and adventures of Sabrina the Teenage Witch as a dark coming-of-age story that traffics in horror, the occult and, of course, witchcraft. This adaptation finds Sabrina wrestling to reconcile her dual nature —half-witch, half-mortal —while standing against the evil forces that threaten her, her family and the daylight world humans inhabit.
---
Also Read: Shows Like 'Shadowhunters' To Watch If You Miss the Series
---
Shadowhunters (Hulu)
Synopsis: Based on the bestselling young adult fantasy book series The Mortal Instruments by Cassandra Clare, Shadowhunters' follows 18-year-old Clary Fray, who finds out on her birthday that she is not who she thinks she is but rather comes from a long line of Shadowhunters – human-angel hybrids who hunt down demons. When her mother Jocelyn is kidnapped, Clary is thrown into the world of demon hunting with mysterious Shadowhunter Jace and her best friend, Simon. Now living among faeries, warlocks, vampires and werewolves, Clary begins a journey of self-discovery as she learns more about her past and what her future may hold.
---
Also Read: Fantasy Shows Like "Teen Wolf" To Watch While Waiting For The Movie
---
Synopsis: Scott's a young high school sophomore who has always been on the outside looking in. No girlfriend, bad at sports and socially awkward. But a single wolf bite changes everything. Now Scott has super-human abilities which lead him to become the star of his lacrosse team. His athletic prowess also makes him popular and desirable, and he falls for the new girl in town, Allison, who's equally smitten. But Scott's new personality and abilities also pose several problems, including being pulled into the middle of a war between werewolves and werewolf hunters, the leader of which is the father of Allison.
---
Also Read: Shows Like 'True Blood' To Watch If You Miss the Series
---
True Blood (HBO Max)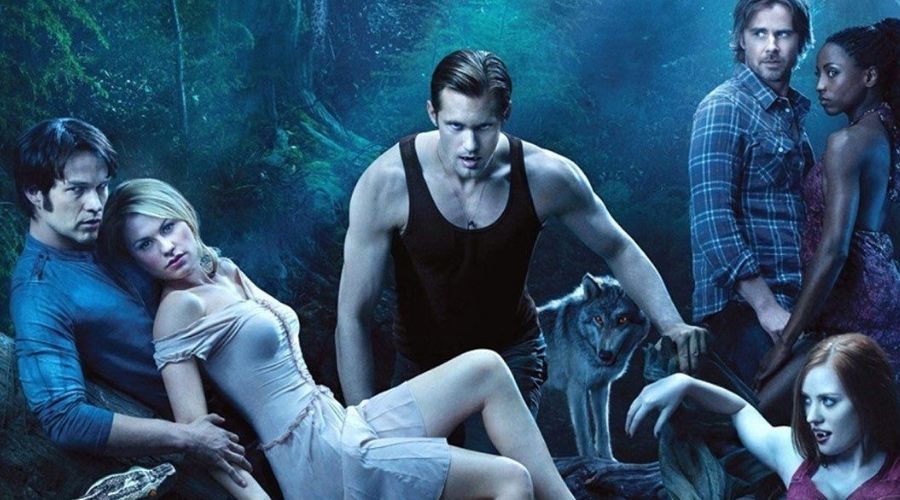 Synopsis: In the near-future, vampires have come out of the coffin…no longer in need of a human fix. But can a young Louisiana waitress (Anna Paquin) forge a love match with a bloodsucker? HBO presents this drama series created by Alan Ball ('Six Feet Under') and based on the best-selling Sookie Stackhouse novels by Charlaine Harris.
---
Also Read: Shows Like 'Buffy The Vampire Slayer' To Watch If You Miss the Series
---
Buffy The Vampire Salyer (Hulu & The Roku Channel)
Synopsis: After moving to Sunnydale, California, Buffy Anne Summers just wants to be a normal teenager. Back in Los Angeles, her first Watcher had died; she inadvertently burned down the gymnasium at her old high school; and her parents got a divorce. The move to Sunnydale is supposed to give both her and her mother, Joyce, a clean slate. But then she meets the school librarian, Rupert Giles, and quickly learns there is no escaping her destiny. With Giles as her new Watcher, she reluctantly steps back into her role as the Slayer. But this time she is not fighting alone. She now has an inner circle of special friends– Willow, Xander, Cordelia, and a mysterious young man named Angel– ready to join the fight and drive in a stake or two if need be.
---
Also Read: Shows Like 'Misfits' To Watch If You Miss the Series
---
Synopsis: Awarded the BAFTA for best drama series, Misfits follows a group of ASBO teenagers who develop strange powers after they are caught in a freak storm. This comedy drama series first aired in the UK in November 2009 to massive critical acclaim and went on to receive a host of awards and nominations.