Kim's Convenience is one of the sweetest family comedy-drama about a Korean Canadian family living in Toronto. The CBC series follows the Kim family and the patriarch of the film is Mr. Sang-il Kim (Paul Sun-Hyung Lee), a middle-aged stubborn man who runs a convenience store with the help of his wife Mrs. Yong-mi Kim (Jean Yoon), and his daughter Janet (Andrea Bang). The Kim family also has a son Jung Kim (Simu Liu), who works at a rental care service, and his relationship with his father is complicated. Kim's Convenience ran for five brilliant seasons ending its successful run in 2021, and it also launched a spin-off Strays that is currently airing its second season. So, if you miss the hilarious look into the Kim family here are some more shows you could watch next.
---
Also Read: Shows Like 'Fresh Off the Boat' To Watch If You Miss the Series
---
Fresh Off the Boat (Hulu)
Synopsis: It's the '90s and 12 year old, hip-hop loving Eddie just moved to suburban Orlando from DC's Chinatown with his parents. It's culture shock for his immigrant family in this comedy about pursuing the American Dream.
---
Also Read: Shows Like 'Corner Gas' To Watch If You Miss the Series
---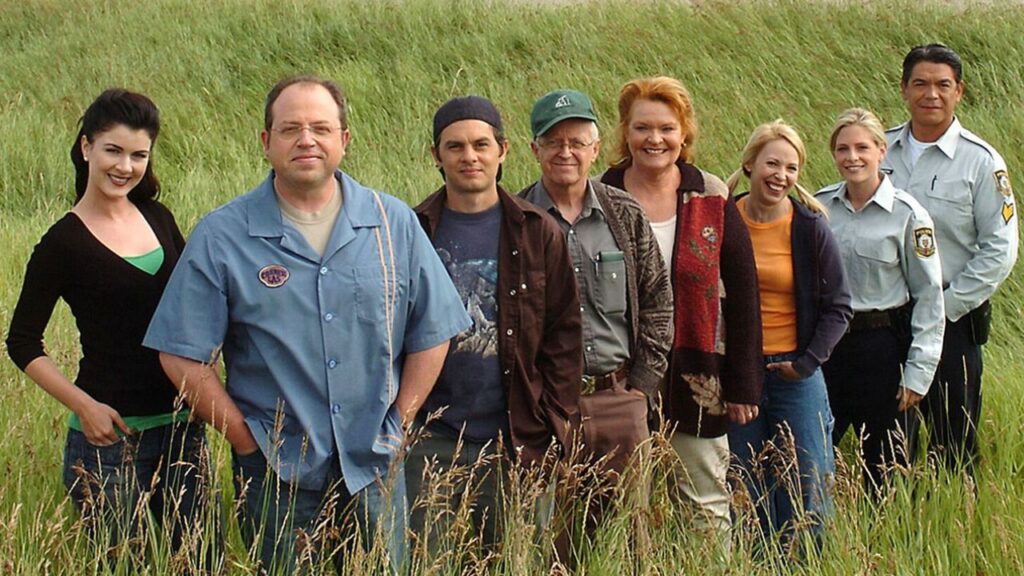 Synopsis: Forty kilometres from nowhere and way beyond normal is Corner Gas, an ensemble comedy series about a bunch of nobodies who get up to a whole lot of nothing in the fictional prairie town of Dog River, Saskatchewan.
---
Also Read: Comedy Shows Like 'Modern Family' To Watch If You Miss the Series
---
Modern Family (Hulu)
Modern Family is one of the longest-running sitcoms and it follows the Dunphy and Pritchett family. The series is a mockumentary-style comedy and it follows Jay Pritchett (Ed O'Neill), his new wife Gloria (Sofia Vergara), his stepson Manny (Rico Rodriguez), and his daughters family Claire Dunphy (Julie Bowen), her husband and the best father Phil Dunphy (Ty Burrell), their children Haley (Sarah Hyland), Alex (Ariel Winter), and Luke (Nolan Gould). The series also follows Jay's son Mitchell (Jesse Tyler Ferguson), his husband Cameron (Eric Stonestreet), and their adopted daughter Lily (Aubrey Anderson-Emmons). Modern Family ran for 11 seasons ending with a banger of a finale in 2020.
---
Also Read: Shows Like 'The Wonder Years' To Watch While Waiting For Season 2
---
The Wonder Years (Hulu & Disney+)
Synopsis: Inspired by the beloved award-winning series of the same name, "The Wonder Years" is a coming-of-age story set in the late 1960s that takes a nostalgic look at a black middle-class family in Montgomery, Alabama, through the point of view of imaginative 12-year-old Dean. With the wisdom of his adult years, Dean's hopeful and humorous recollections show how his family found their "wonder years" in a turbulent time. "The Wonder Years" stars Don Cheadle, narrating the series as Adult Dean Williams, Elisha "EJ" Williams as Dean Williams, Dulé Hill as Bill Williams, Saycon Sengbloh as Lillian Williams, Laura Kariuki as Kim Williams, Julian Lerner as Brad Hitman, Amari O'Neil as Cory Long and Milan Ray as Keisa Clemmons. Saladin Patterson serves as writer and executive producer. Lee Daniels and Marc Velez of Lee Daniels Entertainment also executive produce along with original series star, Fred Savage.
---
Also Read: Shows Like 'Schitt's Creek' To Watch If You Miss the Series
---
Schitt's Creek (Hulu)
Synopsis: Schitt's Creek, created by Eugene Levy and Daniel Levy, follows a wealthy family who suddenly find themselves broke and forced to live in Schitt's Creek, a small town they once bought as a joke. It centers on an outrageously wealthy video store magnate, Johnny Rose (Eugene Levy); his former soap-star wife Moira (Catherine O'Hara); and their two adult children – the self-described black sheep of the family David (Daniel Levy) and career socialite Alexis (Annie Murphy). With their pampered lives a memory, they struggle to find jobs and relationships. Most importantly, they figure out what it means to be a family in the makeshift but loveable town they've reluctantly come to call home.
One Day at a Time (Netflix)
Synopsis: A reimagining of the iconic Norman Lear's classic sitcom, One Day at a Time is an hilarious and heartfelt comedy that follows three generations of a Cuban-American family navigating the ups and downs of life. A newly-single mom and military veteran journeys through the triumphs and tribulations that come with raising two strong-willed, mega-millennial children, all the while enlisting the "help" of her old-school mother and her building manager-turned-invaluable confidant. Through a contemporary lens, One Day at a Time offers a glimpse at what life looks like, in good times and bad — and how those around you somehow make it all worthwhile. This series is based on the series One Day At A Time which was created by Whitney Blake and Allan Manings and developed by Norman Lear. It was developed by Gloria Calderón Kellett & Mike Royce.
---
Also Read: Shows Like 'Community' To Watch If You Miss the Series
---
Community (Netflix & Hulu)
Synopsis: From Dan Harmon (The Sarah Silverman Program) and Emmy Award-winning directors Joe and Anthony Russo (Arrested Development) comes Community, a smart comedy series about a band of misfits who attend Greendale Community College. At the center of the group is Jeff Winger (Joel McHale, The Soup), a fast-talkin' lawyer whose degree has been revoked. With some help from his fellow classmates, Winger forms a study group who eventually learn more about themselves than their course work.
Gentefied (Netflix)
Synopsis: Created by two Chicano first-gen writers, Gentefied is a half-hour dramatic comedy adapted from the 2017 Sundance digital darling of the same name. In this badass bilingual series about family, community, brown love, and the displacement that disrupts it all, three Mexican-American cousins struggle to chase the American Dream, even while that same dream threatens the things they hold most dear: their neighborhood, their immigrant grandfather, and the family taco shop. Set in a rapidly changing Los Angeles, the Spanglish dramedy will navigate important themes like identity, class, and balancing insta-fame with translating memes for their parents. But most importantly, Gentefied will settle once and for all how to pronounce Latinx.
---
Also Read: Shows Like 'Ramy' To Watch While Waiting For Season 4
---
Synopsis: EMMY® NOMINATED Ramy is a first generation Egyptian-American who is on a spiritual journey in his politically-divided New Jersey neighborhood. RAMY will bring a new perspective to the screen as it explores the challenges of what it's like being caught between a Muslim community that thinks life is a moral test and a millennial generation that thinks life has no consequences.
---
Also Read: Shows Like 'On My Block' To Watch If You Miss the Series
---
On My Block (Netflix)
Synopsis: On My Block, co-created by Lauren Iungerich (Awkward), Eddie Gonzalez & Jeremy Haft, is a coming of age comedy about four bright and street-savvy friends navigating their way through the triumph, pain and the newness of high-school set in LA's South Central neighborhood.