Killing Eve is one of the best series on television right now and today it is coming to an end. The brilliant espionage thriller series first premiered in 2018 and soon after that people and critics realized that this might be the best show on television. Created by Phoebe Waller-Bridge the British series stars Jodie Comer as Villanelle, Sandra Oh as Eve Polastri, Fiona Shaw as Carolyn, and Kim Bodnia as Konstantin. Killing Eve follows a bored MI5 agent Eve who gets fascinated by a female assassin Villanelle, and even though Eve's mission is to catch her and Villanelle's goal is to kill Eve, they are strangely drawn to each other. So, if you also love Killing Eve, here are the 10 best shows like it that you could watch after watching the final episode.
---
Also Read: Shows Like 'Hannibal' To Watch If You Miss the Series
---
Hannibal (Hulu)
Synopsis: FBI Agent Will Graham (Hugh Dancy) hunts the most notorious serial killers. Graham is both gifted and cursed with an extraordinary ability: he can think like his prey, seeing what they see and feeling what they feel. While pursuing an especially troubling, cannibalistic murderer, Special Agent Jack Crawford (Laurence Fishburne) teams Graham with a highly respected psychiatrist – a man with a taste for the criminally minded: Dr. Hannibal Lecter (Mads Mikkelsen).
---
Also Read: Best Shows Like 'Barry' To Watch After Season 3
---
Barry (HBO Max)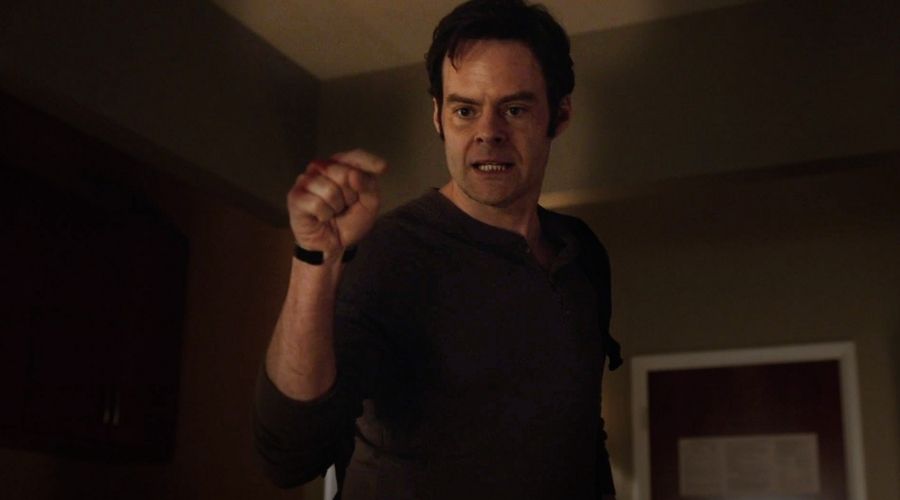 Synopsis: A cold-blooded hitman has a career epiphany when he's thrust into the intoxicating world of LA theatre in this dark comedy series starring Bill Hader ('Saturday Night Live'). In Season 1, Barry's handler (Stephen Root) hires him out to the deeply violent Chechen mob in Los Angeles. Barry's target: an aspiring actor whom Barry follows into an acting class taught by beloved teacher/guru Gene Cousineau (Henry Winkler). Instantly drawn to the craft and its students, particularly Sally (Sarah Goldberg), Barry wants to start a new life in this community of eager hopefuls. There's only one problem: his criminal past won't let him walk away.
---
Also Read: Shows Like 'The End of the F***ing World' To Watch If You Miss the Series
---
The End of the F***ing World (Netflix)
Synopsis: The End of the F***ing World has been adapted from Charles Forsman's award-winning comic books of the same name, written by Charlie Covell, with Alex Lawther and Jessica Barden leading the cast. They are joined by BAFTA award-winning Wunmi Mosaku and Gemma Whelan. James and Alyssa are rebel teenagers running away from home. On a weird and wonderful journey across a diverse British netherworld… From dreary suburbia and rundown shopping malls to lush landscapes and big vistas, they're on a quest to find a better life.
---
Also Read: Shows Like 'Orphan Black' To Watch If You Miss the Series
---
Synopsis: Orphan Black is a Sci-Fi thriller starring Tatiana Maslany in the lead role of Sarah, an outsider and orphan whose life changes dramatically after witnessing the suicide of a woman who looks just like her. Sarah hopes that cleaning out the dead woman's bank account will solve all of her problems. Instead, her problems multiply – and so does she. Sarah, the street smart chameleon, is thrust headlong into a kaleidoscopic mystery.
---
Also Read: Shows Like 'The Americans' To Watch If You Miss the Series
---
The Americans (Hulu)
Synopsis: The Americans is a period drama about the complex marriage of two KGB spies posing as Americans in suburban Washington D.C. during the Reagan administration. The arranged marriage of Philip (Matthew Rhys) and Elizabeth Jennings (Keri Russell) grows more passionate and genuine by the day, but as the pressures and demands of the job grow heavier, the personal toll becomes almost too exhausting to bear. Having revealed their true identities to their teenage daughter Paige (Holly Taylor), Philip and Elizabeth's ability to protect their cover and their family's safety deteriorates. After a particularly fraught mission, Philip and Elizabeth decide to end their tour and take their family home to Russia. However, a game-changing development in one of their ongoing cases forces them to abandon those plans for the sake of the motherland. Now, Paige delves deeper into the family business, even as Philip takes a step back from it. The Jennings struggle to maintain a smokescreen of normalcy, especially around their son, Henry (Keidrich Sellati), who remains blissfully ignorant of the spies in his midst. Their neighbor and Philip's best friend, FBI Agent Stan Beeman (Noah Emmerich), has also yet to discover their true identities. Although he's transferred divisions, Stan remains their greatest threat since his friend and former partner, Agent Dennis Aderholt (Brandon J. Dirden), leads the force tasked with uncovering the Soviet Illegals hiding in plain sight. With Gorbachev in power in the Soviet Union, the winds of change are sweeping through both Russia and America, creating new perils. A growing rift within the KGB draws disillusioned former officer Oleg Burov (Costa Ronin) back into the fray, and may set Philip and Elizabeth on opposing sides as the Cold War reaches its boiling point.
Run (HBO Max)
Synopsis: One text can change everything. Ruby (Merritt Wever) and her former boyfriend Billy (Domhnall Gleeson) made a pact more than 15 years earlier: if either of them texted "RUN" and the other replied with the same, they would both drop everything and meet in Grand Central Station to travel across America. This wildly unconventional series follows the pair on their epic journey.
The Little Drummer Girl (YouTube Primetime Subscription)
Synopsis: Based on John le Carré's best-selling literary masterpiece of the same name, The Little Drummer Girl is a passionate love story and a deeply immersive thriller. As audacious now as when the book was first published, it portrays a world in which the lines between hero and villain, and between love and hate, are dangerously in flux. The six-part miniseries stars Emmy® and Golden Globe® Award winner Alexander Skarsgård (Big Little Lies) as Becker, twice Academy Award-nominated Michael Shannon (The Shape of Water) as Kurtz and BAFTA-nominated Florence Pugh (Lady Macbeth) as Charlie. Set in the late 1970s, the pulsating thriller follows Charlie (Pugh), a young, fiery but unfulfilled British actress and idealist whose resolve is tested after she meets the mysterious Becker (Skarsgård) while on holiday in Greece. It quickly becomes apparent that his intentions are not what they seem, and her encounter with him entangles her in a complex plot devised by the spy mastermind Kurtz (Shannon). Charlie takes on the role of a lifetime as a double agent in the 'Theatre of the Real', but despite her natural mastery of the task at hand, she increasingly finds herself inexorably drawn into a dangerous world of duplicity and compromised humanity. Blurring the fine lines between love and hate; truth and fiction; and right and wrong; The Little Drummer Girl weaves a suspenseful and explosive story of espionage and high-stakes international intrigue.
---
Also Read: Spy Shows Like 'The Night Manager' To Watch If You are Still Hoping For Season 2
---
Synopsis: A contemporary interpretation of John le Carré's espionage novel, "The Night Manager" follows former British soldier Jonathan Pine (Tom Hiddleston) who is recruited by intelligence operative Angela Burr (Olivia Colman) to infiltrate the inner circle of international businessman Richard Onslow Roper (Hugh Laurie) and detonate the unholy alliance he has ministered between the intelligence community and the secret arms trade. To reach the heart of Roper's vast empire, Pine must withstand the suspicious interrogations of his venal chief of staff, Major Corkoran (Tom Hollander) and the allure of his beautiful girlfriend Jed (Elizabeth Debicki). In his quest to do the right thing, Pine must first become a criminal himself. Executive producers include John Le Carré, Simon Cornwell, Stephen Cornwell and Stephen Garrett. Writer David Farr also serves as an executive producer as does Academy Award® winner Susanne Bier, who serves as director.
Happy Valley (Crackle)
Synopsis: Catherine Cawood is a strong-willed police sergeant in West Yorkshire still coming to terms with her daughter's suicide. Just as she seems to be getting back on top of her life she spots Tommy Lee Royce , the man she believes is responsible for brutally raping her daughter. She soon becomes obsessed with finding Royce, unaware that he is involved in a kidnapping instigated by Kevin Weatherill, an accountant in way over his head.
---
Also Read: Best Shows Like 'Fleabag' To Watch If You Miss the Series
---
Synopsis: Fleabag is a hilarious and poignant window into the mind of a dry-witted, sexual, angry, grief-riddled woman, as she hurls herself at modern living in London. Award-winning playwright Phoebe Waller-Bridge writes and stars as Fleabag, an unfiltered woman trying to heal, while rejecting anyone who tries to help her and keeping up her bravado all along.