Jessica Jones is definitely one of the best superhero detectives shows ever made. We follow a function alcoholic private detective going about her as her past comes back to haunt her. Originally, Jessica Jones was a Netflix on which it ran for three seasons and now it has been moved to Disney+. While Netflix Marvel shows like Daredevil is getting their revival series no such news has been revealed about Krysten Ritter's Marvel hero. So, if you miss Jessica Jones here are some shows you could watch while waiting for any revival news.
The Defenders (Disney+)
Synopsis: Marvel's The Defenders follows Daredevil AKA Matt Murdock (Charlie Cox), Jessica Jones (Krysten Ritter), Luke Cage (Mike Colter) and Iron Fist AKA Danny Rand (Finn Jones), a quartet of singular heroes with one common goal – to save New York City. This is the story of four solitary figures, burdened with their own personal challenges, who reluctantly realize they just might be stronger when teamed together.
Glow (Netflix)
Synopsis: GLOW tells the fictional story of Ruth Wilder (Alison Brie), an out-of-work, struggling actress in 1980s Los Angeles who finds one last chance for stardom when she's thrust into the glitter and spandex world of women's wrestling. In addition to working with 12 Hollywood misfits, Ruth also has to compete with Debbie Eagan (Betty Gilpin) a former soap actress who left the business to have a baby, only to be sucked back into work when her picture perfect life is not what it seems. And at the wheel is Sam Sylvia (Marc Maron), a washed-up, B-movie director who now must lead this group of women on the journey to wrestling stardom.
---
Also Read: Shows Like 'The Umbrella Academy' To Watch After Season 3
---
The Umbrella Academy (Netflix)
Synopsis: On the same day in 1989, forty-three infants are inexplicably born to random, unconnected women who showed no signs of pregnancy the day before. Seven are adopted by a billionaire who creates The Umbrella Academy and prepares his "children" to save the world. Now, the six surviving members reunite upon the news of their father's passing and must work together to solve a mystery surrounding his death. But the estranged family begins to come apart due to their divergent personalities and abilities, not to mention the imminent threat of a global apocalypse. The Umbrella Academy is based on the comic book series created and written by Gerard Way, illustrated by Gabriel Bá, and published by Dark Horse Comics.
---
Also Read: Shows Like 'The OA' to Watch If You Miss the Series
---
The OA (Netflix)
The OA is one of the most fascinating and mind-bending sci-fi series ever created and even though the series was not completed as created by Brit Marling intended, still The OA garnered a massive following and upon its cancellation, the fans of the series were not even believing the news of cancellation to be true and theorizing that the cancellation news is a trick that the streaming platform is pulling to promote the upcoming season (to talk about this more spoils the series for those who still haven't watched it). The brilliant series tells one of the best and most confusing stories of all time following Prairie Johnson (Marling) who return home after a seven-year disappearance, and her return becomes more and more confusing as she was blind when she disappeared but now she is not and she is not talking about the disappearance.
---
Also Read: Sci-Fi Shows Like 'Altered Carbon' To Watch If You Miss the Series
---
Altered Carbon (Netflix)
Synopsis: In the future, human minds are digitized and downloaded from body to body. Last night, the wealthiest man on Earth, Laurens Bancroft (James Purefoy) was murdered. To investigate his death, he brings back ex-Envoy soldier Takeshi Kovacs (Joel Kinnaman / Will Yun Lee) and in exchange, Bancroft offers Kovacs the chance to live again.
---
Also Read: Shows Like 'Daredevil' To Watch While Waiting For Season 4
---
Daredevil (Disney+)
Synopsis: Daredevil follows Matt Murdock, attorney by day and vigilante by night. Blinded in an accident as a child, Murdock uses his heightened senses as Daredevil, fighting crime on the streets of New York after the sun goes down. His efforts are not welcomed by powerful businessman Wilson Fisk-aka Kingpin- and others whose interests collide with those of Daredevil.
---
Also Read: Shows Like 'The Punisher' To Watch If You Miss the Series
---
The Punisher (Disney+)
Synopsis: Frank Castle, also known as "The Punisher", believes he has exacted revenge on the criminals responsible for the tragic murder of his family. However, he soon uncovers a larger, deeper conspiracy behind the events that occurred, involving his time serving in the Marine Corps. Alongside run-ins with law enforcement, his ex-best friend Billy Russo, and former NSA analyst Micro, Frank seeks to uncover the truth once and for all.
---
Also Read: Shows Like 'Preacher' To Watch If You Miss the Series
---
Preacher (Hulu)
Synopsis: Based on the hit comic book series, Preacher is the edgy story of Jesse Custer, a conflicted preacher in a small Texas town who is inhabited by a mysterious entity that allows him to develop a highly unconventional power. With his fearless sidekicks, Tulip and Cassidy, he embarks on a wild, dark journey that is unlike any other.
---
Also Read: Shows Like 'Killing Eve' To Watch If You Miss the Series
---
Killing Eve (Hulu)
Synopsis: Based on the novellas by Luke Jennings Killing Eve centers on two women; Eve is a bored, whip-smart, pay-grade MI5 security officer whose desk-bound job doesn't fulfil her fantasies of being a spy. Villanelle is a mercurial, talented killer who clings to the luxuries her violent job affords her. Killing Eve topples the typical spy-action thriller as these two fiercely intelligent women, equally obsessed with each other, go head to head in an epic game of cat and mouse.
---
Also Read: Shows Like 'The Boys' To Watch While Waiting For Season 4
---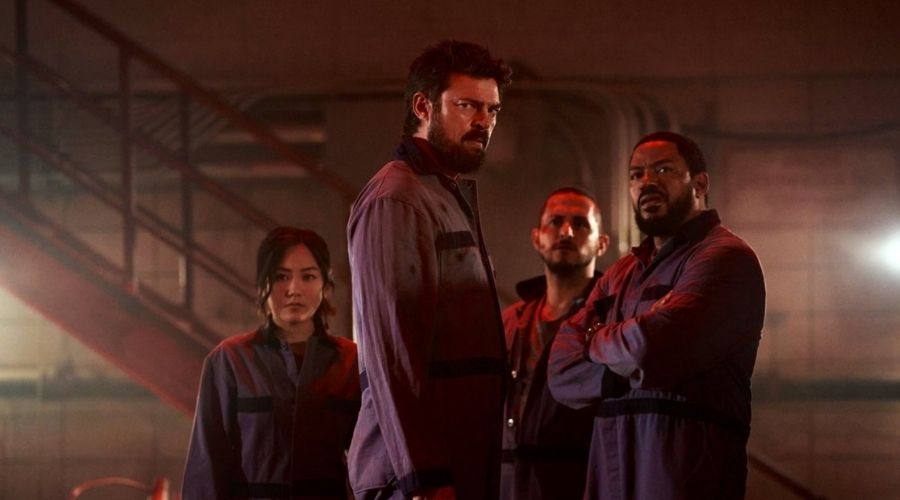 Synopsis: The Boys is an irreverent take on what happens when superheroes, who are as popular as celebrities, as influential as politicians and as revered as Gods, abuse their superpowers rather than use them for good. It's the powerless against the super powerful as The Boys embark on a heroic quest to expose the truth about "The Seven", and their formidable Vought backing.