Irreverent is an Australian comedy-drama series revolving around a criminal on the run posing as a priest in a small town. He struggles to adjust to all the quirks of the locals. The series stars Colin Donnell in the lead role of Paulo/Reverend Boyd. The series is a great comedy and a brilliant drama with a lot of heartfelt moments. So, if you like the new Peacock series here are some more shows you should watch next.
---
Also Read: Shows Like 'Panhandle' To Watch If You Liked the Series
---
Panhandle (Spectrum Originals)
Synopsis: Panhandle pairs an eccentric, agoraphobic arm-chair detective "Bell Prescott" (Luke Kirby) with a reluctant traffic cop "Cammie Lorde" (Tiana Okoye) in a series that showcases community, connection, and yes, only-in-Florida characters. When a dead body winds up on Prescott's doorstep, he and Cammie are forced to wrestle with personal demons, some shocking twists and a few Florida gators on their journey to heal themselves and their small Florida town.
Synopsis: A con man (Giovanni Ribisi) on the run from a vicious gangster (Bryan Cranston) takes cover from his past by assuming the identity of his prison cellmate, Pete, "reuniting" with Pete's estranged family, a colorful, dysfunctional group that threatens to drag him into a world just as dangerous as the one he's trying to escape – and, just maybe, give him a taste of the loving family he's never had.
Banshee (HBO Max)
Synopsis: Banshee stars Antony Starr as Lucas Hood, an ex-con and master thief who assumes the identity of the sheriff of Banshee, Pennsylvania, where he continues his criminal activities, even as he's hunted by the shadowy gangsters he betrayed years earlier. The action drama charts the twists and turns that follow Hood, who improbably becomes sheriff of the rural, Amish-area town while searching for a woman he last saw 15 years ago when he gave himself up to the police to let her escape after a jewel heist. Living in Banshee under an assumed name, Carrie Hopewell (Ivana Milicevic) is now married to the local DA, has two children (one of whom may be Lucas'), and is trying desperately to keep a low profile – until Lucas arrives to shake up her world and rekindle old passions. Complicating matters is the fact that Banshee is riddled by corruption, with an Amish overlord, Kai Proctor (Ulrich Thomsen), brutally building a local empire of drugs, gambling, and graft.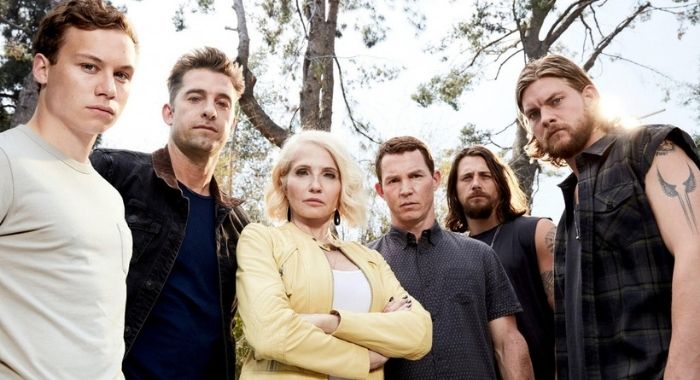 Synopsis: This bold family crime drama centers on teenage J Cody, who moves in with his freewheeling relatives in their Southern California beach town after his mother dies of an overdose. Quickly pulled into the family's life of excess, he soon discovers that it's all being funded by criminal activities. Joining the family comes with more danger and excitement than he might be ready to handle.
---
Also Read: Shows Like 'Barry' To Watch After Season 3
---
Barry (HBO Max)
Synopsis: A dark comedy starring Bill Hader (Saturday Night Live), who created and executive produced the series along with Alec Berg (HBO's Silicon Valley), Barry focuses on a depressed, low-rent hitman from the Midwest (Hader, in the title role) who falls in love with acting while on a job in LA.
Reprisal (Hulu)
Synopsis: From the producers of The Handmaid's Tale and Fargo comes a story that follows a relentless femme fatale who, after being left for dead, sets out to take revenge against her brother and his bombastic gang of gear-heads. The series stars Abigail Spencer, Rodrigo Santoro, Mena Massoud, Rhys Wakefield, Madison Davenport, Gilbert Owuor, David Dastmalchian, W. Earl Brown, Craig Tate, Wavyy Jonez, Shane Callahan, and Rory Cochrane. Reprisal is created by executive producer and showrunner Josh Corbin and executive produced by Warren Littlefield, Barry Jossen and Jonathan Van Tulleken. Ann Johnson and Graham Littlefield serve as co-executive producers.
Mr. Inbetween (Hulu)
Synopsis: A charismatic, yet volatile hitman Ray Shoesmith must navigate his chilling business while also maintaining friendships, parental responsibilities and a fledgling romance in a narrative driven by dark humor and offbeat conversation. Written and starring the winner of the 2019 Best Actor Logie Scott Ryan. Directed and executive produced by Nash Edgerton, with Jason Burrows and producer Michele Bennett.
Justified (Hulu)
Synopsis: Based on Elmore Leonard's novella "Fire in the Hole," Justified was developed by Graham Yost and stars Timothy Olyphant as Deputy US Marshal Raylan Givens, a lawman who finds himself drawn back to his home state of Kentucky.
Synopsis: DI Richard Poole is sent to the paradise island of Saint-Marie in the Caribbean to solve an impossible murder. He hates sun, sea and sand, but no matter – once he's solved the murder he'll be heading back to wonderful, cold, drizzly London. He does so, only to discover his boss back home has conspired to keep him there. He's trapped on an island he hates and people just keep getting murdered.
---
Also Read: Shows Like 'Brooklyn Nine-Nine' To Watch If You Miss the Series
---
Brooklyn Nine-Nine (Peacock)
Synopsis: From Dan Goor and Mike Schur, producers of The Office and Parks and Recreation, comes the hilarious Golden Globe® Award-winning comedy, Brooklyn Nine-Nine. Jake Peralta (Andy Samberg, Saturday Night Live) is a Brooklyn detective with a gift for closing cases and little respect for authority. When no-nonsense commanding officer Raymond Holt (Andre Braugher, Homicide: Life on the Street) joins the 99th precinct with something to prove, the two go head to head.