Hunters came to an end with its second and final season with our heroes getting a proper send-off. The alternate history drama came out of nowhere and surprised people with its intriguing story and complex characters. While the fans were saddened to hear that the second season of Hunters will be its last, the creator of the series David Weil suggested that the ending was worthwhile and to be truthful it is. With its brilliant cast including Logan Lerman, Al Pacino, Josh Radnor, Tiffany Boone, Kate Mulvany, Jennifer Jason Leigh, and Udo Kier the series really knocked it out of the park except for a few bumps in the story. So, if you have already binged your way through the second and final season and are already missing Hunters here are some shows you could watch next.
---
Also Read: Shows Like 'Watchmen' To Watch If You Miss the Series
---
Watchmen (HBO Max)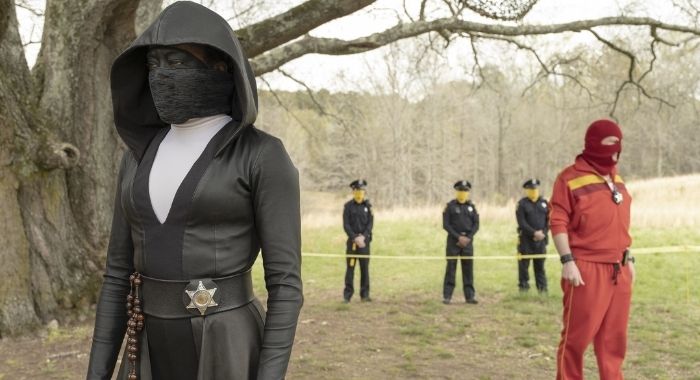 Synopsis: Set in an alternate history where masked vigilantes are treated as outlaws, this epic series from executive producer Damon Lindelof (Lost; HBO's The Leftovers) embraces the nostalgia of the original groundbreaking graphic novel of the same name, while attempting to break new ground of its own. Regina King (HBO's The Leftovers) leads the cast as Angela Abar, who wears two masks; one as a lead detective in The Tulsa Police Force and another as wife and mother of three. The cast also includes Jeremy Irons, Don Johnson, Jean Smart, Tim Blake Nelson, Louis Gossett Jr., Yahya Abdul-Mateen II, Tom Mison, Frances Fisher and Sara Vickers.​
Catch-22 (Hulu)
Synopsis: Christopher Abbott is Yossarian, a bombardier, whose frantic obsession every time he goes up on a mission is "to come down alive". His odds of success at such a simple aim keep getting worse, because Colonel Cathcart (Kyle Chandler) keeps raising the number of missions the men have to fly. More than the retreating Germans, the real enemy for Yossarian and his rag-tag bunch of friends is the bureaucracy of the military, inverting logic at every turn. The pinnacle of this is Catch-22, a military by-law which states that if you fly your missions, you're crazy, and don't have to fly them; all you have to do is ask. But if you as not to, then you're sane, and so you have to fly them. George Clooney stars as the barking mad, parade-obsessed Scheisskopf. Hugh Laurie is the mellow, slightly checked-out Major de Coverley. Clooney directs the six-episode series, along with Grant Heslov and Ellen Kuras.
---
Also Read: Shows Like 'The Man in the High Castle' To Watch If You Miss the Series
---
The Man in the High Castle (Prime Video)
Synopsis: Based on Philip K. Dick's award-winning novel, and executive produced by Ridley Scott (Blade Runner), The Man in the High Castle explores what it would be like if the Allied Powers had lost WWII, and Japan and Germany ruled the United States. Starring Rufus Sewell (John Adams), Luke Kleintank (Pretty Little Liars) and Alexa Davalos (Mob City).
The Plot Against America (HBO Max)
Synopsis: Based on a novel by Philip Roth published in 2004. It is an alternative history in which Franklin D. Roosevelt is defeated in the presidential election of 1940 by Charles Lindbergh. This limited-series follows the fortunes of the Roth family during the Lindbergh presidency, as antisemitism becomes more accepted in American life and Jewish-American families like the Roths are persecuted on various levels.
X Company
Synopsis: Fresh intel from the field; take a look now at CBC's new drama, X Company – an emotionally-driven character drama, set in the thrilling and dangerous world of WWII espionage and covert operations. Watch Wednesdays at 9pm CBC Television! Starring Evelyn Brochu (Orphan Black), Jack Laskey (Hatfields & McCoys), Warren Brown (Luther), Dustin Milligan (90210), Connor Price (Being Human), Hugh Dillon (Flashpoint) and Lara Jean Chorostecki (Hannibal).
---
Also Read: Shows Like 'Tom Clancy's Jack Ryan' To Watch While Waiting For Season 3
---
Synopsis: When CIA analyst Jack Ryan stumbles upon a suspicious series of bank transfers his search for answers pulls him from the safety of his desk job and catapults him into a deadly game of cat and mouse throughout Europe and the Middle East, with a rising terrorist figurehead preparing for a massive attack against the US and her allies.
---
Also Read: Shows Like 'The Terminal List' to Watch While Waiting For Season 2
---
Synopsis: Navy SEAL Commander James Reece turns to vengeance as he investigates the mysterious forces behind the murder of his entire platoon. Free from the military's command structure, Reece applies the lessons he's learned from nearly two decades of warfare to hunt down the people responsible.
---
Also Read: Shows Like 'The English' To Watch If You Liked the Western Drama
---
Synopsis: The English is an epic chase Western, from award-winning writer and director Hugo Blick. The series takes the core themes of identity and revenge to tell a uniquely compelling parable on race, power, and love. An aristocratic Englishwoman, Lady Cornelia Locke (Emily Blunt), and a Pawnee ex-cavalry scout, Eli Whipp (Chaske Spencer), come together in 1890 middle America to cross a violent landscape built on dreams and blood. Both of them have a clear sense of their destiny, but neither is aware that it is rooted in a shared past. They must face increasingly terrifying obstacles that will test them to their limits, physically and psychologically. But as each obstacle is overcome, it draws them closer to their ultimate destination—the new town of Hoxem, Wyoming. It is here, after an investigation by the local sheriff Robert Marshall (Stephen Rea) and young widow Martha Myers (Valerie Pachner) into a series of bizarre and macabre unsolved murders, that the full extent of their intertwined history will be truly understood, and they will come face-to-face with the future they must live. The series' ensemble cast includes Rafe Spall, Tom Hughes, Toby Jones, and Ciarán Hinds.
---
Also Read: Shows Like 'The Punisher' To Watch If You Miss the Series
---
The Punisher (Disney+)
Synopsis: Frank Castle, also known as "The Punisher", believes he has exacted revenge on the criminals responsible for the tragic murder of his family. However, he soon uncovers a larger, deeper conspiracy behind the events that occurred, involving his time serving in the Marine Corps. Alongside run-ins with law enforcement, his ex-best friend Billy Russo, and former NSA analyst Micro, Frank seeks to uncover the truth once and for all.
---
Also Read: Shows Like 'The Americans' To Watch If You Miss the Series
---
The Americans (Hulu)
Synopsis: The Americans is a period drama about the complex marriage of two KGB spies posing as Americans in suburban Washington D.C. during the Reagan administration. The arranged marriage of Philip (Matthew Rhys) and Elizabeth Jennings (Keri Russell) grows more passionate and genuine by the day, but as the pressures and demands of the job grow heavier, the personal toll becomes almost too exhausting to bear. Having revealed their true identities to their teenage daughter Paige (Holly Taylor), Philip and Elizabeth's ability to protect their cover and their family's safety deteriorates. After a particularly fraught mission, Philip and Elizabeth decide to end their tour and take their family home to Russia. However, a game-changing development in one of their ongoing cases forces them to abandon those plans for the sake of the motherland.
Now, Paige delves deeper into the family business, even as Philip takes a step back from it. The Jennings struggle to maintain a smokescreen of normalcy, especially around their son, Henry (Keidrich Sellati), who remains blissfully ignorant of the spies in his midst. Their neighbor and Philip's best friend, FBI Agent Stan Beeman (Noah Emmerich), has also yet to discover their true identities. Although he's transferred divisions, Stan remains their greatest threat since his friend and former partner, Agent Dennis Aderholt (Brandon J. Dirden), leads the force tasked with uncovering the Soviet Illegals hiding in plain sight. With Gorbachev in power in the Soviet Union, the winds of change are sweeping through both Russia and America, creating new perils. A growing rift within the KGB draws disillusioned former officer Oleg Burov (Costa Ronin) back into the fray, and may set Philip and Elizabeth on opposing sides as the Cold War reaches its boiling point.