How I Met Your Mother has become a television classic and while the series has a new and not-so-good reboot, the original will always be the one that fans adore with all their heart. How I Met Your Mother follows Ted as he tells his kids how he met their mother while living in New York with his friends. Even though it sounds like a pretty simple premise the characters in the series make up for it with their brilliant comedy and genuine connection. How I Met Your Mother premiered with its first season in 2005 and ended with its ninth and final season in 2014. Now, the series has been off-air for over 8 years but new and old fans have found the series on streaming platforms. So, if you miss the series here are some more comedy shows you could watch to pass the time.
---
---
How I Met Your Father (2022)
Synopsis: In the near future, Sophie (Hilary Duff) is telling her son the story of how she met his father: a story that catapults us back to the year 2021 where Sophie and her close-knit group of friends are in the midst of figuring out who they are, what they want out of life, and how to fall in love in the age of dating apps and limitless options. The series stars Hilary Duff, Christopher Lowell, Francia Raisa, Tom Ainsley, Tien Tran, Suraj Sharma as well as recurring stars, Kim Cattrall, Daniel Augustin, Ashley Reyes and Josh Peck. How I Met Your Father is written by Isaac Aptaker and Elizabeth Berger.
---
---
Seinfeld
Synopsis: Seinfeld stars Jerry Seinfeld as a stand-up comedian whose life in New York City is made even more chaotic by his quirky group of friends who join him in wrestling with life's most perplexing, yet often trivial questions. Often described as "a show about nothing," Seinfeld mines the humor in life's mundane situations like waiting in line, searching for a lost item, or the trials and tribulations of dating. Co-starring are Julia Louis-Dreyfus as Jerry's ex-girlfriend and current platonic pal, Elaine Benes; Jason Alexander as George Costanza, Jerry's neurotic hard-luck best friend; and Michael Richards as Jerry's eccentric neighbor, Kramer.
---
---
Friends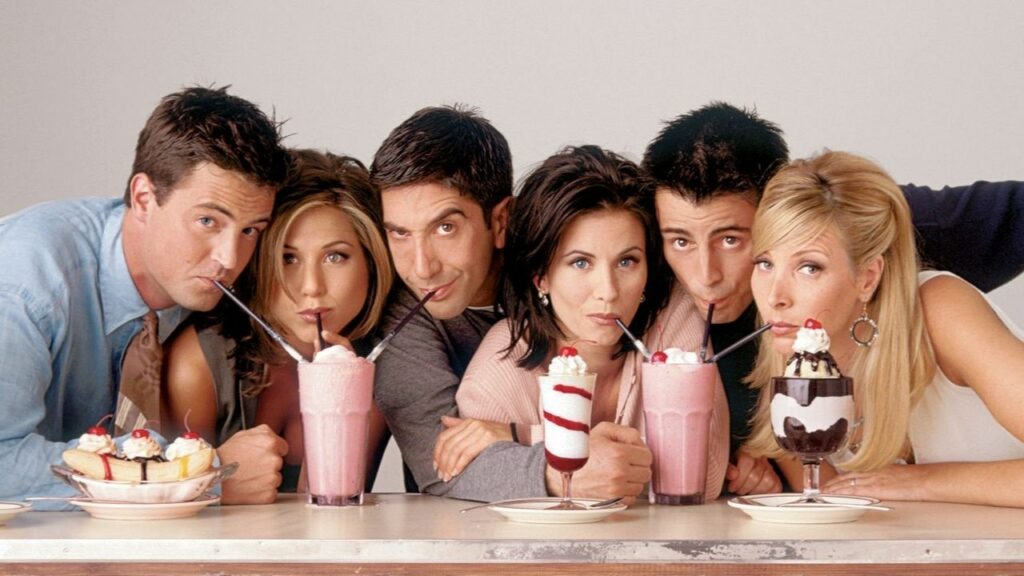 Synopsis: This is a show about love and sex and careers and a time in life when everything is possible … about the search for commitment and security … and the fear of commitment and security. Most of all, it's about friendship–for when you're young and single in the city, your friends are your family.
The Big Bang Theory
Synopsis: Leonard and Sheldon are brilliant physicists, the kind of "beautiful minds" that understand how the universe works. But none of that genius helps them interact with people, especially women. All this begins to change when a free-spirited beauty named Penny moves in next door. Sheldon, Leonard's roommate, is quite content spending his nights playing Klingon Boggle with their socially dysfunctional friends, fellow Caltech scientists Wolowitz and Koothrappali. However, Leonard sees in Penny a whole new universe of possibilities … including love.
It's Always Sunny in Philadelphia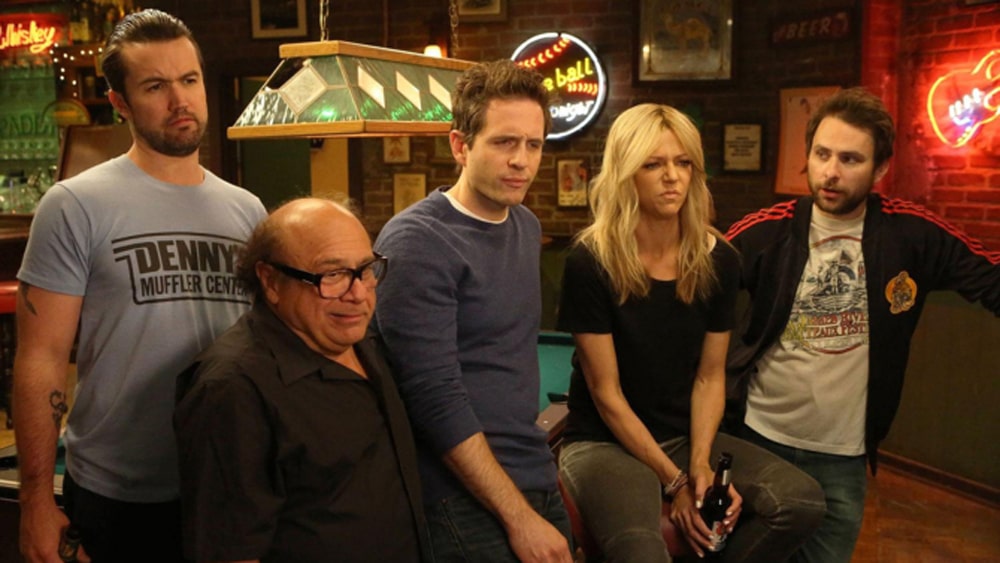 Synopsis: It's Always Sunny in Philadelphia features Mac, Dennis, Charlie, Sweet Dee and Frank, five ne'er-do-wells who own and operate Paddy's Pub in Philadelphia. Their constant scheming usually lands them in a world of hurt, yet they never seem to learn from their mistakes. As they say, some things never change. So prepare for more depraved schemes, half-baked arguments, and absurdly underhanded plots to subvert one another.
Happy Endings
Synopsis: Forget who gets to keep the ring, when a couple splits, the real question is, who gets to keep the friends? In this modern comedy, a couple's break up will complicate all of their friends' lives and make everyone question their choices. When life throws you for a curve, hold on tight to the people you love.
New Girl
Synopsis: A comedy series from executive producer/writer Liz Meriwether ("No Strings Attached"), New Girl features a young ensemble cast that takes a fresh look at friendship. After a bad break-up, Jess Day (Zooey Deschanel) needs a new place to live. An online search leads her to a great loft…and three single guys she's never met before. Nick (Jake Johnson), law school dropout turned bartender is the most grounded…and the most jaded. Schmidt (Max Greenfield) is a hustling young professional who's pretty proud of his own abs. Winston (Lamorne Morris), is an intensely competitive former athlete who doesn't know what to do next. Jess also meets Coach (guest star Damon Wayans Jr.), a personal trainer with a bit of an anger problem. Rounding out the group is Jess' childhood best friend, Cece (Hannah Simone), a model with a killer deadpan. The fivesome realize they need each other more than they thought they would and end up forming a charmingly dysfunctional — or strangely functional — family.
Community
Synopsis: From Dan Harmon (The Sarah Silverman Program) and Emmy Award-winning directors Joe and Anthony Russo (Arrested Development) comes Community, a smart comedy series about a band of misfits who attend Greendale Community College. At the center of the group is Jeff Winger (Joel McHale, The Soup), a fast-talkin' lawyer whose degree has been revoked. With some help from his fellow classmates, Winger forms a study group who eventually learn more about themselves than their course work.
Master of None
Synopsis: The show follows the personal and professional lives of Dev, a 30-year-old actor in New York who has trouble deciding what he wants to eat, much less the pathway for the rest of his life. Ambitious, funny, cinematic, and both sweeping in scope and intensely personal, Dev's story takes him through subjects as diverse as the plight of the elderly, the immigrant experience, and how to find the most delicious pasta for dinner.
Lovesick
Synopsis: Lovesick is an infectious romantic comedy series following the exploits of twenty-something Dylan, who must contact everyone he's ever slept with to tell them he has Chlamydia.