House of Cards is a series that put Netflix on the map. The incredibly dark drama is based on a 1989 novel by Michael Dobbs and also the 1990 BBC series of the same name. House of Cards follows Frank Underwood, a Democrat appointed as the secretary of state, and his wife as they begin their ruthless journey to the West Wing. House of Cards starred Kevin Spacey and Robin Wright in the lead roles but after all the sexual allegations against Spacey came out he was fired from the series. House of Cards premiered in 2013 and ran for five seasons ending its run in 2018. So, if you also miss the series here are some similar shows you could watch next.
House of Cards (Not Streaming in the US)
Synopsis: Francis Urquhart has succeeded in becoming Prime Minister and crushing the opposition, but he is threatened by a new and liberal king, who sympathises with the people and begins to get involved in political issues.
---
Also Read: Shows Like 'Succession' to Watch If You Already Miss the Series
---
Succession (Max)
Synopsis: ​Power, politics, money…it's all in the family in this provocative, bitingly funny drama series about a highly dysfunctional dynasty. When aging, uber-wealthy patriarch Logan Roy (Brian Cox), CEO of one of the world's largest media and entertainment conglomerates, decides to retire, each of his four grown children follows a personal agenda that doesn't always sync with those of their siblings–or of their father. After Logan changes his mind about stepping down, he endures the often-childish bickering of his heirs while others in their orbit position themselves for a post-Logan world that seems imminent, though not predestined. Jeremy Strong, Kieran Culkin, Sarah Snook and Alan Ruck co-star as Logan's children; also with Hiam Abbass, Nicholas Braun and Matthew Macfadyen.
---
Also Read: Shows Like 'Billions' To Watch While Waiting For Season 7
---
Billions (Paramount+ & Showtime)
Synopsis: Billions is a bold, contemporary drama that melds the worlds of ultra-wealth, influence and corruption as personified in two highly ambitious opposing figures: hard-charging, blue-blooded, politically connected U.S. Attorney Chuck Rhoades (Emmy and Golden Globe winner Paul Giamatti) and brilliant, calculating, blue-collar billionaire hedge fund king, Bobby "Axe" Axelrod (Emmy and Golden Globe winner Damian Lewis). Set amongst the Machiavellian machinations of New York City power politics and finance, BILLIONS weaves a complex, intricate narrative featuring a high-stakes game of predator-versus-prey.
---
Also Read: Shows Like 'The Crown' To Watch After Season 5
---
The Crown (Netflix)
Synopsis: The British Empire is in decline, the political world is in disarray, and a young woman takes the throne… a new era is dawning. Queen Elizabeth II is a 25-year-old newlywed faced with the daunting prospect of leading the world's most famous monarchy while forging a relationship with legendary Prime Minister Sir Winston Churchill. Golden Globe® winner for Best TV Drama Series, "The Crown," created by Peter Morgan, explores the Queen's private journey behind the public facade with daring frankness.
Political Animals (Rent on Apple TV)
Synopsis: In the miniseries Political Animals, Elaine Barrish (Sigourney Weaver) is a Hillary Clinton-like figure, tapped to be the U.S. Secretary of State after a failed run at the presidency, and the ex-wife of ex-president, Bud Hammond (Ciaran Hinds), a beloved Bill Clinton-ish horndog. Elaine and Bud are the parents of glossy John Kennedy-esque Douglas Hammond (James Wolk) and troubled T.J. (Sebastian Stan), who's openly gay, but secretly addicted to cocaine. Elaine weathers the ups and downs of her sons and the pecadilloes of her ex-husband, with whom she's still in love, while dealing with the complicated demands of her high-pressure job, and the scrutiny of reporter Susan Berg (Carla Gugino), a former enemy turned ally.
The Politician's Husband (Not Streaming in the US)
Synopsis: David Tennant and Emily Watson to star in Paula Milne's compelling new drama The Politician's Husband. Aiden Hoynes, a senior Cabinet Minister, is happily married to Freya, a junior Minister who has consistently put her own career ambitions on hold for the sake of Aiden's career and their family. When Aiden's career path to the top echelons comes to an abrupt halt, the power balance within his marriage is irrevocably shifted as he witnesses his wife's political career soar. Desperate to salvage his political career and cling to power at whatever cost, Aiden risks destroying everything he holds most dear.
---
Also Read: Shows Like 'Veep' To Watch If You Miss the Series
---
Veep (Max)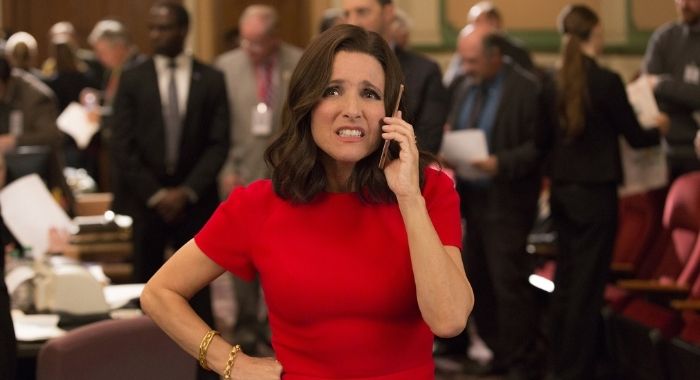 Synopsis: Julia Louis-Dreyfus stars in this comedy series that follows the whirlwind day-to-day existence of former President and Vice President Selina Meyer as she tries to claw her way back to being Commander in Chief in spite of her screwball staff. The ensemble cast includes Tony Hale as Selina's right-hand man; Anna Chlumsky as her chief of staff, and more.
---
Also Read: Shows Like 'The Diplomat' To Watch If You Like the Series
---
The Diplomat (Netflix)
Synopsis: Kate Wyler (Keri Russell) is the new US Ambassador to the United Kingdom. She was supposed to go to Afghanistan. She's great in a crisis zone. In a historic home… less so. War is brewing on one continent and boiling over on another. Kate will have to diffuse international crises, forge strategic alliances in London, and adjust to her new place in the spotlight — all while trying to survive her marriage to fellow career diplomat and political star Hal Wyler (Rufus Sewell). From showrunner Debora Cahn (THE WEST WING, HOMELAND), THE DIPLOMAT is a high-stakes, contemporary political drama about the transcendence and torture of long-term relationships, between countries and people. Also starring David Gyasi, Ali Ahn, Rory Kinnear, and Ato Essandoh, with executive producers Debora Cahn, Janice Williams, and Keri Russell.