Home Economics is definitely one of the most brilliant family comedies on air right now. The ABC series is based on Michael Colton's real-life experiences and it tells the story of three siblings and their families who are living in different situations. The little brother Connor (Jimmy Tatro) is ultra-rich and is living with his daughter in Matt Damon's former home after his divorce, the middle sister Sarah (Caitlin McGee) is living with his wife and two kids and they are barely scraping by, but the series is narrated by and mostly follows Tom (Topher Grace), who is a writer and lives with his wife and kids and lives is an upper-middle-class guy. The series also stars Karla Souza, Sasheer Zamata, Shiloh Bearman, Jordyn Curet, Chloe Jo Rountree, and JeCobi Swain. Home Economics recently aired its third season and while it has not been renewed for Season 4, we are pretty sure that it will get the green light. So, if you like the series and are waiting for the possible Season 4 here are some shows you could watch until then.
---
Also Read: Shows Like 'The Other Two' To Watch While Waiting For Season 3
---
The Other Two (HBO Max)
Synopsis: An aspiring actor and his sister Brooke, a former professional dancer, try to find their place in the world while wrestling with their feelings about their 13-year-old brother Chase's sudden rise to internet fame.
Life in Pieces (Hulu)
Synopsis: James Brolin, Dianne Wiest and Colin Hanks head an all-star cast in this hilarious new series that features four short stories each week about the members of one eccentric family!
---
Also Read: Comedy Shows Like 'Friday Night Dinner' To Watch If You Miss the Series
---
Friday Night Dinner (The Roku Channel)
Synopsis: For the Goodman family, Friday night dinner is just like Sunday lunch: just take two days away, add on an extra course and you've pretty much got it. Adam and his brother, Jonny, view Friday night dinner as a necessary annoyance. Necessary because they get fed, and annoying because, well, they have to spend the evening with Mum and Dad.
---
Also Read: Comedy Shows Like 'Modern Family' To Watch If You Miss the Series
---
Modern Family (Hulu)
Modern Family is one of the longest-running sitcoms and it follows the Dunphy and Pritchett family. The series is a mockumentary-style comedy and it follows Jay Pritchett (Ed O'Neill), his new wife Gloria (Sofia Vergara), his stepson Manny (Rico Rodriguez), and his daughters family Claire Dunphy (Julie Bowen), her husband and the best father Phil Dunphy (Ty Burrell), their children Haley (Sarah Hyland), Alex (Ariel Winter), and Luke (Nolan Gould). The series also follows Jay's son Mitchell (Jesse Tyler Ferguson), his husband Cameron (Eric Stonestreet), and their adopted daughter Lily (Aubrey Anderson-Emmons). Modern Family ran for 11 seasons ending with a banger of a finale in 2020.
---
Also Read: Shows Like 'Schitt's Creek' To Watch If You Miss the Series
---
Synopsis: Schitt's Creek, created by Eugene Levy and Daniel Levy, follows a wealthy family who suddenly find themselves broke and forced to live in Schitt's Creek, a small town they once bought as a joke. It centers on an outrageously wealthy video store magnate, Johnny Rose (Eugene Levy); his former soap-star wife Moira (Catherine O'Hara); and their two adult children – the self-described black sheep of the family David (Daniel Levy) and career socialite Alexis (Annie Murphy). With their pampered lives a memory, they struggle to find jobs and relationships. Most importantly, they figure out what it means to be a family in the makeshift but loveable town they've reluctantly come to call home.
Breeders (Hulu)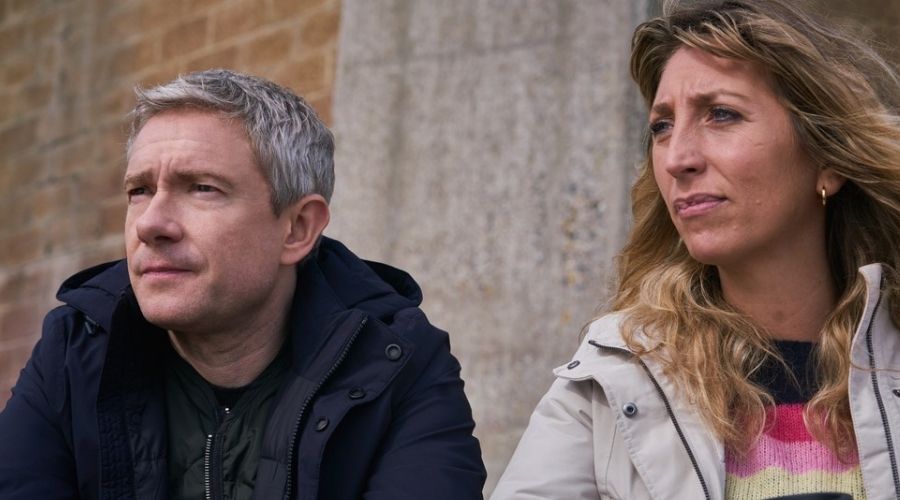 Synopsis: FX's Breeders is an uncompromising comedy that explores the lives of Paul (Martin Freeman) and Ally (Daisy Haggard) as they juggle full-time careers, aging parents, a mortgage and the unenviable curveballs of parenting their young children. When Ally's estranged father appears on their doorstep, the family essentially takes on a third child – but this one comes with baggage and opinions.
---
Also Read: Shows Like 'Kim's Convenience' To Watch If You Miss the Series
---
Kim's Convenience (Netflix)
Synopsis: This multi-award-winning series features the lives of a Korean-Canadian family who run a convenience store in Toronto. The series is based on Kim's Convenience by Ins Choi.
---
Also Read: Shows Like 'Arrested Development' To Watch If You Miss the Series
---
Arrested Development (Netflix & Hulu)
Synopsis: Holding the Bluths together just barely is son Michael Bluth (Jason Bateman), the only normal guy in a family that's chock full of nuts. Hardworking and sensible, Michael's certain he's going to be given control of his family's Enron-style corporation upon the retirement of his father (Jeffrey Tambor). The fact that he's passed over instead for his mother (Jessica Walter) is only a blip when compared to his father's immediate arrest for dubious accounting practices, and the resulting freeze on the family's previously limitless wealth. Bereft of money, and even less family love, the Bluths have to band together in their moment of need–not easy when everyone's looking out for number 1. In addition to his scabrous parents, Michael has to contend with his lothario older brother (Will Arnett), his basically useless younger brother (Tony Hale), his greedy twin sister (Portia DeRossi), and her sexually ambiguous husband (David Cross). Michael's only comrade in sanity is his son George Michael (Michael Cera), but then again, the teenage boy harbors a secret crush on his cousin (Alia Shawkat).
Synopsis: Friends With Better Lives is a romantic comedy about six friends at different stages in their lives – married, divorced, newly engaged and single – who are outwardly happy, but secretly questioning if their friends have it better.
---
Also Read: Comedy Shows Like 'Happy Endings' To Watch If You Miss the Series
---
Happy Endings (HBO Max & Hulu)
Synopsis: Forget who gets to keep the ring, when a couple splits, the real question is, who gets to keep the friends? In this modern comedy, a couple's break up will complicate all of their friends' lives and make everyone question their choices. When life throws you for a curve, hold on tight to the people you love.