Billy Crudup's new Apple TV+ series Hello Tomorrow! is finally and a retro-futuristic series about a charismatic salesman Jack Billings (Crudup) who is selling houses on the moon but from the beginning, it seems like Jack is hiding something.
Related: Hello Tomorrow! Review
Hello Tomorrow! has done a commendable job in building a world that feels very unique to this series. In contrast, the retro-futuristic setup has done very well in films like Her and The Incredibles but this Apple TV+ series definitely has its own very unique world that will definitely pull your interest into it. So, if you like the series here are some similar shows you could watch next.
---
Also Read: Shows Like 'Sneaky Pete' To Watch if You Miss the Series
---
Synopsis: A con man (Giovanni Ribisi) on the run from a vicious gangster (Bryan Cranston) takes cover from his past by assuming the identity of his prison cellmate, Pete, "reuniting" with Pete's estranged family, a colorful, dysfunctional group that threatens to drag him into a world just as dangerous as the one he's trying to escape – and, just maybe, give him a taste of the loving family he's never had.
---
Also Read: Shows Like 'Mad Men' To Watch If You Miss The Series
---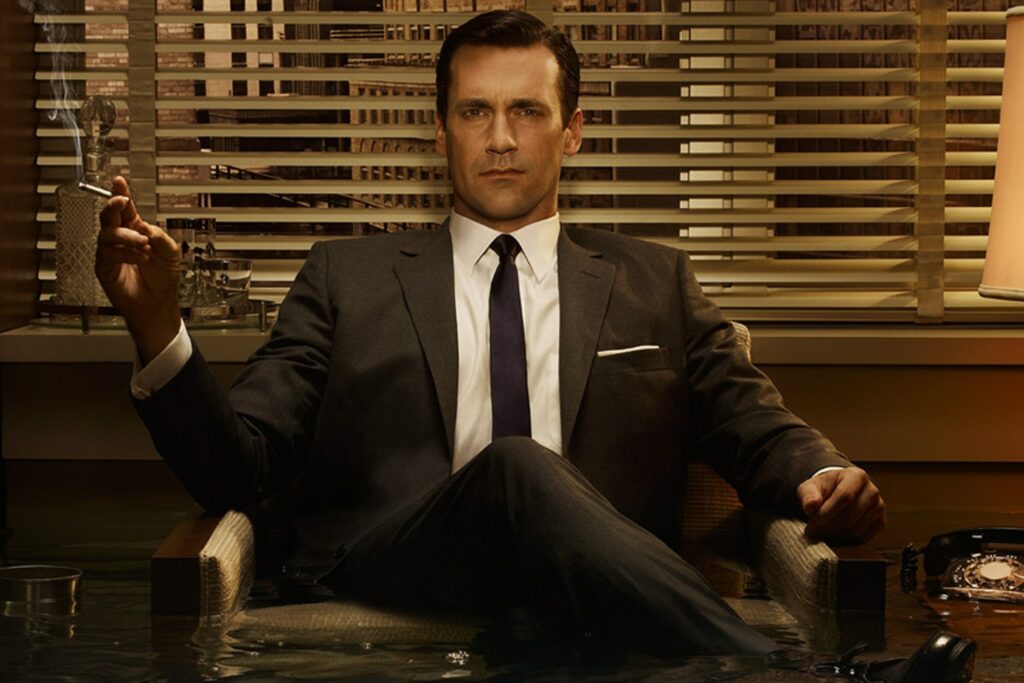 Synopsis: Set in 1960 New York City, in an unexpected new world – the high-powered and glamorous "Golden Age" of advertising – where everyone is selling something and nothing is ever what you expect it to be. The drama unfolds around Don Draper (Jon Hamm), the biggest ad man in the business. As he calls the shots in the boardroom and the bedroom, he struggles to stay a step ahead of the rapidly changing times and the young executives nipping at his heels.
White Gold (Netflix)
Synopsis: White Gold is the story of a double-glazing showroom in Essex in the mid-80's, led by charismatic salesman Vincent Swan, and his unscrupulous sales team, Brian Fitzpatrick and Martin Lavender. Smart, handsome and cocksure, Vincent will happily break the rules if it guarantees a sale.
---
Also Read: Shows Like 'Better Call Saul' To Watch If You Miss the Series
---
Better Call Saul (Netflix)
Synopsis: Before Saul Goodman met Walter White, he was struggling attorney Jimmy McGill (Bob Odenkirk). In this prequel to the Emmy-winning series Breaking Bad, Jimmy teams up with Mike Ehrmantraut (Jonathan Banks) and begins his transformation from optimistic underdog into Albuquerque's most notorious legal legend. Michael McKean stars as Jimmy's brilliant, uncompromising brother, Chuck.
---
Also Read: Shows Like 'Halt and Catch Fire' To Watch If You Miss the Series
---
Synopsis: At the dawn of the Information Age, Joe MacMillan (Lee Pace), a manipulative mastermind, Gordon Clark (Scoot McNairy), an embittered visionary, Cameron Howe (Mackenzie Davis), a volatile prodigy and Donna Clark (Kerry Bishé), a working mother, dared to dream big, forging an unlikely alliance in their quest to build a personal computer; but their union was short-lived… ripped apart by the harsh realization that in history, only the truly disruptive ideas matter. Allegiances are tested as partners get caught up in the online wave taking over the tech landscape, and attempts to heal old wounds and deal with the fallout of past conflicts expose the thin line that separates genius from self-delusion, the fragility of human connection, and everyone's desire to do something extraordinary.
---
Also Read: Shows Like 'Severance' To Watch While Waiting For Season 2
---
Severance (Apple TV+)
Synopsis: In Severance, Mark Scout (Scott) leads a team at Lumon Industries, whose employees have undergone a severance procedure, which surgically divides their memories between their work and personal lives. This daring experiment in 'work-life balance' is called into question as Mark finds himself at the center of an unraveling mystery that will force him to confront the true nature of his work… and of himself.
---
Also Read: Shows Like 'Suits' To Watch If You Miss the Series
---
Synopsis: Suits delves into the fast-paced, high-stakes world of Manhattan Corporate law firm where hotshot attorney, Harvey Specter (Gabriel Macht) makes a risky move by hiring legal prodigy Mike Ross (Patrick J. Adams) as his new associate despite not having a college or law degree. The two are forced to keep up the charade as they become an irrepressible duo. Boundaries are crossed, alliances are tested and fallouts are inevitable in the riveting nine seasons which also stars Meghan Markle, Gina Torres, Sarah Rafferty, Rick Hoffman, Dulé Hill, Amanda Schull and Katherine Heigl.