Harley Quinn is definitely one of the most hilarious and inventive supervillain series based on DC comics. The HBO Max series follows the titular heroine/villainess as she breaks off her toxic relationship with the Joker and teams up with Poison Ivy, Clayface, King Shark, and Dr. Psycho to become the next big thing in Gotham. Harley Quinn recently concluded its third season and has been renewed for Season 4 so while you wait for the upcoming season here are some shows you could watch while waiting.
---
Also Read: Shows Like 'Doom Patrol' To Watch While Waiting For Season 4
---
Doom Patrol (HBO Max)
Synopsis: Doom Patrol reimagines one of DC's most beloved groups of Super Heroes: Robotman aka Cliff Steele (series star Brendan Fraser), Negative Man aka Larry Trainor (series star Matt Bomer), Elasti-Woman aka Rita Farr (series star April Bowlby) and Crazy Jane (series star Diane Guerrero), led by modern-day mad scientist Niles Caulder aka The Chief (series star Timothy Dalton). Each member of the Doom Patrol suffered a horrible accident that gave them superhuman abilities, but also left them scarred and disfigured. Traumatized and downtrodden, the team found their purpose through The Chief, coming together to investigate the weirdest phenomena in existence. Following the mysterious disappearance of The Chief these reluctant heroes will find themselves in a place they never expected to be, called to action by none other than Cyborg (series star Joivan Wade), who comes to them with a mission hard to refuse. Part support group, part Super Hero team, the Doom Patrol is a band of superpowered freaks who fight for a world that wants nothing to do with them. Based on the characters created for DC by Arnold Drake, Bob Haney and Bruno Premiani.
---
Also Read: Shows Like 'Futurama' To Watch If You Miss the Original Series
---
Futurama (Hulu)
Synopsis: While delivering pizza on New Year's Eve 1999, Philip J. Fry is accidentally cryonically frozen and thawed out one thousand years into the future. From the creator of "The Simpsons," "Futurama" is a sci-fi animated comedy.
The Venture Bros. (Hulu & HBO Max)
Synopsis: Two all-American teens spend most of their time hopping from one adventure to the next. Along with their caustic and self-centered father, Dr. Venture, the brothers have the uber-spy Brock Samson to protect them. Beset on all sides, the Venture Brothers do all they can just to make it out alive.
---
Also Read: Shows Like 'The Boys' To Watch While Waiting For Season 4
---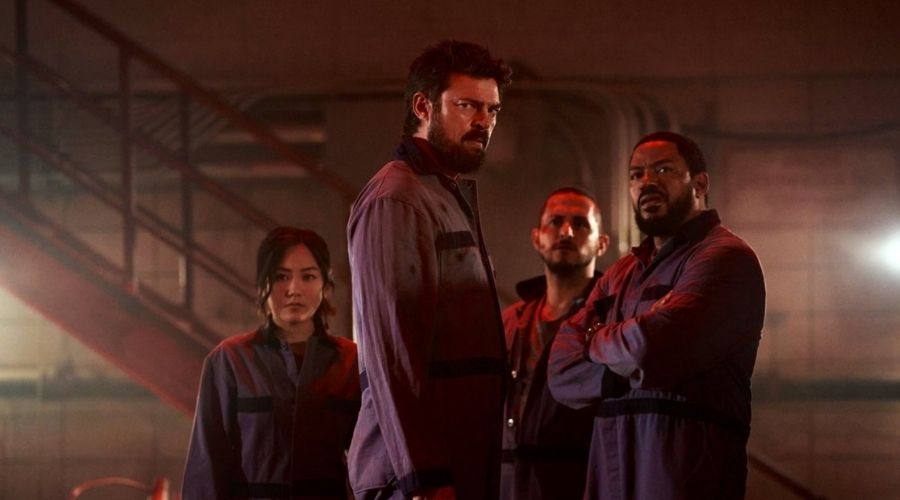 Synopsis: The Boys is an irreverent take on what happens when superheroes, who are as popular as celebrities, as influential as politicians and as revered as Gods, abuse their superpowers rather than use them for good. It's the powerless against the super powerful as The Boys embark on a heroic quest to expose the truth about "The Seven", and their formidable Vought backing.
Birdgirl (HBO Max)
Synopsis: 30-something Judy Ken Sebben inherits her father's company, which would be great if that company weren't built around the most socially irresponsible 20th Century products and practices that, on a good day, involves clearing redwood forests or operating for-profit children's hospitals. From the halls of the company headquarters, she assembles the ragtag, non-overtime earning Birdteam.
---
Also Read: Shows Like 'Arcane' You Should See
---
Arcane (Netflix)
Synopsis: Arcane dives into the delicate balance between the rich city of Piltover and the seedy underbelly of Zaun. Tensions between these city-states boil over with the creation of hextech — a way for any person to control magical energy – in Piltover; and in Zaun, a new drug called shimmer transforms humans into monsters. The rivalry between the cities splits families and friends as Arcane brings life to the relationships that shape some of League of Legends' famous champions including Vi, Jinx, Caitlyn, Jayce and Viktor. Based on the world behind the game League of Legends, the animated event series features a complex world filled with moral decisions, breathtaking animation and suspenseful storytelling.
Tuca & Bertie (Netflix & HBO Max)
Synopsis: Tuca & Bertie is an animated comedy series about the friendship between two 30-year-old bird women who live in the same apartment building: Tuca (Tiffany Haddish), a cocky, care-free toucan, and Bertie (Ali Wong), an anxious, daydreaming songbird. Lisa Hanawalt (BoJack Horseman) created the series, which consists of 10-episodes for its first season. Hanawalt is an executive producer alongside Raphael Bob-Waksberg (BoJack Horseman), Noel Bright (BoJack Horseman, Friends), Steven A. Cohen (BoJack Horseman, Jack & Bobby), Tiffany Haddish and Ali Wong.
---
Also Read: Dark Comedy Shows Like 'Rick and Morty' To Watch While Waiting For Season 7
---
Rick and Morty (Hulu & HBO Max)
Synopsis: After having been missing for nearly 20 years, Rick Sanchez suddenly arrives at daughter Beth's doorstep to move in with her and her family. Although Beth welcomes Rick into her home, her husband, Jerry, isn't as happy about the family reunion. Jerry is concerned about Rick, a sociopathic scientist, using the garage as his personal laboratory. In the lab, Rick works on a number of sci-fi gadgets, some of which could be considered dangerous. But that's not all Rick does that concerns Jerry. He also goes on adventures across the universe that often involve his grandchildren, Morty and Summer.
---
Also Read: Offbeat Superhero Shows Like 'Invincible' To Watch While Waiting For Season 2
---
Synopsis: From The Walking Dead creator Robert Kirkman, and based on the Skybound/Image comic of the same name by Kirkman, Cory Walker, and Ryan Ottley, Invincible is an hour-long, adult animated superhero show that revolves around seventeen-year-old Mark Grayson (Steven Yeun), who's just like every other guy his age — except that his father is the most powerful superhero on the planet, Omni-Man (J.K. Simmons). But as Mark develops powers of his own, he discovers that his father's legacy may not be as heroic as it seems.
M.O.D.O.K. (Hulu)
Synopsis: Taking over the world has never felt farther away as the megalomaniacal super villain M.O.D.O.K. struggles to maintain control over his evil organization and his demanding family.
Star Trek: Lower Decks (Paramount+)
Synopsis: Developed by Emmy Award winner Mike McMahan, STAR TREK: LOWER DECKS, a new half-hour animated comedy series, focuses on the support crew serving on one of Starfleet's least important ships, the U.S.S. Cerritos, in 2380. Ensigns Mariner, Boimler, Rutherford and Tendi have to keep up with their duties and their social lives, often while the ship is being rocked by a multitude of sci-fi anomalies.
---
Also Read: Shows Like 'Peacemaker' To Watch While Waiting For Season 2
---
Peacemaker (HBO Max)
Synopsis: Peacemaker explores the continuing story of the character that John Cena reprises in the aftermath of executive producer James Gunn's 2021 film The Suicide Squad – a compellingly vainglorious man who believes in peace at any cost, no matter how many people he has to kill to get it! The series stars John Cena as Peacemaker, Danielle Brooks as Adebayo, Freddie Stroma as Vigilante, Jennifer Holland as Harcourt, Chukwudi Iwuji as Murn, Steve Agee as Economos and Robert Patrick as Auggie Smith.
---
Also Read: Shows Like 'The Legend of Vox Machina' To Watch While Waiting For Season 2
---
The Legend of Vox Machina (Prime Video)
Synopsis: They're rowdy, they're ragtag, they're misfits turned mercenaries for hire. Vox Machina is more interested in easy money and cheap ale than actually protecting the realm. But when the kingdom is threatened by evil, this boisterous crew realizes that they are the only ones capable of restoring justice. What began as a simple payday is now the origin story behind Exandria's newest heroes.