Halt and Catch Fire is definitely one of the most thrilling series ever made about computers. The brilliant series is set in the 1980s and it follows a fictionalized version of the innovation in personal computing. Halt and Catch Fire stars Lee Pace, Mackenzie Davis, Scoot McNairy, and Kerry Bishé. The series ran for 4 brilliant seasons on AMC ending its run in 2017. So, if you miss the series here are some more shows you should watch next.
---
Also Read: Shows Like 'Silicon Valley' to Watch If You Miss the Series
---
Silicon Valley (HBO Max)
Synopsis: In the high-tech gold rush of modern Silicon Valley, the people most qualified to succeed are the least capable of handling success. From HBO and the offbeat mind of Mike Judge ('Office Space,' 'Beavis & Butthead') comes this comedy series that delves into the outrageous world of tech start-ups and the socially awkward underdogs trying to navigate its lucrative potential.
Minx (HBO Max)
Synopsis: Minx is set in 1970s Los Angeles and centers around Joyce (Ophelia Lovibond), an earnest young feminist who joins forces with a low-rent publisher (Jake Johnson) to create the first erotic magazine for women.
---
Also Read: Shows Like 'Suits' To Watch If You Miss the Series
---
Synopsis: Suits delves into the fast-paced, high-stakes world of Manhattan Corporate law firm where hotshot attorney, Harvey Specter (Gabriel Macht) makes a risky move by hiring legal prodigy Mike Ross (Patrick J. Adams) as his new associate despite not having a college or law degree. The two are forced to keep up the charade as they become an irrepressible duo. Boundaries are crossed, alliances are tested and fallouts are inevitable in the riveting nine seasons which also stars Meghan Markle, Gina Torres, Sarah Rafferty, Rick Hoffman, Dulé Hill, Amanda Schull and Katherine Heigl.
StartUp (Crackle)
Synopsis: Sometimes you have to build a company from the underground up. Adam Brody (The O.C., The League), Edi Gathegi (The Blacklist, Twilight), Otmara Marrero (Graceland), Martin Freeman (The Hobbit, Sherlock), Ron Perlman (Sons of Anarchy) and Mira Sorvino (Mighty Aphrodite) star in a Sony Crackle Original series about a group of unlikely business partners who, after taking illegal money to fund their tech start-up, fall down the dark rabbit hole of criminal enterprise.
The Pitchers (TVFPlay)
Synopsis: Four guys quit their jobs to start their own company. Not as easy as it sounds.
---
Also Read: Shows Like 'Succession' to Watch While Waiting For Season 4
---
Succession (HBO Max)
Synopsis: ​Power, politics, money…it's all in the family in this provocative, bitingly funny drama series about a highly dysfunctional dynasty. When aging, uber-wealthy patriarch Logan Roy (Brian Cox), CEO of one of the world's largest media and entertainment conglomerates, decides to retire, each of his four grown children follows a personal agenda that doesn't always sync with those of their siblings–or of their father. After Logan changes his mind about stepping down, he endures the often-childish bickering of his heirs while others in their orbit position themselves for a post-Logan world that seems imminent, though not predestined. Jeremy Strong, Kieran Culkin, Sarah Snook and Alan Ruck co-star as Logan's children; also with Hiam Abbass, Nicholas Braun and Matthew Macfadyen.
---
Also Read: Shows Like 'Mad Men' To Watch If You Miss The Series
---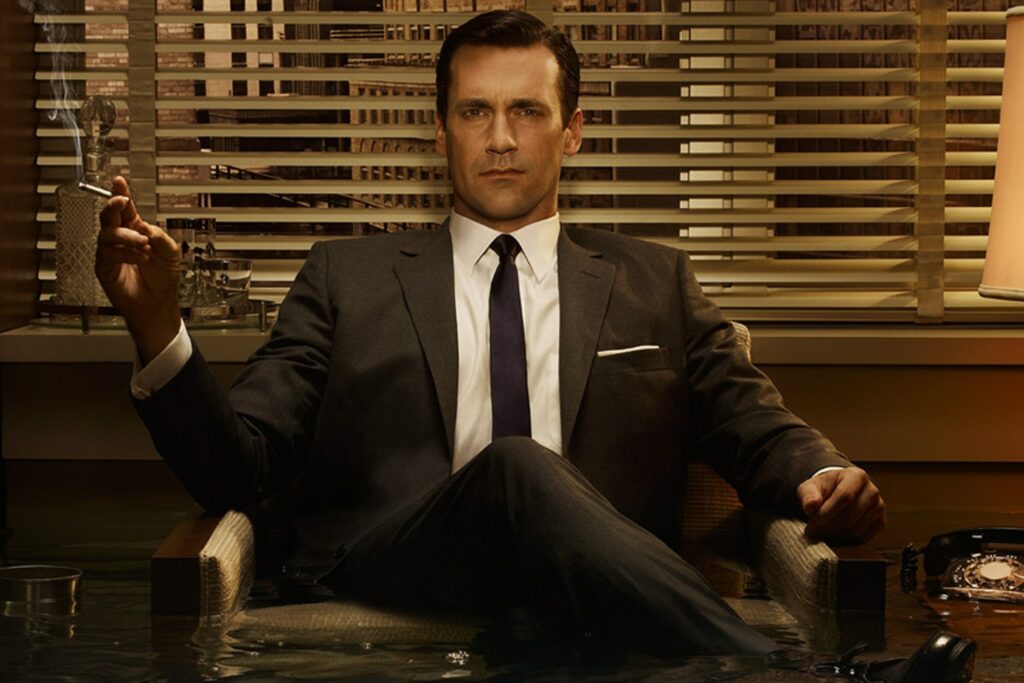 Synopsis: Set in 1960-1970 New York, the sexy, stylised and provocative AMC drama Mad Men follows the lives of the ruthlessly competitive men and women of Madison Avenue advertising. The indefatigable Don Draper (Jon Hamm) is the top ad executive, but there are plenty of young guns eager to topple him from his perch, in the Golden Globe-winning TV drama from 'Sopranos' writer Matthew Weiner.
---
Also Read: Shows Like 'Billions' To Watch While Waiting For Season 7
---
Synopsis: Billions is a bold, contemporary drama that melds the worlds of ultra-wealth, influence and corruption as personified in two highly ambitious opposing figures: hard-charging, blue-blooded, politically connected U.S. Attorney Chuck Rhoades (Emmy and Golden Globe winner Paul Giamatti) and brilliant, calculating, blue-collar billionaire hedge fund king, Bobby "Axe" Axelrod (Emmy and Golden Globe winner Damian Lewis). Set amongst the Machiavellian machinations of New York City power politics and finance, BILLIONS weaves a complex, intricate narrative featuring a high-stakes game of predator-versus-prey.
Synopsis: Joseph Gordon-Levitt, Kyle Chandler and Uma Thurman star in the propulsive new Anthology Series, SUPER PUMPED: THE BATTLE FOR UBER. Based on the shocking true story, strap in for the meteoric rise and fall of Uber founder, Travis Kalanick. With a lift from venture capitalist Bill Gurley and board member Arianna Huffington, Kalanick takes a win-at-all-costs approach to forge the fledgling start-up into a multi-billion-dollar tech titan. But every surge comes at a price – and as his visionary drive spirals out of control, it threatens to be the downfall of it all.
---
Also Read: Shows Like 'WeCrashed' To Watch After Binging The Apple Series
---
WeCrashed (Apple TV+)
Synopsis: Inspired by actual events — and the love story at the center of it all. WeWork grew from a single coworking space into a global brand worth $47 billion in under a decade. Then, in less than a year, its value plummeted. What happened?