Grimm is a fantasy procedural NBC series that ran for six brilliant seasons blending multiple genres in an immersive story. The series follows Detective Nick Burkhardt (David Guintoli), a Portland cop who finds out that he is an important member of a long line of magical enforcers named Grimm, who keep the secret world of supernatural creatures separate from the world of normal humans. When Nick finds out that he is a Grimm he is barely able to handle anything because until recently he was one of those normal humans, whom he is now trying to protect from the various supernatural creatures. Nick isn't alone in this fight though because he has the support of a wonderful friend and partner Hank (Russell Hornsby), his girlfriend Juliette (Elizabeth Tulloch), and a new supernatural friend Monroe (Silas Weir Mitchell). While Grimm is a pretty unique series, that doesn't mean there are no similar shows that have a few elements similar to the NBC series. Grimm ended its run in 2017 and if you have missed the series since then here are some more shows you could watch to pass the time.
---
Also Read: Shows Like 'Lucifer' to Watch If You Miss the Series
---
Lucifer (Netflix)
Lucifer is one of those shows that fans love with all their heart and it was proved because the fans of the series were the ones that saved it from cancellation. The series follows the titular character Lucifer (Tom Ellis) as he gets bored from ruling over hell and wants to have some fun in Los Angeles, but things don't go as planned and he decides to team up with a mysterious LAPD detective named Chloe Decker (Lauren German) and solve crimes while also dealing with problems from heaven and hell. Lucifer's cast also includes Lesley-Ann Brandt as Mazikeen, Kevin Alejandro as Dan, D.B. Woodside as Amenadiel, Rachael Harris as Linda Martin, and Aimee Garcia as Ella Lopez. Lucifer ran from the first season to the third season on Fox and then after its cancellation, it was acquired by Netflix for three more seasons.
---
Also Read: Shows Like 'Supernatural' To Watch If You Miss the Series
---
Supernatural (Netflix)
Supernatural was one of the longest-running live-action series, running for fifteen action-packed seasons that made the Winchester brothers a legend known throughout the world. The CW fantasy series follows the Winchester brothers Sam (Jared Padelecki) and Dean (Jensen Ackles) as they go on the road with their 1967 Chevy Impala to hunt all kinds of supernatural entities. When the series begins we see Sam, enjoying a healthy normal life by going to college at Stanford and having a loving girlfriend, but all of that changes when his Dean comes to him after their father John Winchester (Jeffrey Dean Morgan) goes missing while hunting a supernatural entity. While hunting monsters like vampires, werewolves, spirits, and shapeshifters is part of their daily lives but their main goal is to hunt down the yellow-eyed monster who killed their mother.
---
Also Read: Mind-Bending Shows Like 'Fringe' To Watch If You Miss the Series
---
Fringe is a brilliant sci-fi series from the genius minds of J.J. Abrams, Roberto Orci, and Alex Kurtzman. Fringe is a sci-fi paranormal series that follows the fictional Fringe Division of the FBI, supervised by the Department of Homeland Security. The Fringe Division uses fringe science to investigate unexplained phenomena all of which are tied to a parallel dimension. The series follows Agent Olivia Dunham (Anna Torv) as she recruits private contractor Peter Bishop (Joshua Jackson) to join the team so that he can help them with working with his father Walter Bishop (John Noble), who is a legend in the field of fringe science. Fringe ended with its fifth and final season in 2013 and is still considered to be one of the best sci-fi series ever made.
Torchwood (HBO Max)
Torchwood is a spinoff of the long-running popular British sci-fi series "Doctor Who", and also Torchwood is an anagram of the original series name. The spinoff series follows Captain Jack Harkness (John Barrowman), who first appeared in the newly launched 2005 Doctor Who series. Captain Jack Harkness is a flirtatious conman and adventurer from the 51st century. He fills the role of the leader for the Torchwood team, which investigates the unexplainable phenomena these things mostly come through the time-space rift, where their home base is located. Torchwood's investigation attracts some attention from police officer Gwen Cooper (Eve Myles), who ends up joining the team after they suffer a tragic loss. While the original Torchwood series only ran for two seasons, it has been brought up two times after that including the 2009 miniseries "Torchwood: Children of Earth," and 2011's "Torchwood: Miracle Day."
Sleepy Hollow (Hulu)
Sleepy Hollow is a classic story told many times but this Fox series is considerably different from the other stories as we see Ichabod Crane, the protagonist of the series waking up in 2013, only to find out that the headless horseman is right there with him and using the 21st-century weapons to hunt down his victims. The series follows Crane, a British-born soldier, and spy fighting for America in the Revolutionary War who after a near-death experience wakes up in Sleepy Hollow, New York in the year 2013 and teams up with Sheriff's Lieutenant Abbie Mills (Nicole Beharie) to save the world from the headless horseman and his cohorts who seemingly want to bring apocalypse to the world.
Syfy's original series "Warehouse 13" was a brilliant blend of action, comedy, sci-fi, and supernatural genres. The series follows Secret Service agents Pete Lattimer (Eddie McClintock) and Myka Bering (Joanne Kelly) as they are assigned to the secret storage facility named Warehouse 13 which is located in a remote location in South Dakota, and when they hear the news of their new assignment they think that they screwed up big but in reality, they have been trusted with immense responsibility. While they think that this job isn't really a brilliant thing at the start but as time goes they come around to it. Throughout the series the duo is tasked with finding out powerful supernatural artifacts, some of which have gone missing and some have just been discovered. The series also stars Saul Rubinek as NSA cryptographer Artie Nielsen and Genelle Williams as Leena, the proprietor of Leena's Bed and Breakfast where the Warehouse 13 team lives.
---
Also Read: Supernatural Shows Like 'Wynonna Earp' To Watch If You Miss the Series
---
Wynonna Earp (Netflix)
Syfy's original series Wynonna Earp is a really entertaining supernatural western action-drama series. The series is based on the comic book of the same name and it follows the titular character played by Melanie Scrofano, a high-functioning alcoholic who happens to be a direct descendant of the legendary lawman and gunslinger Wyatt Earp. Because of a family curse, Wynonna now has to kill the men and women Wyatt Earp killed in his time because all of them have become revenants or demons, who are walking the earth in the present. Wynonna has the help of the very sexy gun named Peacemaker, which she has to use to shoot the revenants right in their head to send them right back to hell. Also Doc Holliday (Tim Rozon) is also alive in the present and he is immortal now, other people helping Wynonna are his sister Waverly (Dominque Provost-Chalkley), and the U.S. Deputy Marshal Xavier Dolls played by Shamier Anderson. Wynonna Earp ran for seasons and during that time it earned a considerable amount of fanbase.
Tru Calling
Tru Calling is a supernatural drama and it follows Tru Davies (Eliza Dushku), who has the power to relive the last day of a dead person's life. Tru is a college student whose college internship falls through so she starts working in the local morgue and when a dead body pretty much sits up and asks for her help, she finds out about her extraordinary power and tries to prevent the deaths of people who she comes in contact with through the morgue. The series also stars Zach Galifianakis as the morgue supervisor and Tru's friend Davis, Jason Priestly as Jack Harper, who is a counterpart to Tru and tries to stop Tru from using her power, and Shawn Reaves as Tru's estranged father Harrison Davies.
---
Also Read: Shows Like 'The X-Files' To Watch If You Miss the Series
---
The X-Files is one of the biggest series of the 1990s, also regarded as one of the most influential series the Fox series follows Fox Mulder and Dana Scully investigating the most mind-bending paranormal activities. The series' original run was for 9 seasons with the series being revived in 2016 for two more seasons making the total season number 11 seasons.
---
Also Read: Shows Like 'iZombie' To Watch If You Miss the Series
---
iZombie (Netflix)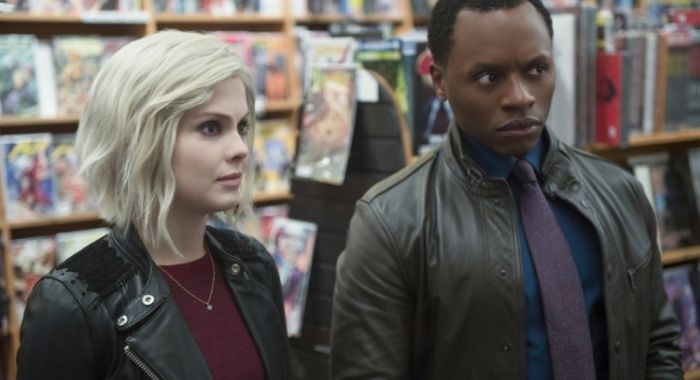 iZombie is a fantasy drama developed by Rob Thomas and Diane Ruggiero-Wright and it is based on a comic book series of the same name which was created by Chris Roberson and Michael Allred. The series ran on the CW Network for five seasons and it follows a brilliant medical student Olivia, who is living in Seattle and has big plans for her future. But things get complicated when she turns into a zombie, after that she has to abandon her entire life and her boyfriend. Olivia quickly realizes that if she does not satisfy her cravings for the human brain she turns into the kind of zombie that all of us are familiar with, to avoid that she takes up a job at the King County morgue where she eats the brains of the dead bodies that come through the morgue. She then finds out that after eating someone's brain she gets some glimpses into the life of the individual, which could help in murder cases. So she joins hands with the Police Detective Clive Babineaux in order to help him catch murderers.