Grace and Frankie is one of the best and long-running Netflix comedy series and it is perfect if you just want to feel good while watching a series. Jane Fonda and Lily Tomlin have played the beloved roles of Grace Hanson and Frankie Bergstein, the series follows these two heroines after their husbands blindside them with the information that they are gay and they want a divorce so that they could get married. After this life-altering moment, they get together even though they are not really fond of each and from then on they start to become friends. Now we are seeing the final episodes of these two friends so if you are already missing these two we have prepared a list of shows about female friendships that you can watch.
---
Also Read: Shows Like 'Good Girls' To Watch If You Miss the Series
---
Good Girls (Netflix)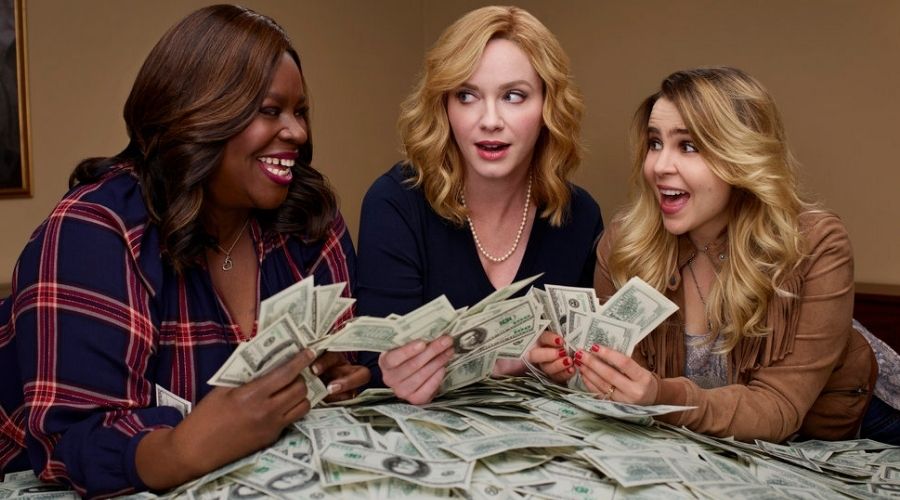 Synopsis: When three suburban moms get tired of trying to make ends meet, they decide it's time to stick up for themselves by robbing the local grocery store. But when the manager catches a glimpse of one of them and the loot is far more than they expected, it doesn't take long for the three best friends to realize the perfect getaway will be harder than they think. From Executive Producer Jenna Bans ("Grey's Anatomy," "Scandal," "The Family") comes this comedy-infused drama that mixes a little "Thelma & Louise" with a bit of "Breaking Bad." The cast includes Christina Hendricks ("Mad Men," "Another Period"), Retta ("Parks and Recreation," "Girlfriends' Guide to Divorce"), Mae Whitman ("Parenthood," "Arrested Development"), Reno Wilson ("Mike & Molly"), Manny Montana ("Graceland"), Lidya Jewett ("Hidden Figures"), Isaiah Stannard ("Brad's Status") and Matthew Lillard ("Twin Peaks," "Bosch").
The Bold Type (Hulu)
Synopsis: Get a glimpse into the outrageous lives and loves of those responsible for the global women's magazine, "Scarlet." The rising generation of Scarlet women leans on one another as they find their own voices in a sea of intimidating leaders. Together they explore sexuality, identity, love and fashion.
Synopsis: Anna Faris and Emmy® winner Allison Janney star in a new comedy from Chuck Lorre (The Big Bang Theory, Two and a Half Men, Mike & Molly). Anna Faris plays Christy, a single mom whose newly found sobriety has given her the ability to see her life clearly … and she does not like the view. Now she must try to untangle years of reckless decisions in order to make a better life for her and her kids. But she discovers that just because you want to be a better person doesn't mean it's going to be easy. Everywhere she looks there are challenges: She is trying to stop drinking in wine country, have a healthy romance with her unavailable boss, raise her young son to be a good man despite his father's influence, convince her troubled teenage daughter to make better choices than she did, and — perhaps the most difficult task — forgive her estranged mother, Bonnie (Janney), for not giving her any of the tools she needed to handle life in the first place.
---
Also Read: Shows Like 'GLOW' To Watch If You Miss the Series
---
GLOW (Netflix)
Synopsis: GLOW tells the fictional story of Ruth Wilder (Alison Brie), an out-of-work, struggling actress in 1980s Los Angeles who finds one last chance for stardom when she's thrust into the glitter and spandex world of women's wrestling. In addition to working with 12 Hollywood misfits, Ruth also has to compete with Debbie Eagan (Betty Gilpin) a former soap actress who left the business to have a baby, only to be sucked back into work when her picture perfect life is not what it seems. And at the wheel is Sam Sylvia (Marc Maron), a washed-up, B-movie director who now must lead this group of women on the journey to wrestling stardom.
---
Also Read: Shows Like 'Big Little Lies' To Watch If You Miss the Series
---
Big Little Lies (HBO Max)
Synopsis: Based on Liane Moriarty's bestselling book, this subversive, darkly comedic drama series tells the tale of three mothers of first-graders whose seemingly perfect lives unravel to the point of murder. Reese Witherspoon, Nicole Kidman and Shailene Woodley head up a stellar cast in this Monterey-set drama that begins with a suspicious homicide at an elementary-school fundraiser. Though the victim and the perpetrator initially remain a mystery, it appears that the murder was spawned by rivalries and secrets surrounding the trio of young moms. Alexander Skarsgard, Laura Dern, Adam Scott, Zoe Kravitz, James Tupper and Jeffrey Nordling co-star.
---
Also Read: Shows Like 'Firefly Lane' To Watch While Waiting For the Next Part
---
Firefly Lane (Netflix)
Synopsis: The greatest love story of all can be between friends. When unlikely duo Tully (Katherine Heigl) and Kate (Sarah Chalke) meet at age fourteen, they couldn't be more different. Tully is the brash and bold girl you can't ignore, while Kate is the mousy shy girl you never notice. But when a tragedy brings them together, they are bonded for life — forever inseparable best friends. Together they experience thirty years of ups and downs — triumphs and disappointments, heartbreak and joy, and a love triangle that strains their friendship. One goes on to fabulous wealth and fame, the other chooses marriage and motherhood — but through the decades, their bond remains — until it faces the ultimate test.
---
Also Read: Shows Like 'Sex and the City' To Watch If You Miss the Series
---
Sex and the City (HBO Max)
Synopsis: How do young (or not-so-young) single women and men meet the challenge of finding a mate? This signature HBO comedy series stars Sarah Jessica Parker as a thirtysomething writer whose personal life and friendships are fodder for her weekly column. Kim Cattrall, Kristin Davis and Cynthia Nixon co-star.