Goosebumps is a horror comedy series developed for television by Rob Letterman and Nicholas Stroller. Based on a book series of the same name by R.L. Stine, the Disney+ and Hulu series revolves around five high schoolers who try to investigate a death that happened three decades ago. This investigation takes them on a twisty and dangerous journey and also reveals to them some dark truths about their parents. So, if you loved the Disney+ series here are some similar movies you could watch next.
Locke & Key (Netflix)
Synopsis: After their father is murdered under mysterious circumstances, the three Locke siblings and their mother move into their ancestral home, Keyhouse, which they discover is full of magical keys that may be connected to their father's death. As the Locke children explore the different keys and their unique powers, a mysterious demon awakens — and will stop at nothing to steal them. From Carlton Cuse (Lost, Bates Motel) and Meredith Averill (The Haunting of Hill House), the series is a coming-of-age mystery about love, loss, and the unshakable bonds that define family.
Chilling Adventures of Sabrina (Netflix)
Synopsis: Chilling Adventures of Sabrina imagines the origin and adventures of Sabrina the Teenage Witch as a dark coming-of-age story that traffics in horror, the occult and, of course, witchcraft. This adaptation finds Sabrina wrestling to reconcile her dual nature —half-witch, half-mortal —while standing against the evil forces that threaten her, her family and the daylight world humans inhabit.
Synopsis: Based on the book series by acclaimed author Christopher Pike, the new kid in town discovers that he holds the key to a battle between good and evil that has been taking place for centuries in a bizarre small town that plays host to a wide array of supernatural and unexplained occurrences.
The Hardy Boys (Hulu)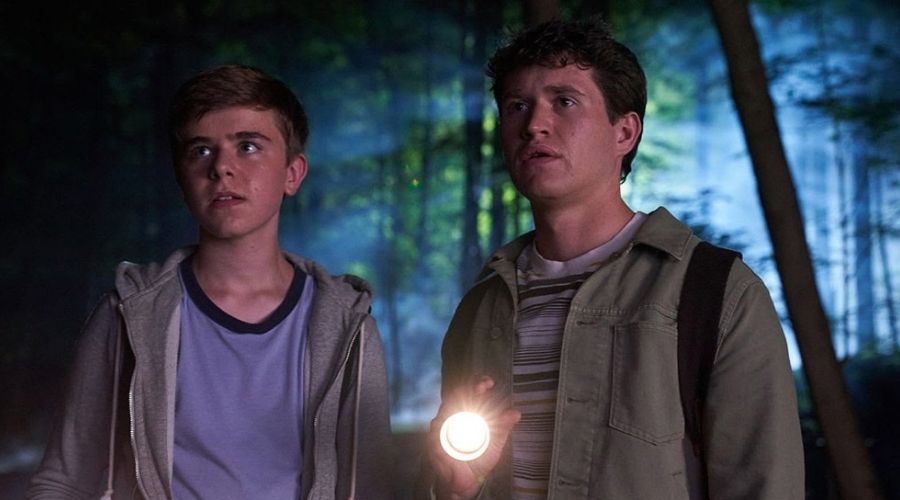 Synopsis: After a family tragedy strikes, Frank Hardy and his brother Joe are forced to move from the big city to their parent's hometown of Bridgeport for the summer. Staying with their Aunt Trudy, Frank and Joe's quiet summer quickly comes to a halt when they discover their Dad, detective Fenton Hardy has taken on a secret investigation. Realizing that their Dad may be onto something the boys take it upon themselves to start an investigation of their own, and suddenly everyone in town is a suspect.
Synopsis: Inspired by the writings of R.L. Stine, "Just Beyond" is an eight-episode anthology series that tells astonishing and thought-provoking stories of a reality just beyond the one we know. Each episode introduces viewers to a new cast of characters who must go on a surprising journey of self-discovery in a supernatural world of witches, aliens, ghosts and parallel universes.
The Order (Netflix)
Synopsis: At Belgrave University, college freshman Jack Morton joins a fabled secret society where he's thrust into a dangerous game of life or death. As Jack goes deeper, he uncovers dark family secrets and an underground battle between werewolves and the magical dark arts.
The Magicians is based on a series of books by Lev Grossman and it was described as Harry Potter but for adults. The series follows Quentin who gets enrolled in Brakebills, which is a secret school for magicians. That's when he finds out that the world he read about as a child is real and is becoming a big threat to the world.
Harlan Coben's Shelter (Prime Video)
Synopsis: Based on the bestselling series by Harlan Coben, Shelter follows the story of Mickey Bolitar after the death of his father leads him to start a new life in suburban New Jersey. When another new student disappears, Mickey finds himself tangled in a web of secrets. With the help of two new friends, Spoon and Ema, they reveal a dark underground that may hold the answers to decades of disappearances.
The Midnight Club (Netflix)
Synopsis: At a hospice for terminally ill young adults, eight patients come together every night at midnight to tell each other stories — and make a pact that the next of them to die will give the group a sign from the beyond. Based on the 1994 novel of the same name as well as other works by Christopher Pike.
Synopsis: Seventeen-year-old Paul is haunted by apocalyptic dreams that neither he nor his best friend and fellow geeky social outcast Mac can provide answers for. Worse still, Paul is starting to see the Fades – the spirits of the dead – all around him. The fate of humanity rests in the hands of two teenagers who already have enough trouble getting through a day in one piece, let alone saving the world.