Friends still remains one of the most popular and best shows ever put on the TV and then cable and then streaming services. Millions of people still log in to see their friends living in New York and going about their hilarious daily life. The series follows a group of friends including Joey (Matt LeBlanc), Chandler (Matthew Perry), Rachel (Jennifer Aniston), Monica (Courtney Cox), Ross (David Schwimmer), and Phoebe (Lisa Kudrow) living their lives with each other and trying to find love and happiness in their lives. Friends premiered over 27 years ago in 1994 and it concluded its run with its 10th and final season in 2004. So, if you also miss the series here are some shows you could watch to pass the time, and if you don't want to watch them just rewatch Friends.
---
Also Read: Best Shows Like 'Brooklyn Nine-Nine' You Should Watch
---
Brooklyn Nine-Nine (Peacock)
Synopsis: From Primetime Emmy® Award-winning writers/producers Dan Goor and Michael Schur (Parks and Recreation), starring Andy Samberg (Saturday Night Live) as Jake Peralta and Andre Braugher (Men of a Certain Age) as Raymond Holt, the Golden Globe® Award-winning Brooklyn Nine-Nine is a single-camera ensemble comedy. Brooklyn Nine-Nine follows the exploits of hilarious Det. Jake Peralta (Samberg) and his diverse, lovable colleagues; Terry Jeffords (Terry Crews), Amy Santiago (Melissa Fumero), Charles Boyle (Joe Lo Truglio), Rosa Diaz (Stephanie Beatriz) and veteran officers Scully (Joel McKinnon Miller) and Hitchcock (Dirk Blocker); as they police the NYPD's 99th precinct.
Unbreakable Kimmy Schmidt (Netflix)
Synopsis: From the executive producers of 30 Rock (Tina Fey and Robert Carlock) comes the "wise, wicked comedy" (Jeff Jensen, EW), Unbreakable Kimmy Schmidt. Rescued after fifteen years in an underground doomsday cult, Kimmy (Ellie Kemper) decides to rebuild her life in New York City armed with only a fifth-grade education and a firm belief that truly anything is possible. She quickly finds a roommate, Titus Andromedon (Primetime Emmy® nominee Tituss Burgess), a job working for a spoiled Manhattan mom, Jacqueline Voorhees (Primetime Emmy® nominee Jane Krakowski), and a new beginning. Watch season one of the Primetime Emmy®-nominated series on these shiny discs that Kimmy is only now just learning about!
---
Also Read: Shows Like 'Broad City' To Watch If You Miss the Series
---
Broad City (Hulu)
Synopsis: Hack Into Broad City is an exclusive web series that eavesdrops on the candid, often-outrageous video chat sessions between Abbi and Ilana, the two best friends at the heart of Broad City.
---
Also Read: Shows Like 'Community' To Watch If You Miss the Series
---
Community (Netflix & Hulu)
Synopsis: From Dan Harmon (The Sarah Silverman Program) and Emmy Award-winning directors Joe and Anthony Russo (Arrested Development) comes Community, a smart comedy series about a band of misfits who attend Greendale Community College. At the center of the group is Jeff Winger (Joel McHale, The Soup), a fast-talkin' lawyer whose degree has been revoked. With some help from his fellow classmates, Winger forms a study group who eventually learn more about themselves than their course work.
---
Also Read: Shows Like 'It's Always Sunny in Philadelphia' To Watch While Waiting For Season 16
---
It's Always Sunny In Philadelphia (Hulu)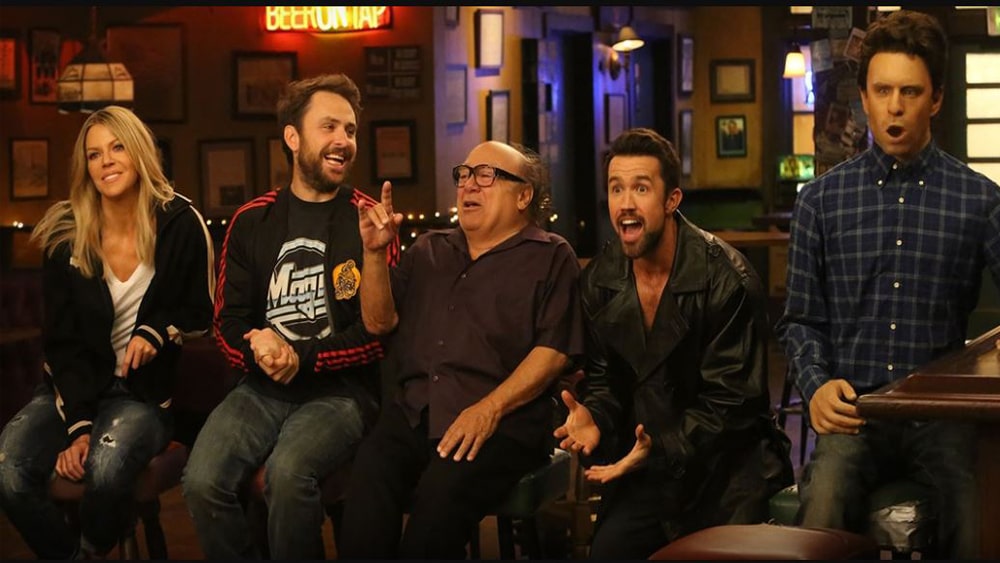 Synopsis: It's Always Sunny in Philadelphia features Mac, Dennis, Charlie, Sweet Dee and Frank, five ne'er-do-wells who own and operate Paddy's Pub in Philadelphia. Their constant scheming usually lands them in a world of hurt, yet they never seem to learn from their mistakes. As they say, some things never change. So prepare for more depraved schemes, half-baked arguments, and absurdly underhanded plots to subvert one another.
New Girl (Netflix)
Synopsis: A comedy series from executive producer/writer Liz Meriwether ("No Strings Attached"), New Girl features a young ensemble cast that takes a fresh look at friendship. After a bad break-up, Jess Day (Zooey Deschanel) needs a new place to live. An online search leads her to a great loft…and three single guys she's never met before. Nick (Jake Johnson), law school dropout turned bartender is the most grounded…and the most jaded. Schmidt (Max Greenfield) is a hustling young professional who's pretty proud of his own abs. Winston (Lamorne Morris), is an intensely competitive former athlete who doesn't know what to do next. Jess also meets Coach (guest star Damon Wayans Jr.), a personal trainer with a bit of an anger problem. Rounding out the group is Jess' childhood best friend, Cece (Hannah Simone), a model with a killer deadpan. The fivesome realize they need each other more than they thought they would and end up forming a charmingly dysfunctional — or strangely functional — family.
---
Also Read: Comedy Shows Like 'Modern Family' To Watch If You Miss the Series
---
Modern Family (Hulu)
Synopsis: The Pritchett-Dunphy-Tucker clan is a wonderfully large and blended family with Jay Pritchett (Ed O'Neil) sitting at the head. By his side is his vivacious, younger second wife, Gloria (Sofia Vergara), and together they are navigating life with their youngest son, Joe, and Gloria's son, Manny (Rico Rodriguez), who is heading off to college to explore the world on his own terms. Meanwhile, Jay's grown daughter, Claire (Julie Bowen), and her husband, Phil (Ty Burrell), are learning to navigate life as empty-nesters with the youngest, Luke (Nolan Gould), now out of high school and looking to his next move; middle daughter Alex (Ariel Winter) is learning how to balance academia and a social life, and eldest Haley (Sarah Hyland) is still living at home as she pursues a career and love. Then there's Claire's brother and Jay's grown son, Mitchell (Jesse Tyler Ferguson), and his husband, Cameron (Eric Stonestreet), who are about to enter the dreaded middle-school years with their newly discovered, gifted daughter, Lily (Aubrey Anderson-Emmons). These three families are unique unto themselves, and together they give us an honest and often hilarious look into the sometimes warm, sometimes twisted, embrace of the modern family.
---
Also Read: Shows Like 'The Big Bang Theory' To Watch If You Miss the Series
---
The Big Bang Theory (HBO Max)
Synopsis: Leonard and Sheldon are brilliant physicists, the kind of "beautiful minds" that understand how the universe works. But none of that genius helps them interact with people, especially women. All this begins to change when a free-spirited beauty named Penny moves in next door. Sheldon, Leonard's roommate, is quite content spending his nights playing Klingon Boggle with their socially dysfunctional friends, fellow Caltech scientists Wolowitz and Koothrappali. However, Leonard sees in Penny a whole new universe of possibilities … including love.
---
Also Read: Comedy Shows Like 'How I Met Your Mother' To Watch If You Miss the Series
---
How I Met Your Mother (Hulu)
Synopsis: A half-hour comedy series about Ted and how he fell in love. It all started when Ted's best friend, Marshall, drops the bombshell that he's going to propose to his long-time girlfriend, Lily, a kindergarten teacher. At that moment, Ted realizes that he had better get a move on if he too hopes to find true love. Helping him in his quest to find his future wife is Barney, a friend with endless, sometimes outrageous opinions, a penchant for suits and a foolproof way to meet women. When Ted meets Robin, he's sure it's love at first sight, but after a whirlwind romance with her, he realizes destiny has something else in store for him. The series is narrated through flashbacks from the future.
---
Also Read: Best Shows Like 'Seinfeld' To Watch If You Miss the Series
---
Seinfeld (Netflix)
Synopsis: Seinfeld stars Jerry Seinfeld as a stand-up comedian whose life in New York City is made even more chaotic by his quirky group of friends who join him in wrestling with life's most perplexing, yet often trivial questions. Often described as "a show about nothing," Seinfeld mines the humor in life's mundane situations like waiting in line, searching for a lost item, or the trials and tribulations of dating. Co-starring are Julia Louis-Dreyfus as Jerry's ex-girlfriend and current platonic pal, Elaine Benes; Jason Alexander as George Costanza, Jerry's neurotic hard-luck best friend; and Michael Richards as Jerry's eccentric neighbor, Kramer.