Friday Night Dinner is probably one of the unique comedy series based on some of the most ordinary things. The Channel 4 series follows the Goodman family, and the Goodman siblings Adam and his brother Johnny as they meet their mum and dad every Friday night for dinner. The Goodman brothers view the Friday night dinner as a necessary annoyance because while they get fed during these dinners but they also have to spend this time with their parents. The series stars comedy legends like Tamsin Greig, Paul Ritter, Simon Bird, Mark Heap, and Tom Rosenthal. Friday Night Dinner premiered in 2011 and ran for six hilarious season-ending its run in 2020. So, if you also miss Friday Night Dinner, here are some more shows you could watch to pass the time.
---
Also Read: Shows Like 'Schitt's Creek' To Watch If You Miss the Series
---
Synopsis: Schitt's Creek, created by Eugene Levy and Daniel Levy, follows a wealthy family who suddenly find themselves broke and forced to live in Schitt's Creek, a small town they once bought as a joke. It centers on an outrageously wealthy video store magnate, Johnny Rose (Eugene Levy); his former soap-star wife Moira (Catherine O'Hara); and their two adult children – the self-described black sheep of the family David (Daniel Levy) and career socialite Alexis (Annie Murphy). With their pampered lives a memory, they struggle to find jobs and relationships. Most importantly, they figure out what it means to be a family in the makeshift but loveable town they've reluctantly come to call home.
Life in Pieces (Hulu)
Synopsis: James Brolin, Dianne Wiest and Colin Hanks head an all-star cast in this hilarious new series that features four short stories each week about the members of one eccentric family!
Outnumbered (Tubi)
Synopsis: Outnumbered' follows the battle of wills between two parents and their three young children, who are seemingly locked into a never-ending contest to see just whose patience will run out first. Testing theories such as not buying broccoli to save money on the weekly shop, and whether or not Jesus should have used his superpowers to combat Herod, the kids ponder the imponderables in the part-improvised comedy that shows how living with kids can provide at turns the funniest and the most cringeworthy experiences available to us all. Many will recognise how the parents (Hugh Dennis and Claire Skinner) are just attempting to raise their kids with the minimum of emotional damage for all concerned.
Family Guy (Hulu)
Synopsis: Animated series "Family Guy" features the adventures of the Griffin family. Endearingly ignorant Peter and his stay-at-home wife Lois reside in Quahog, R.I., and have three kids. Meg, the eldest child, is a social outcast, and teenage Chris is awkward and clueless when it comes to the opposite sex. The youngest, Stewie, is a genius baby bent on killing his mother and destroying the world. The talking dog, Brian, keeps Stewie in check while sipping martinis and sorting through his own life issues.
---
Also Read: Shows Like 'The Inbetweeners' To Watch If You Miss the Series
---
The Inbetweeners (Prime Video & Tubi)
Synopsis: Will McKenzie is on a bad run. His parents have just divorced and, to make matters worse, his mum has moved him from a posh private school and into the sixth form at the local comprehensive. Despite the twin handicaps of being the new kid and carrying 'an actual briefcase', Will quickly makes new friends – Simon , Neil and Jay Unfortunately, they are far from the coolest kids at school.
Synopsis: An imaginative, cinematic comedy about an eccentric family – The Flowers – struggling to hold themselves together. Starring Olivia Colman and Julian Barratt. Written and Directed by Will Sharpe. Executive Produced by Naomi de Pear and Diederick Santer for Kudos.
Miranda (Tubi)
Synopsis: Written by and starring Miranda Hart (Call the Midwife), this Britcom follows an impossibly clumsy joke shop owner as she stumbles through life and love. Patricia Hodge co-stars as Miranda's imperious mother, who is desperately trying to marry her off.
---
Also Read: Shows Like 'Derry Girls' To Watch If You Miss the Series
---
Derry Girls (Netflix)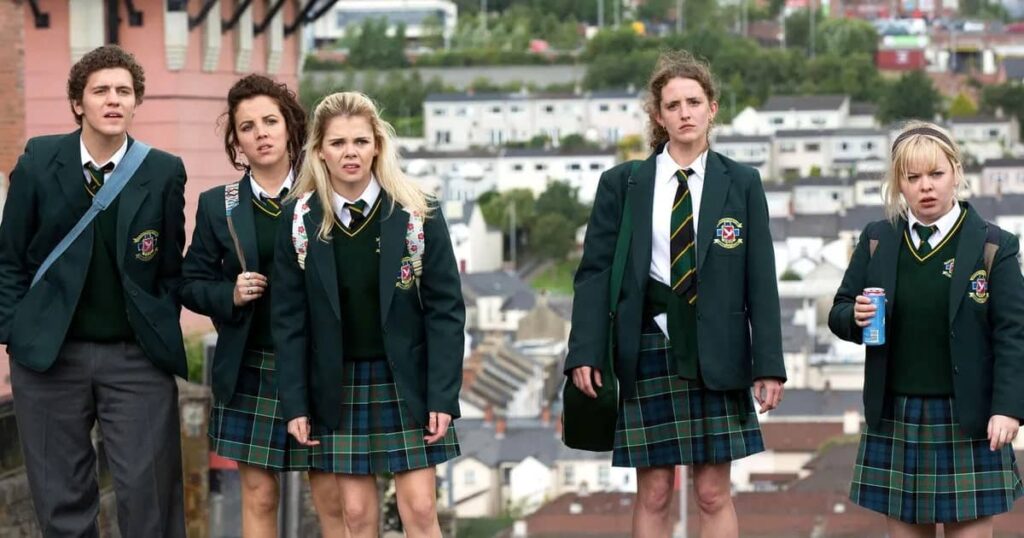 Synopsis: Set in Derry Northern Ireland in the 1990s, Derry Girls is a candid, one-of-a-kind comedy about what it's like to be a teenage girl living amongst conflict. It's a warm, laugh out loud funny and honest look at the lives of an ordinary family living through the Troubles in the early nineties. Armed police in armoured Land Rovers, British Army check points and 'peace' walls are all an everyday reality for Erin. But, despite all that, she has other things to worry about, like the fact the boy she's in love with (actually in LOVE with), doesn't know she exists. Or that her Ma and Aunt Sarah make her include her weirdo cousin in EVERYTHING she does. Or that head teacher, Sister Michael, refuses to acknowledge Erin as a literary genius. Not to mention the fact that her second best friend has ALMOST had sex, whereas Erin's never even kissed anyone yet. Like all teenage girls, Erin has her own Troubles. Derry Girls is based on writer Lisa McGee's (Indian Summers, Being Human) own experiences of growing up in Northern Ireland amidst immense civil conflict.
Breeders (Hulu)
Synopsis: FX's Breeders is an uncompromising comedy that explores the lives of Paul (Martin Freeman) and Ally (Daisy Haggard) as they juggle full-time careers, aging parents, a mortgage and the unenviable curveballs of parenting their young children. When Ally's estranged father appears on their doorstep, the family essentially takes on a third child – but this one comes with baggage and opinions.
---
Also Read: Shows Like 'F is for Family' To Watch If You Miss the Series
---
F is for Family (Netflix)
Synopsis: From comedian Bill Burr and EmmyⓇ award-winner Michael Price, F is for Family transports viewers back to the 1970s, a time when political correctness, helicopter parenting and indoor smoking bans weren't part of anyone's vocabulary, let alone the norm. Featuring the voices of Burr, Laura Dern, Justin Long, Sam Rockwell and more.