Fresh Off the Boat is a brilliant comedy family series about the American Dream. The series tells the story of an immigrant Taiwanese Huang family based on the eponymous memoir of Eddie Huang. The comedy series follows the journey of Huang's family as they move from Washington to Orlando in the early '90s to make their American dream a reality. While in the beginning, the family struggles to make ends meet and also runs their business of cowboy-themed restaurant. The sitcom ran for six successful seasons ending its run in 2020. So, if you miss the series here are some more shows you should watch next.
Young Sheldon (HBO Max & Paramount+)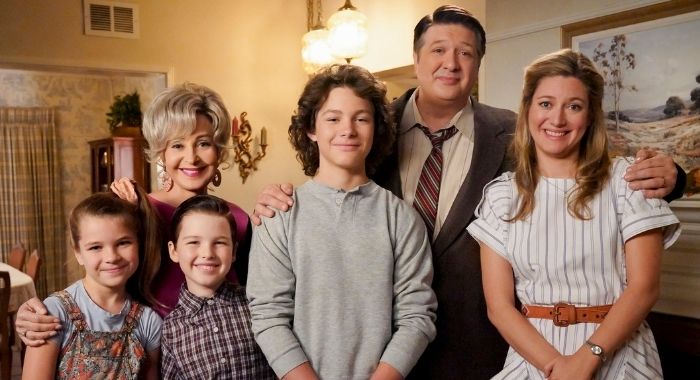 Synopsis: For 9-year-old Sheldon Cooper it isn't easy growing up in East Texas. Being a once-in-a-generation mind capable of advanced mathematics and science isn't always helpful in a land where church and football are king. And while the vulnerable, gifted and somewhat naïve Sheldon deals with the world, his very normal family must find a way to deal with him. His father, George, is struggling to find his way as a high school football coach and as father to a boy he doesn't understand. Sheldon's mother, Mary, fiercely protects and nurtures her son in a town where he just doesn't fit in. Sheldon's older brother, Georgie, does the best he can in high school, but it's tough to be cool when you're in the same classes with your odd 9-year-old brother. Finally, there's Sheldon's twin sister, Missy, who sometimes resents all the attention Sheldon gets, but also remains the one person who can reliably tell Sheldon the truth. For 10 years on The Big Bang Theory, audiences have come to know the iconic, eccentric and extraordinary Sheldon Cooper. This single-camera, half-hour comedy gives us the chance to meet him in childhood, as he embarks on his innocent, awkward and hopeful journey toward the man he will become.
The Wonder Years (Hulu & Disney+)
Synopsis: Inspired by the beloved award-winning series of the same name, "The Wonder Years" is a coming-of-age story set in the late 1960s that takes a nostalgic look at a black middle-class family in Montgomery, Alabama, through the point of view of imaginative 12-year-old Dean. With the wisdom of his adult years, Dean's hopeful and humorous recollections show how his family found their "wonder years" in a turbulent time. "The Wonder Years" stars Don Cheadle, narrating the series as Adult Dean Williams, Elisha "EJ" Williams as Dean Williams, Dulé Hill as Bill Williams, Saycon Sengbloh as Lillian Williams, Laura Kariuki as Kim Williams, Julian Lerner as Brad Hitman, Amari O'Neil as Cory Long and Milan Ray as Keisa Clemmons. Saladin Patterson serves as writer and executive producer. Lee Daniels and Marc Velez of Lee Daniels Entertainment also executive produce along with original series star, Fred Savage.
The Goldbergs (Hulu)
Synopsis: Before there were parenting blogs, trophies for showing up, and peanut allergies, there was a simpler time called the '80s. For geeky 11-year old Adam (Sean Giambrone) these were his wonder years and he faced them armed with a video camera to capture all the crazy. The Goldbergs are a loving family like any other, just with a lot more yelling.
Synopsis: Inspired by Chris Rock's outrageous experiences growing up in 1980s Brooklyn, this heartwarming series captures the legendary comedian's painfully funny teenage years. Experience all the hilarity as Chris struggles to fit in at high school while also supervising his younger siblings for his hard-working parents.
---
Also Read: Sitcoms Like 'Malcolm in the Middle' For More Family Fun
---
Malcolm in the Middle (Hulu)
Synopsis: Created by Emmy® Award-winning writer Linwood Boomer, this inventive half-hour series is seen through the eyes of Malcolm (Frankie Muniz), a regular high school kid trying to navigate his way through life despite the various obstacles thrown in his way – a complete misunderstanding of girls, the constant burden of masterminding plans to get himself and his brothers into or out of trouble, and a miserable job at the Lucky Aide…not to mention a severe case of teen angst. Although Malcolm has a genius IQ, he can't seem to make sense of the opposite sex, much less his embarrassing family. Lois (Jane Kaczmarek) is the outspoken, opinionated mom, who still manages to rule the roost even though her boys are growing wise to her crafty ways. Hal (Bryan Cranston), a dad who is just a bumbling, big kid at heart, often finds himself creating more chaos than his five boys combined. Reese (Justin Berfield) has mastered the art of a perfect blank stare, and makes up for his lack of intelligence with deviance. Francis (Christopher Kennedy Masterson), Malcolm's oldest and favorite brother, is willing to move from Alabama to Alaska to New Mexico – as long as it keeps him from moving back home. Dewey (Erik Per Sullivan), no longer the youngest, has learned his tricks from the best and often pulls the wool right over his brothers' eyes. And then there's Jamie, the youngest member…and family scapegoat.
Kim's Convenience (Netflix)
Synopsis: This multi-award-winning series features the lives of a Korean-Canadian family who run a convenience store in Toronto. The series is based on Kim's Convenience by Ins Choi.
The Middle (HBO Max & Peacock)
Synopsis: Parents are the real heroes – but Frankie Heck (Patricia Heaton), must be some kind of superhero. A loving wife and mother of three, she's middle class in the middle of the country and is rapidly approaching middle age. Frankie and her husband, Mike (Neil Flynn), have lived in Orson, Indiana, their whole lives. A man of few words (every one a zinger), Mike is a manager at the town quarry and Frankie is the third-best used car salesman at the local dealership. She may not be a high-powered career woman, but when it comes to her family, she'll go to just about any length. And with kids like these, she had better. There's Axl, her semi-nudist teenage son conceived while under the influence of Guns N' Roses; Sue (Eden Sher), the awkward teenage daughter who fails at everything … but with the utmost of gusto; and their 7-year-old son Brick , whose best friend is his backpack. Together, they're putting THE MIDDLE on the map.
---
Also Read: Comedy Shows Like 'Modern Family' To Watch If You Miss the Series
---
Modern Family (Hulu)
Modern Family is one of the longest-running sitcoms and it follows the Dunphy and Pritchett family. The series is a mockumentary-style comedy and it follows Jay Pritchett (Ed O'Neill), his new wife Gloria (Sofia Vergara), his stepson Manny (Rico Rodriguez), and his daughters family Claire Dunphy (Julie Bowen), her husband and the best father Phil Dunphy (Ty Burrell), their children Haley (Sarah Hyland), Alex (Ariel Winter), and Luke (Nolan Gould). The series also follows Jay's son Mitchell (Jesse Tyler Ferguson), his husband Cameron (Eric Stonestreet), and their adopted daughter Lily (Aubrey Anderson-Emmons). Modern Family ran for 11 seasons ending with a banger of a finale in 2020.
Black-ish (Hulu & Disney+)
Synopsis: "black-ish" takes a fun yet bold look at one man's determination to establish a sense of cultural identity for his family with comedic stories that shine a light on current events through the lens of the Johnson family.
---
Also Read: Shows Like 'Derry Girls' To Watch If You Miss the Series
---
Derry Girls (Netflix)
Synopsis: Set in Derry Northern Ireland in the 1990s, Derry Girls is a candid, one-of-a-kind comedy about what it's like to be a teenage girl living amongst conflict. It's a warm, laugh out loud funny and honest look at the lives of an ordinary family living through the Troubles in the early nineties. Armed police in armoured Land Rovers, British Army check points and 'peace' walls are all an everyday reality for Erin. But, despite all that, she has other things to worry about, like the fact the boy she's in love with (actually in LOVE with), doesn't know she exists. Or that her Ma and Aunt Sarah make her include her weirdo cousin in EVERYTHING she does. Or that head teacher, Sister Michael, refuses to acknowledge Erin as a literary genius. Not to mention the fact that her second best friend has ALMOST had sex, whereas Erin's never even kissed anyone yet. Like all teenage girls, Erin has her own Troubles. Derry Girls is based on writer Lisa McGee's (Indian Summers, Being Human) own experiences of growing up in Northern Ireland amidst immense civil conflict.