Netflix's new comedy-drama series Freeridge came out of nowhere and surprised everyone just like the series it spun from On My Block with its brilliant writing and great characters. The Netflix series follows a group of friends as they unleash a curse from an old box that wreaks havoc on their lives. Unfortunately, Netflix has chosen to cancel the brilliant new series just after its first season. So, if you already miss the series here are some shows you could watch next.
Boo, Bitch (Netflix)
Synopsis: Over the course of one night, a high school senior, who's lived her life safely under the radar, seizes the opportunity to change her narrative and start living an epic life, only to find out the next morning… she's a motherf*%king ghost.
---
Also Read: Shows Like 'On My Block' To Watch If You Miss the Series
---
On My Block (Netflix)
Synopsis: On My Block, co-created by Lauren Iungerich (Awkward), Eddie Gonzalez & Jeremy Haft, is a coming of age comedy about four bright and street-savvy friends navigating their way through the triumph, pain and the newness of high-school set in LA's South Central neighborhood.
Trinkets (Netflix)
Synopsis: When three teenage girls find themselves in the same mandated Shoplifters Anonymous meeting, an unlikely friendship forms between grieving misfit Elodie (Brianna Hildebrand), mysterious outsider Moe (Kiana Madeira), and Tabitha (Quintessa Swindell), an imperfect picture of perfection. They will find strength in each other as they negotiate the complicated dilemma of trying to fit in while longing to break out. From the Awesomeness studio, Trinkets i​s based on the young adult novel by screenwriter Kirsten "Kiwi" Smith (Legally Blonde, 10 Things I Hate About You, She's the Man) who serves as creator and executive producer.
---
Also Read: Shows Like 'I Am Not Okay With This' To Watch If You Miss the Series
---
I Am Not Okay With This (Netflix)
Synopsis: I Am Not Okay With This is an irreverent origin story that follows a teenage girl who's navigating the trials and tribulations of high school, all while dealing with the complexities of her family, her budding sexuality, and mysterious superpowers just beginning to awaken deep within her. From director/EP of The End of the F***ing World Jonathan Entwistle and the producers of Stranger Things comes a new series based on the Charles Forsman graphic novel.
Crazyhead (Netflix)
Synopsis: When people die most go quietly into the night. But some have unfinished business: scores to settle, blood to spill, axes to plant in people's heads…These tormented souls work through their issues by possessing the living. Most of the time they walk freely amongst us, unseen by all but a special few. Amy is one of those few. She works in a bowling alley and never really imagined herself battling the legions of hell. It can play havoc with a girl's love life. Not to mention her mind. Thankfully Amy isn't alone. Enter Raquel. Armed with Wikipedia and a baton she bought on e-bay, Raquel's a self-made demon hunter with a whole lot of baggage and an impressive lack of social skills. An unlikely friendship is born as Amy and Raquel attempt to navigate their way through the choppy waters of their early twenties whilst simultaneously kicking the ass of some seriously gnarly demons. What could possibly go wrong?
---
Also Read: Shows Like 'Lockwood & Co.' To Watch If You Like the Series
---
Lockwood & Co. (Netflix)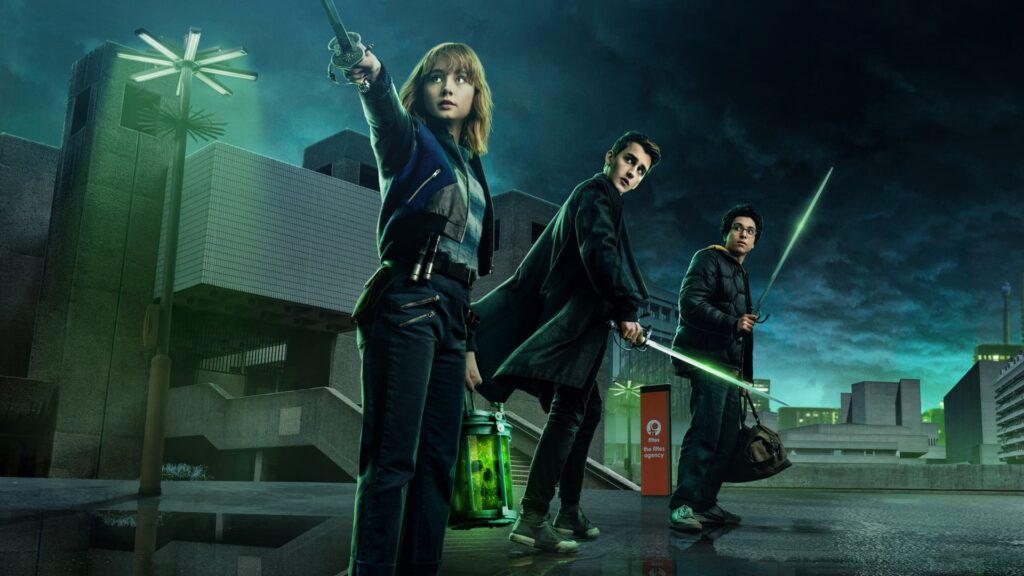 Synopsis: In a world plagued by ghosts, where giant corporations employ psychic teens to battle the supernatural, only one company operates without adult supervision, and its name is Lockwood & Co. Run by Anthony Lockwood, a rebellious young entrepreneur haunted by his mysterious past, his brilliant but eccentric sidekick George and a newly arrived, supremely gifted girl called Lucy, this renegade trio are about to unravel a terrifying mystery that will change the course of history.
---
Also Read: Shows Like 'Derry Girls' To Watch If You Miss the Series
---
Derry Girls (Netflix)
Synopsis: Set in Derry Northern Ireland in the 1990s, Derry Girls is a candid, one-of-a-kind comedy about what it's like to be a teenage girl living amongst conflict. It's a warm, laugh out loud funny and honest look at the lives of an ordinary family living through the Troubles in the early nineties. Armed police in armoured Land Rovers, British Army check points and 'peace' walls are all an everyday reality for Erin. But, despite all that, she has other things to worry about, like the fact the boy she's in love with (actually in LOVE with), doesn't know she exists. Or that her Ma and Aunt Sarah make her include her weirdo cousin in EVERYTHING she does. Or that head teacher, Sister Michael, refuses to acknowledge Erin as a literary genius. Not to mention the fact that her second best friend has ALMOST had sex, whereas Erin's never even kissed anyone yet. Like all teenage girls, Erin has her own Troubles. Derry Girls is based on writer Lisa McGee's (Indian Summers, Being Human) own experiences of growing up in Northern Ireland amidst immense civil conflict.