Firefly is one of the few shows that are alive still only because the fans of the series love it so much. The Josh Weadon series is set five hundred years in the future and it's a whole new frontier, and it follows the crew of a spaceship called Serenity as they take any job legal or illegal, but everything gets rocky when a mysterious girl and her brother a doctor come aboard the ship. Firefly was sadly canceled just after one season by Fox, but the fans loved it so much that Firefly became the only series that launched a whole franchise without any connection from the network it aired on. So, if you miss the series here are some shows you could watch to pass the time and wait for a Firefly reboot.
---
Also Read: Shows Like 'The Orville' To Watch After Binging Season 3
---
The Orville (Hulu)
Synopsis: From Emmy Award-winning executive producer and creator Seth MacFarlane, THE ORVILLE is a live-action, one-hour space adventure series set 400 years in the future that follows The Orville, a mid-level exploratory spaceship. Its crew, both human and alien, face the wonders and dangers of outer space, while also dealing with the familiar, often humorous problems of everyday life.
---
Also Read: Anime Like 'Cowboy Bebop' To Watch If You Miss the Series
---
Cowboy Bebop (Netflix, Hulu, Crunchyroll & Funimation)
Synopsis: The Bebop crew is just trying to make a buck. This motley lot of intergalactic loners teams up to track down fugitives and turn them in for cold hard cash. Spike is a hero whose cool façade hides a dark and deadly past. The pilot Jet is a bruiser of a brute who can't wait to collect the next bounty. Faye Valentine is a femme fatale prone to breaking hearts and separating fools from their money. Along for the ride are the brilliant, but weird, hacker Ed and a super-genius Welsh Corgi named Ein.
---
Also Read: Shows Like 'The Expanse' To Watch If You Miss the Series
---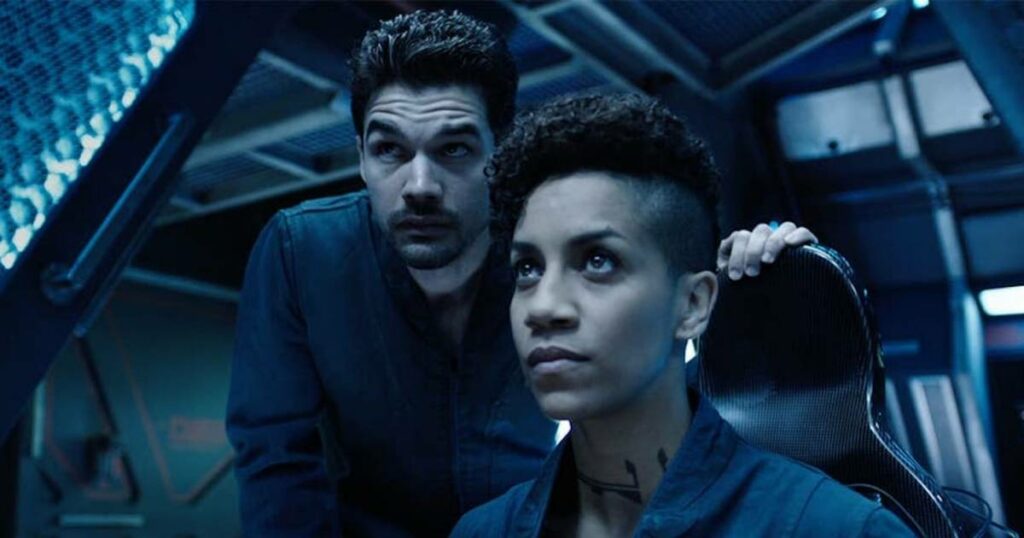 Synopsis: The disappearance of rich-girl-turned-political-activist Julie Mao links the lives of Ceres detective Joe Miller (Thomas Jane), accidental ship captain James Holden (Steven Strait) and U.N. politician Chrisjen Avasarala (Shohreh Aghdashloo). Amidst political tension between Earth, Mars and the Belt, they unravel the single greatest conspiracy of all time.
Star Trek: The Next Generation (Paramount+ & Pluto TV)
Synopsis: Featuring a bigger and better USS Enterprise, this series is set 78 years after the original series — in the 24th century. Instead of Capt. James Kirk, a less volatile and more mature Capt. Jean-Luc Picard heads the crew of various humans and alien creatures in their adventures in space — the final frontier.
Dr. Horrible's Sing-Along Blog
Synopsis: Dr. Horrible's Sing-Along Blog is a 2008 musical comedy-drama miniseries in three acts, produced exclusively for Internet distribution. Filmed and set in Los Angeles, the show tells the story of Dr. Horrible, an aspiring supervillain; Captain Hammer, his superheroic nemesis; and Penny, a charity worker and their shared love interest.
Dollhouse (Hulu)
Synopsis: Dollhouse follows Echo (Eliza Dushku) an "Active," a member of a highly illegal and underground group who have had their personalities wiped clean so they can be imprinted with any number of new personas. Confined to a secret facility known as the "Dollhouse," Echo and the other Actives including Sierra and Victor carry out engagements assigned by Adelle, one of the Dollhouse leaders. The engagements cater to the wealthy, powerful and connected, and require the Actives to immerse themselves in all manner of scenarios – romantic, criminal, uplifting, dangerous, comical and the occasional "pro bono" good deed. After each scenario, Echo, always under the watchful eye of her handler Boyd, returns to the mysterious Dollhouse where her thoughts, feelings and experiences are erased by Topher, the Dollhouse's genius programmer. Echo enters the next scenario with no memory of before. Or does she?
---
Also Read: Comedy Shows Like 'Avenue 5' To Watch If You Miss the Series
---
Avenue 5 (HBO Max)
Synopsis: Created by Veep's Armando Iannucci, Avenue 5 is a new HBO comedy set 40 years in the future when travelling the solar system is no longer the stuff of sci-fi fantasy but a booming, multibillion-dollar business. The series stars Hugh Laurie as Ryan Clark, the confident and suave captain of "Avenue 5" – a space cruise ship with luxury amenities like gourmet buffets, a spa, an observation deck and yoga classes. Among the 5,000 passengers and crew on board are billionaire Herman Judd (Josh Gad), the mercurial face and name behind Avenue 5; Judd's right-hand-woman Iris Kimura (Suzy Nakamura); head of customer relations Matt Spencer (Zach Woods); engineer Billie McEvoy (Lenora Crichlow); and strong-willed passenger Karen Kelly (Rebecca Front). Monitoring Avenue 5 from the ground is Rav Mulcair (Nikki Amuka-Bird), the seen-it-all head of Judd Mission Control. As the series begins, Avenue 5's eight-week journey around Saturn is underway and its systems are optimal. But when the ship suddenly encounters technical difficulties, it's up to Ryan and his crew to calm the disgruntled passengers and find a way to deal with unexpected events onboard – though they may or may not be equipped for the task.
---
Also Read: Shows Like 'Final Space' To Watch If You Miss the Series
---
Synopsis: Final Space is an animated series created by Olan Rogers for TBS. Jam Filled is thrilled to have been a part of this epic, 220 minutes of planet-destroying, cookie-eating, awkward-video-messaging madness. What started as a YouTube short, was soon swept up by the likes of Conan O'Brien and Fred Armisen, and it's taken the world's eyeballs by storm. Final Space introduces us to a rag-tag cast, including Gary Goodspeed and his alien pal, Mooncake, and focuses on their adventures as they try to solve the ultimate question: What is Final Space?
Stargate SG-1 (Prime Video & Pluto TV)
Synopsis: Step through the stargate with SG-1, a team of soldiers and scientists, as they travel instantaneously to other planets to explore, forge alliances, defuse crises, establish trade, investigate ancient mysteries, and defend Earth from such hostile forces as the Goa'uld, the Replicators, and the Ori.
Battlestar Galactica (Peacock)
Synopsis: "Battlestar Galactica" is an intriguing take on the classic adventure of a ragtag fleet of humans, the sole survivors of a devastating nuclear attack by the robot Cylons. Faced with an un-winnable battle against a deadly enemy, they are forced to flee under the protection of their one remaining warship, the outdated Battlestar Galactica. Pursued by the Cylons-some of whom have now taken human form-Commander Adama (Olmos) and President Roslin (McDonnell) lead these last remnants of humanity in search of a new home – a planet called Earth.