Echo 3 is the latest Apple TV+ original series. Based on an Israeli novel "When Heroes Fly" by Amir Gutfreund, and adapted for television by Omri Givon, the action-packed thriller has everything an action fan would hope for and then some because of its nuanced character portrayal. So, if you liked Echo 3, here are some more shows you should watch next.
---
Also Read: Shows Like 'The Terminal List' to Watch While Waiting For Season 2
---
Synopsis: Navy SEAL Commander James Reece turns to vengeance as he investigates the mysterious forces behind the murder of his entire platoon. Free from the military's command structure, Reece applies the lessons he's learned from nearly two decades of warfare to hunt down the people responsible.
Shooter (Netflix)
Synopsis: Shooter is an uncompromising exploration of the definition and evolution of a hero. Ryan Phillippe ("Secrets and Lies") is a producer on the project and will star as Bob Lee Swagger, an expert marksman living in exile who is coaxed back into action after learning of a plot to kill the president. Omar Epps ("House") plays Isaac Johnson, an ex-Marine and former commanding officer of Swagger. Now a Secret Service Agent, he solicits Swagger's expertise for a clandestine operation that has disastrous results.
---
Also Read: Shows Like 'Tom Clancy's Jack Ryan' To Watch After Season 3
---
Synopsis: When CIA analyst Jack Ryan stumbles upon a suspicious series of bank transfers his search for answers pulls him from the safety of his desk job and catapults him into a deadly game of cat and mouse throughout Europe and the Middle East, with a rising terrorist figurehead preparing for a massive attack against the US and her allies.
Strike Back (Rent on iTunes)
Synopsis: An unlikely alliance between two crack special agents fuels the breakneck action and heart-pounding suspense of this action series. As members of a top-secret anti-terrorist organization known as Section 20, British sergeant Michael Stonebridge and disgraced Delta Forces operative Damian Scott undertake a series of adventures while criss-crossing the globe on the trail of an international terrorist who is planning the ultimate attack with a cache of WMD's. Philip Winchester and Sullivan Stapleton star.
---
Also Read: Spy Shows Like 'The Night Manager' To Watch If You are Still Hoping For Season 2
---
Synopsis: A contemporary interpretation of John le Carré's espionage novel, "The Night Manager" follows former British soldier Jonathan Pine (Tom Hiddleston) who is recruited by intelligence operative Angela Burr (Olivia Colman) to infiltrate the inner circle of international businessman Richard Onslow Roper (Hugh Laurie) and detonate the unholy alliance he has ministered between the intelligence community and the secret arms trade. To reach the heart of Roper's vast empire, Pine must withstand the suspicious interrogations of his venal chief of staff, Major Corkoran (Tom Hollander) and the allure of his beautiful girlfriend Jed (Elizabeth Debicki). In his quest to do the right thing, Pine must first become a criminal himself. Executive producers include John Le Carré, Simon Cornwell, Stephen Cornwell and Stephen Garrett. Writer David Farr also serves as an executive producer as does Academy Award® winner Susanne Bier, who serves as director.
---
Also Read: Shows Like 'The Punisher' To Watch If You Miss the Series
---
The Punisher (Disney+)
Synopsis: Frank Castle, also known as "The Punisher", believes he has exacted revenge on the criminals responsible for the tragic murder of his family. However, he soon uncovers a larger, deeper conspiracy behind the events that occurred, involving his time serving in the Marine Corps. Alongside run-ins with law enforcement, his ex-best friend Billy Russo, and former NSA analyst Micro, Frank seeks to uncover the truth once and for all.
---
Also Read: Shows Like 'Reacher' To Watch After Season 2
---
Synopsis: Reacher follows Jack Reacher, a veteran military police investigator who has just recently entered civilian life. Reacher is a drifter, carrying no phone and the barest of essentials as he travels the country and explores the nation he once served. When Reacher arrives in the small town of Margrave, Georgia, he finds a community grappling with its first homicide in 20 years. The cops immediately arrest him and eyewitnesses claim to place Reacher at the scene of the crime. While he works to prove his innocence, a deep-seated conspiracy begins to emerge, one that will require Reacher's keen mind and hard-hitting fists to deal with. One thing above all is for sure: They picked the wrong guy to take the fall.
---
Also Read: Shows Like 'Bodyguard' To Watch While Hoping For Season 2
---
The Bodyguard (Netflix)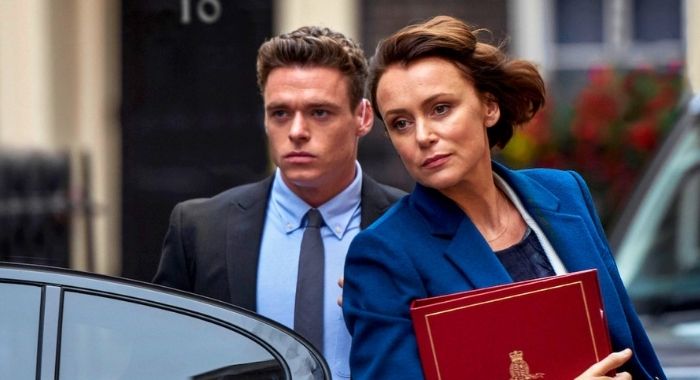 Synopsis: Set in and around the corridors of power, Bodyguard tells the fictional story of David Budd (Richard Madden), a heroic but volatile war veteran now working as a Specialist Protection Officer for the Royalty and Specialist Protection Branch (RaSP) of London's Metropolitan Police Service. When he is assigned to protect the ambitious and powerful Home Secretary Julia Montague (Keeley Hawes), whose politics stand for everything he despises, Budd finds himself torn between his duty and his beliefs. Responsible for her safety, is he actually her biggest threat?
---
Also Read: Shows Like 'The Old Man' To Watch While Waiting For Season 2
---
The Old Man (Hulu)
Synopsis: Based on the bestselling novel of the same name by Thomas Perry, The Old Man stars Jeff Bridges, John Lithgow and Amy Brenneman. The Old Man centers on Dan Chase (Jeff Bridges) who absconded from the CIA decades ago and has been living off the grid since. When an assassin arrives and tries to take Chase out, the old operative learns that to ensure his future he now must reconcile his past. With Dan Chase flushed out of hiding, the FBI's Assistant Director for Counterintelligence Harold Harper (John Lithgow) is called on to hunt him down because of his complicated past with the rogue fugitive. Working alongside Harper is his protégé Angela Adams (Alia Shawkat) and CIA Special Agent Raymond Waters (E.J. Bonilla). When Chase proves to be more difficult to apprehend than the authorities expected, Julian Carson (Gbenga Akinnagbe), a highly trained special ops contractor, is sent to pursue him as well. While on the run, Chase rents a room from Zoe McDonald (Amy Brenneman) who draws on reserves she never knew she had in order to survive the day when she learns the truth about her new tenant. Bill Heck, Leem Lubany and Pej Vahdat also star in the drama series.
---
Also Read: Shows Like 'Homeland' To Watch If You Miss the Series
---
Homeland (Hulu)
Synopsis: Homeland is an edge-of-your-seat sensation. CIA officer Carrie Mathison (Claire Danes) is tops in her field despite being bipolar, which makes her volatile and unpredictable. With the help of her long-time mentor Saul Berenson (Mandy Patinkin), Carrie fearlessly risks everything, including her personal well-being and even sanity, at every turn. You won't be able to turn away from this gripping, emotional thriller in which nothing short of the fate of our nation is at stake.