Dynasty has to be television's one of the sassiest shows ever. The CW drama series is a reboot of a 1980s series of the same name and it follows the wealthy Carrington family as they spend their lives creating and solving problems for themselves. While there is a lot of yelling, backstabbing, and unnecessary drama, Dynasty is absolutely entertaining in a guilty pleasure kind of way. The CW series ran for five seasons ending its run in 2022 so if you also miss the series here are some shows you could watch next.
Synopsis: The series begins with oil tycoon Blake Carrington marrying his former secretary, Krystle. Krystle's former lover, Matthew, returns to town and causes more problems when he tells Krystle that he's still in love with her. Blake's daughter Fallon does not support his marriage, and chooses to marry childhood friend Jeff Colby just for her father's benefit.
Synopsis: Staring Elizabeth Hurley as The Queen, The Royals follows the lives of a fictional British Royal family that inhabits a world of opulence and regal tradition – a world that also comes with a price tag of duty, destiny and intense public scrutiny.
Empire (Hulu)
Synopsis: A hip-hop mogul and CEO of Empire Entertainment, Lucious Lyon, must choose a successor among his three sons who are battling for control over his multi-million dollar company, while his ex-wife schemes to reclaim what is hers.
Synopsis: A group of domestic workers, with dreams of their own, bond over their struggles in the melodramatic universe of their rich Beverly Hills employers.
---
Also Read: Shows Like The CW's 'Gossip Girl' To Watch If You Miss the Series
---
Gossip Girl (Max)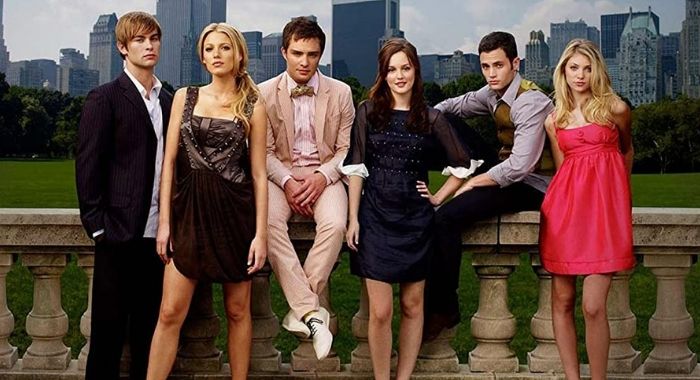 Synopsis: Based on the best-selling series of young-adult novels by Cecily von Ziegesar and executive produced by Josh Schwartz ("Chuck," "The O.C.") & Stephanie Savage ("The O.C."), "Gossip Girl" is a one-hour drama based on the lives of privileged Manhattan prep school teens. The students first learn that Serena van der Woodsen, once the Upper East Side's most notorious party girl, is back in town the way they learn all the important news in their lives: from the blog of the all-knowing albeit ultra-secretive Gossip Girl.
House of Cards (Netflix)
Synopsis: A ruthless Congressman, Francis Underwood, and his ambitious wife Claire, will stop at nothing to conquer everything. This wicked political drama slithers through the back halls of greed, sex, love and corruption in modern D.C.
---
Also Read: Shows Like 'Billions' To Watch While Waiting For Season 7
---
Synopsis: Billions is a bold, contemporary drama that melds the worlds of ultra-wealth, influence and corruption as personified in two highly ambitious opposing figures: hard-charging, blue-blooded, politically connected U.S. Attorney Chuck Rhoades (Emmy and Golden Globe winner Paul Giamatti) and brilliant, calculating, blue-collar billionaire hedge fund king, Bobby "Axe" Axelrod (Emmy and Golden Globe winner Damian Lewis). Set amongst the Machiavellian machinations of New York City power politics and finance, BILLIONS weaves a complex, intricate narrative featuring a high-stakes game of predator-versus-prey.
Revenge (Hulu)
Synopsis: Emily Thorne (Emily Van Camp) is new to the Hamptons. She's met some of her wealthy neighbors, has made a few new friends and seemingly blends into the town. But something is a little odd about a young girl living in a wealthy town all on her own, and the truth is that Emily isn't exactly new to the neighborhood. In fact, this was once her old neighborhood, until something bad happened that ruined her family and their reputation. Now Emily is back, and she's returned to right some of those wrongs in the best way she knows how – with a vengeance.
---
Also Read: Shows Like 'Succession' to Watch While Waiting For Season 4
---
Succession (Max)
Synopsis: Power, politics, money…it's all in the family in this provocative, funny series about a highly dysfunctional dynasty. When Logan Roy (Brian Cox), CEO of one of the world's largest media and entertainment conglomerates, considers retirement, each of his four grown children follows a personal agenda that doesn't always sync with those of their siblings–or of their father.
---
Also Read: Shows Like 'Arrested Development' To Watch If You Miss the Series
---
Arrested Development (Netflix & Hulu)
Synopsis: Holding the Bluths together just barely is son Michael Bluth (Jason Bateman), the only normal guy in a family that's chock full of nuts. Hardworking and sensible, Michael's certain he's going to be given control of his family's Enron-style corporation upon the retirement of his father (Jeffrey Tambor). The fact that he's passed over instead for his mother (Jessica Walter) is only a blip when compared to his father's immediate arrest for dubious accounting practices, and the resulting freeze on the family's previously limitless wealth. Bereft of money, and even less family love, the Bluths have to band together in their moment of need–not easy when everyone's looking out for number 1. In addition to his scabrous parents, Michael has to contend with his lothario older brother (Will Arnett), his basically useless younger brother (Tony Hale), his greedy twin sister (Portia DeRossi), and her sexually ambiguous husband (David Cross). Michael's only comrade in sanity is his son George Michael (Michael Cera), but then again, the teenage boy harbors a secret crush on his cousin (Alia Shawkat).