Based on a comic book series of the same name the brilliant Syfy series Deadly Class followed a disillusioned homeless teen Marcus Lopez Arguello who gets recruited into the King's dominion a private school training the assassins of the future. Deadly Class was loved by the fans upon its release but it was not enough incentive for Syfy to renew the series for a second season, as it was canceled right after its first season aired. So, if you miss Deadly Class here are some shows you could watch next.
---
Also Read: Shows Like 'Wayne' To Watch While Hoping for Season 2
---
Synopsis: Wayne can't help himself from righting the world's wrongs. Now, against all odds, he and his one-of-a-kind girlfriend Del are on a road trip from Brockton, Mass to Ocala, Florida to reclaim what's rightfully his: a majestic old car that was stolen from his sick father. With trouble behind them and danger ahead, Wayne and Del are bound to find themselves with their backs against the wall. But that's okay. They've been there before.
Synopsis: Awarded the BAFTA for best drama series, Misfits follows a group of ASBO teenagers who develop strange powers after they are caught in a freak storm. This comedy drama series first aired in the UK in November 2009 to massive critical acclaim and went on to receive a host of awards and nominations.
---
Also Read: Shows To Watch If You Miss 'The End of the F***ing World' For More Dark Stories & Humor
---
The End of the F***ing World (Netflix)
Synopsis: Inspired by a comic book, THE END OF THE F***ING WORLD, is a black humoured road movie-style drama with an unlikely love story at its heart. James and Alyssa are rebel teenagers running away from home. From dreary suburbia and rundown shopping malls to lush landscapes and big vistas, they're on a quest to find a better life with Alyssa's idol – her estranged father. This is an emotional coming-of-age drama where two outcast teenagers from a disillusioned generation come together and learn what it feels like to make a human connection for the very first time.
---
Also Read: Shows Like 'Alex Rider' To Watch While Hoping For Season 3
---
Synopsis: Based on the best-selling Alex Rider books by Anthony Horowitz. When Alex Rider learns that his Uncle Ian was killed in the line of duty as a British spy – and not a car accident like he's been told – everything changes for this otherwise normal teen. Alex is soon approached by Alan Blunt, head of a top-secret offshoot of MI6 known as The Department, who reveals that he's been unknowingly trained since childhood for the dangerous world of espionage. Pressured to leave his old life behind, Alex goes undercover to investigate the connection between the deaths of two billionaires and a remote boarding school called Point Blanc. Upon arrival, he discovers that the students are subjects in the megalomaniacal school director's plan led to gain control of their families' business empires. Aided by his classmate Kyra, best friend Tom, and his au pair Jack, Alex exposes the plot's global network and begins his career as MI6's youngest covert asset.
---
Also Read: Shows Like 'The Order' To Watch If You Miss the Series
---
The Order (Netflix)
Synopsis: At Belgrave University, college freshman Jack Morton joins a fabled secret society where he's thrust into a dangerous game of life or death. As Jack goes deeper, he uncovers dark family secrets and an underground battle between werewolves and the magical dark arts.
---
Also Read: Shows Like 'Hanna' To Watch If You Miss the Series
---
Synopsis: In equal parts high-concept thriller and coming-of-age drama, HANNA follows the journey of an extraordinary young girl raised in the forest, as she evades the relentless pursuit of an off-book CIA agent and tries to unearth the truth behind who she is.
---
Also Read: Shows Like 'Condor' To Watch If You Loved the Spy Series
---
Synopsis: Based on the novel "Six Days of the Condor" by James Grady and screenplay "Three Days of the Condor" by Lorenzo Semple Jr. and David Rayfiel, Condor follows CIA analyst (Max Irons) who stumbles onto a plan that threatens the lives of millions. Joe Turner has always been conflicted about his work for the CIA. But when something he's discovered gets his entire office killed, leaving Joe as the only survivor and forcing him to go on the run, the theoretical reservations he's harbored turn into all-too-real moral dilemmas. Under pressure, Joe will be forced to redefine who he is and what he's capable of in order to discover the truth and to stop a plot that threatens the lives of millions. Starring Max Irons, William Hurt, Leem Lubany, Angel Bonnani, Kristen Hager, with Mira Sorvino and Bob Balaban and special guest star Brendan Fraser.
---
Also Read: Shows Like 'The Umbrella Academy' To Watch After Season 3
---
The Umbrella Academy (Netflix)
Synopsis: On the same day in 1989, forty-three infants are inexplicably born to random, unconnected women who showed no signs of pregnancy the day before. Seven are adopted by a billionaire who creates The Umbrella Academy and prepares his "children" to save the world. Now, the six surviving members reunite upon the news of their father's passing and must work together to solve a mystery surrounding his death. But the estranged family begins to come apart due to their divergent personalities and abilities, not to mention the imminent threat of a global apocalypse. The Umbrella Academy is based on the comic book series created and written by Gerard Way, illustrated by Gabriel Bá, and published by Dark Horse Comics.
---
Also Read: Shows Like 'The Hardy Boys' To Watch While Waiting For the Final Season
---
The Hardy Boys (Hulu)
Synopsis: Every town has its secrets. When the Hardy boys, Frank (16) and Joe (12), arrive in Bridgeport, they set out to uncover the truth behind the recent tragedy that has changed their lives, and in doing so, uncover something much more sinister.
---
Also Read: Shows Like 'The Boys' To Watch After Season 3
---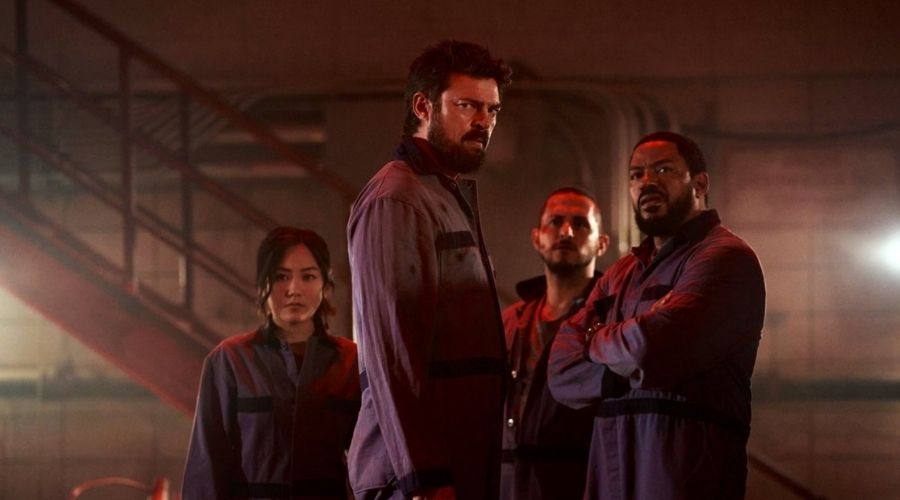 Synopsis: The Boys is an irreverent take on what happens when superheroes, who are as popular as celebrities, as influential as politicians and as revered as Gods, abuse their superpowers rather than use them for good. It's the powerless against the super powerful as The Boys embark on a heroic quest to expose the truth about "The Seven", and their formidable Vought backing.