Daredevil is one of the most brilliant, layered, and magnetic characters in any Marvel show or movie since it came from the comic book pages to the Netflix series. The actor Charlie Cox who played the role of the Devil of Hell's Kitchen is one of the main reasons why Daredevil has become a fan favorite, and now that Cox has joined the MCU as Daredevil as all the fans wanted and Disney has confirmed that either a new season of Daredevil or a reboot is in the works, which will come to Disney+, where currently the whole series is airing. So, if you are also waiting for more Charlie Cox's Daredevil here are some shows that are similar to Daredevil to watch until the next season comes along. Just as a warning, all the shows on this list are not exactly like Daredevil but I think they all have a similar feel.
---
Also Read: Shows Like 'Arrow' To Watch If You Miss the Series
---
Arrow (Netflix)
Synopsis: After a violent shipwreck, onetime billionaire Oliver Queen was missing and presumed dead for five years before being discovered alive on a remote island in the North China Sea. He returned home to Star City, intent on righting the wrongs done by his family and fighting injustice. As the Green Arrow, Oliver successfully fought for his beloved city with the help of his team, including former soldier John Diggle, computer-science expert Felicity Smoak, former protégé Roy Harper, his vigilante sister Thea Queen, street-savvy Rene Ramirez, metahuman Dinah Drake, brilliant inventor Curtis Holt and Laurel Lance. Based on the fan-favorite DC series, The Complete Series of the reimagined Arrow is shot through with danger, intrigue and hard-hitting vigilante action. And while the adventures intensify to the series' dramatic climax, Oliver learns the true cost of being a hero as he takes aim at his final legacy.
---
Also Read: Shows Like 'The Punisher' To Watch If You Miss the Series
---
The Punisher (Disney+)
Synopsis: Frank Castle, also known as "The Punisher", believes he has exacted revenge on the criminals responsible for the tragic murder of his family. However, he soon uncovers a larger, deeper conspiracy behind the events that occurred, involving his time serving in the Marine Corps. Alongside run-ins with law enforcement, his ex-best friend Billy Russo, and former NSA analyst Micro, Frank seeks to uncover the truth once and for all.
---
Also Read: Gritty Superhero Shows Like DC's 'Titans' To Watch If You Already Miss the Series
---
Titans (HBO Max)
Synopsis: Titans follows young heroes from across the DC Universe as they come of age and find belonging in a gritty take on the classic Teen Titans franchise. Dick Grayson and Rachel Roth, a special young girl possessed by a strange darkness, get embroiled in a conspiracy that could bring Hell on Earth. Joining them along the way are the hot-headed Starfire and loveable Beast Boy. Together they become a surrogate family and team of heroes.
---
Also Read: Best Shows Like 'The Boys' To Watch While Waiting For Season 4
---
Synopsis: The Boys is an irreverent take on what happens when superheroes, who are as popular as celebrities, as influential as politicians and as revered as Gods, abuse their superpowers rather than use them for good. It's the powerless against the super powerful as The Boys embark on a heroic quest to expose the truth about "The Seven", and their formidable Vought backing.
---
Also Read: Shows Like 'The Defenders' To Watch If You Miss the Series
---
The Defenders (Disney+)
Synopsis: Marvel's The Defenders follows Daredevil AKA Matt Murdock (Charlie Cox), Jessica Jones (Krysten Ritter), Luke Cage (Mike Colter) and Iron Fist AKA Danny Rand (Finn Jones), a quartet of singular heroes with one common goal – to save New York City. This is the story of four solitary figures, burdened with their own personal challenges, who reluctantly realize they just might be stronger when teamed together.
---
Also Read: Best Shows Like Marvel's 'Legion' If You Miss The Series
---
Legion (Hulu)
Synopsis: Legion follows the story of "David Haller," a man who believed he was schizophrenic but discovered he might be the most powerful mutant in the world. With help from a team of specialists, David harnessed his unique abilities and learned he'd been haunted by a malicious parasite. Now, David is all that stands in the way of "Amahl Farouk" from attaining infinite and world-ending power.
---
Also Read: Shows Like 'Preacher' To Watch If You Miss the Series
---
Preacher (Hulu)
Synopsis: Based on the hit comic book series, Preacher is the edgy story of Jesse Custer, a conflicted preacher in a small Texas town who is inhabited by a mysterious entity that allows him to develop a highly unconventional power. With his fearless sidekicks, Tulip and Cassidy, he embarks on a wild, dark journey that is unlike any other.
---
Also Read: Best Shows Like 'Mr. Robot' to Watch If You Miss the Series
---
Synopsis: Young antisocial computer programmer Elliot works as a cybersecurity engineer during the day, but at night he is a vigilante hacker. He is recruited by the mysterious leader of an underground group of hackers to join their organization. Elliot's task? Help bring down corporate America, including the company he is paid to protect – which presents him with a moral dilemma. Although he works for a corporation, his personal beliefs make it hard to resist the urge to take down the heads of multinational companies that he believes are running – and ruining – the world.
---
Also Read: Sci-Fi Shows Like 'Altered Carbon' To Watch If You Miss the Series
---
Altered Carbon (Netflix)
Synopsis: In the future, human minds are digitized and downloaded from body to body. Last night, the wealthiest man on Earth, Laurens Bancroft (James Purefoy) was murdered. To investigate his death, he brings back ex-Envoy soldier Takeshi Kovacs (Joel Kinnaman / Will Yun Lee) and in exchange, Bancroft offers Kovacs the chance to live again.
---
Also Read: Shows Like 'Watchmen' To Watch If You Miss the Series
---
Watchmen (HBO Max)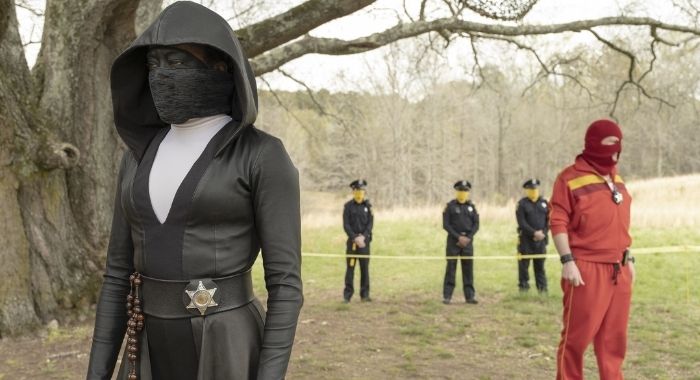 Synopsis: Set in an alternate history where masked vigilantes are treated as outlaws, this epic series from executive producer Damon Lindelof (Lost; HBO's The Leftovers) embraces the nostalgia of the original groundbreaking graphic novel of the same name, while attempting to break new ground of its own. Regina King (HBO's The Leftovers) leads the cast as Angela Abar, who wears two masks; one as a lead detective in The Tulsa Police Force and another as wife and mother of three. The cast also includes Jeremy Irons, Don Johnson, Jean Smart, Tim Blake Nelson, Louis Gossett Jr., Yahya Abdul-Mateen II, Tom Mison, Frances Fisher and Sara Vickers.​