Covert Affairs has always been one of those shows that kept its audience on the edge of their seat with its complicated characters and international intrigue. The series followed Piper Perabo's Annie Walker, a CIA trainee thrown unexpectedly into the field. But her sudden promotion might have something to do with her past, and with this thought in her head, Annie starts to suspect her superiors. The USA Network series ran for five brilliant seasons ending its run in 2014. So, if you miss Covert Affairs here are some shows you could watch next.
Synopsis: In this sexy and suspenseful series featuring international action star Maggie Q (Mission: Impossible III) in the title role, Nikita has gone rogue. Division is an ultra-secret government agency whose operatives are recruited young people with severed ties to family, friends and society. Trained to be invisible assassins, no one ever leaves Division — except the charming and deadly Nikita, who has managed to escape, making it her mission to undermine the now-corrupt organization. A force to be reckoned with, the rogue Nikita taunts Division, staying on their radar, but always one step ahead. Yet as determined as Nikita is to bring down her former agency, there are those just as determined to stop her. Division's newest recruit, Alex (Lyndsy Fonseca, Kick-Ass), is a beautiful young woman who seems destined to replace Nikita as their next top operative. Filled with twists and thrills, Nikita also stars Shane West, Aaron Stanford, Melinda Clarke and Xander Berkeley.
---
Also Read: Shows Like 'Alias' To Watch If You Miss the Series
---
Synopsis: Sydney Bristow (Jennifer Garner) discovers that her employer, SD6, is not part of the government but actually an enemy organization. She goes to work undercover at SD6 as a double agent, while actually working with the CIA. Her greatest ally is another fellow double agent: her father.
---
Also Read: Shows Like 'Hanna' To Watch If You Miss the Series
---
Synopsis: In equal parts high-concept thriller and coming-of-age drama, HANNA follows the journey of an extraordinary young girl raised in the forest, as she evades the relentless pursuit of an off-book CIA agent and tries to unearth the truth behind who she is.
---
Also Read: Shows Like 'The Recruit' To Watch While Hoping For Season 2
---
The Recruit (Netflix)
Synopsis: The Recruit centers around Owen Hendricks (Noah Centineo), a young CIA lawyer whose first week on the job turns upside down when he discovers a threatening letter by former asset Max Meladze (Laura Haddock), who plans to expose the agency unless they exonerate her of a serious crime. Owen quickly becomes entangled in a dangerous and often absurd world of power politics and mischievous players, as he travels the world in hopes of completing his assignment and making a mark at the CIA.
---
Also Read: Best Shows Like 'Condor' To Watch If You Loved the Spy Series
---
Synopsis: Based on the novel "Six Days of the Condor" by James Grady and screenplay "Three Days of the Condor" by Lorenzo Semple Jr. and David Rayfiel, Condor follows CIA analyst (Max Irons) who stumbles onto a plan that threatens the lives of millions. Joe Turner has always been conflicted about his work for the CIA. But when something he's discovered gets his entire office killed, leaving Joe as the only survivor and forcing him to go on the run, the theoretical reservations he's harbored turn into all-too-real moral dilemmas. Under pressure, Joe will be forced to redefine who he is and what he's capable of in order to discover the truth and to stop a plot that threatens the lives of millions. Starring Max Irons, William Hurt, Leem Lubany, Angel Bonnani, Kristen Hager, with Mira Sorvino and Bob Balaban and special guest star Brendan Fraser.
The Little Drummer Girl (The Roku Channel)
Synopsis: Based on John le Carré's best-selling literary masterpiece of the same name, The Little Drummer Girl is a passionate love story and a deeply immersive thriller. As audacious now as when the book was first published, it portrays a world in which the lines between hero and villain, and between love and hate, are dangerously in flux. The six-part miniseries stars Emmy® and Golden Globe® Award winner Alexander Skarsgård (Big Little Lies) as Becker, twice Academy Award-nominated Michael Shannon (The Shape of Water) as Kurtz and BAFTA-nominated Florence Pugh (Lady Macbeth) as Charlie. Set in the late 1970s, the pulsating thriller follows Charlie (Pugh), a young, fiery but unfulfilled British actress and idealist whose resolve is tested after she meets the mysterious Becker (Skarsgård) while on holiday in Greece. It quickly becomes apparent that his intentions are not what they seem, and her encounter with him entangles her in a complex plot devised by the spy mastermind Kurtz (Shannon). Charlie takes on the role of a lifetime as a double agent in the 'Theatre of the Real', but despite her natural mastery of the task at hand, she increasingly finds herself inexorably drawn into a dangerous world of duplicity and compromised humanity. Blurring the fine lines between love and hate; truth and fiction; and right and wrong; The Little Drummer Girl weaves a suspenseful and explosive story of espionage and high-stakes international intrigue.
Quantico (Hulu)
Synopsis: A diverse group of recruits has arrived at the FBI Quantico Base for training. They are the best, the brightest, and the most vetted, so it seems impossible that one of them is suspected of masterminding the biggest attack on New York City since 9/11. Stars Yasmine Al Massri (Nimah Amin), Johanna Braddy (Shelby Wyatt), Priyanka Chopra (Alex Parrish), Jake McLaughlin (Ryan Booth), Aunganue Ellis (Miranda Shaw), Tate Ellington (Simon Asher), Graham Rogers (Caleb Haas).
---
Also Read: Shows Like 'Tom Clancy's Jack Ryan' To Watch While Waiting For Season 4
---
Synopsis: When CIA analyst Jack Ryan stumbles upon a suspicious series of bank transfers his search for answers pulls him from the safety of his desk job and catapults him into a deadly game of cat and mouse throughout Europe and the Middle East, with a rising terrorist figurehead preparing for a massive attack against the US and her allies.
---
Also Read: Spy Shows Like 'The Night Manager' To Watch If You are Still Hoping For Season 2
---
Synopsis: A contemporary interpretation of John le Carré's espionage novel, "The Night Manager" follows former British soldier Jonathan Pine (Tom Hiddleston) who is recruited by intelligence operative Angela Burr (Olivia Colman) to infiltrate the inner circle of international businessman Richard Onslow Roper (Hugh Laurie) and detonate the unholy alliance he has ministered between the intelligence community and the secret arms trade. To reach the heart of Roper's vast empire, Pine must withstand the suspicious interrogations of his venal chief of staff, Major Corkoran (Tom Hollander) and the allure of his beautiful girlfriend Jed (Elizabeth Debicki). In his quest to do the right thing, Pine must first become a criminal himself. Executive producers include John Le Carré, Simon Cornwell, Stephen Cornwell and Stephen Garrett. Writer David Farr also serves as an executive producer as does Academy Award® winner Susanne Bier, who serves as director.
---
Also Read: Shows Like 'Bodyguard' To Watch While Hoping For Season 2
---
Bodyguard (Netflix)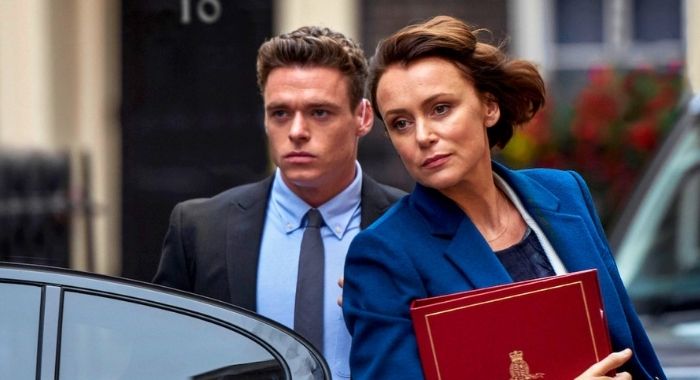 Synopsis: Set in and around the corridors of power, Bodyguard tells the fictional story of David Budd (Richard Madden), a heroic but volatile war veteran now working as a Specialist Protection Officer for the Royalty and Specialist Protection Branch (RaSP) of London's Metropolitan Police Service. When he is assigned to protect the ambitious and powerful Home Secretary Julia Montague (Keeley Hawes), whose politics stand for everything he despises, Budd finds himself torn between his duty and his beliefs. Responsible for her safety, is he actually her biggest threat?