Child's Play premiered nearly thirty-three years ago and made everyone afraid of the creepy-looking red-haired doll, and now Syfy's Chucky series is doing the same thing while also doing justice to its predecessor. The Syfy series follows a teenager named Jake Wheeler (Zackary Arthur), who finds Chucky for sale at a local yard sale in the town, the same town where Charles Lee Ray was born and Lee Ray is a serial killer whose soul is inhabiting the Good Guy doll. Jake stuffs Chucky into his school locker before taking it home, but before going home with Jake, Chucky wreaks a little havoc. We also learn that before Lee Ray decided on putting a piece of his soul into the doll he also transferred it into someone else. Chucky was recently renewed for its third season by Syfy. So, while you wait for the third season to come out here are some shows you could watch while waiting.
---
Also Read: Gory Shows Like 'Ash vs. Evil Dead' To Watch If You Miss the Series
---
Ash vs Evil Dead (Netflix & Starz)
Synopsis: "Ash vs Evil Dead" follows Ash, the stock boy, aging lothario and chainsaw-handed monster hunter who has spent the last 30 years avoiding responsibility, maturity and the terrors of the Evil Dead. When a Deadite plague threatens to destroy all of mankind, Ash is finally forced to face his demons –personal and literal. Destiny, it turns out, has no plans to release the unlikely hero from its "Evil" grip.
Marianne (Netflix)
Synopsis: When a novelist realizes her terrifying stories are coming true, she returns to her hometown to face the demons from her past that inspire her writing.
---
Also Read: Shows Like "What We Do in the Shadows" You Should Watch
---
What We Do in the Shadows (Hulu)
Synopsis: A look into the daily lives of four vampires who've been together for hundreds of years; after a visit from their dark lord and leader, they're reminded of their purpose in coming to New York City over a century ago.
Ratched (Netflix)
Synopsis: From Ryan Murphy and Ian Brennan, Ratched is a suspenseful drama series that tells the origin story of asylum nurse Mildred Ratched. In 1947, Mildred arrives in Northern California to seek employment at a leading psychiatric hospital where new and unsettling experiments have begun on the human mind. On a clandestine mission, Mildred presents herself as the perfect image of what a dedicated nurse should be, but the wheels are always turning and as she begins to infiltrate the mental health care system and those within it, Mildred's stylish exterior belies a growing darkness that has long been smoldering within, revealing that true monsters are made, not born. Ratched was inspired by the iconic and unforgettable character of Nurse Ratched in One Flew Over The Cuckoo's Nest and was created by Evan Romansky.
---
Also Read: Shows Like 'Bates Motel' To Watch If You Miss the Series
---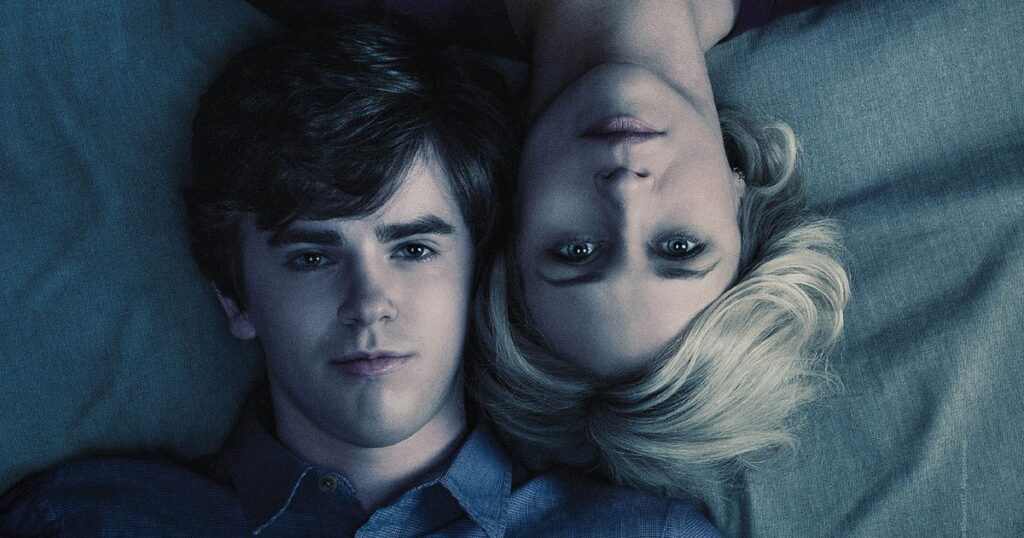 Synopsis: From Executive Producers Carlton Cuse (Lost) and Kerry Ehrin (Friday Night Lights and Parenthood), Bates Motel delves into the sadistic and twisted relationship between serial killer-to-be, Norman Bates, and his mother Norma. A prelude to the classic horror film Psycho, the series takes a contemporary glimpse into Norman's formative years and reveals how he became one of the most infamous murderer.
Shining Vale (Starz)
Synopsis: When darkness descends upon Chucalissa, errybody and they mama must fight tooth and talon to survive. While some take flight to new heights, others dig in their stilettos and stand their ground.
---
Also Read: Shows Like 'Wednesday' To Watch While Waiting For Season 2
---
Wednesday (Netflix)
Synopsis: The series is a sleuthing, supernaturally infused mystery charting Wednesday Addams' years as a student at Nevermore Academy. Wednesday's attempts to master her emerging psychic ability, thwart a monstrous killing spree that has terrorized the local town, and solve the supernatural mystery that embroiled her parents 25 years ago — all while navigating her new and very tangled relationships at Nevermore.
Scream Queens (Hulu)
Synopsis: Scream Queens is a new genre-bending comedy-horror anthology series. The series, produced by 20th Century Fox Television, is from Ryan Murphy, Brad Falchuk, Ian Brennan and Dante Di Loreto, the executive producers of GLEE and "American Horror Story." The first installment in the new anthology series revolves around a college campus which is rocked by a series of murders.
---
Also Read: Shows Like 'Stranger Things' To Watch After Season 4
---
Stranger Things (Netflix)
Synopsis: A love letter to the supernatural classics of the 80's, Stranger Things is the story of a young boy who vanishes into thin air. As friends, family and local police search for answers, they are drawn into an extraordinary mystery involving top-secret government experiments, terrifying supernatural forces and one very strange little girl.
Scream (Netflix)
Synopsis: Inspired by the Wes Craven film that turned the slasher genre on its decapitated head, this anthology horror series continues to hack apart tropes and subvert expectations as new groups of teens find themselves the target of masked killers.