Cheers is definitely one of the most brilliant and funny series. The classic series fills everyone's heart with nostalgia and warm memories. Cheers is set in the titular bar in Boston and it hosts a group of regulars from different backgrounds as they share their problems and happiness with each other over some drinks. Starring Ted Danson, Kirstie Alley, Shelley Long, Kelsey Grammer, and many more the series ran for eleven brilliant seasons ending its run in 1993. Cheers also have two spin-offs including the acclaimed series Frasier, which is getting a reboot, and the short-lived series The Tortellis. So, if you miss Cheers here are some shows you could watch next.
---
Also Read: Comedy Shows Like 'Frasier' To Watch While Waiting For the Revival Series
---
Synopsis: Comedy series set in Seattle, WA, which chronicles the lives of an eloquently pompous radio show host Dr. Frasier Crane (Kelsey Grammer), his brazen radio producer Roz (Peri Gilpin), his competitive, high-brow brother Niles (David Hyde Pierce), their crotchety father Martin (John Mahoney) and his quirky live-in nurse Daphne (Jane Leeves).
Synopsis: Two brothers, Joe and Brian Hackett, run a on-plane commuter service from a small Nantucket airport. Along with Joe's on-again/off-again girlfriend, there are more hilarious and eccentric characters who work out of or at the airport.
---
Also Read: Comedy Shows Like 'How I Met Your Mother' To Watch If You Miss the Series
---
How I Met Your Mother (Hulu)
Synopsis: A half-hour comedy series about Ted and how he fell in love. It all started when Ted's best friend, Marshall, drops the bombshell that he's going to propose to his long-time girlfriend, Lily, a kindergarten teacher. At that moment, Ted realizes that he had better get a move on if he too hopes to find true love. Helping him in his quest to find his future wife is Barney, a friend with endless, sometimes outrageous opinions, a penchant for suits and a foolproof way to meet women. When Ted meets Robin, he's sure it's love at first sight, but after a whirlwind romance with her, he realizes destiny has something else in store for him. The series is narrated through flashbacks from the future.
Synopsis: This Emmy-winning sitcom follows the lives of a group of cabbies in New York. The employees of the Sunshine Cab Company are a motley crew, including frustrated actor Bobby, struggling boxer Tony, art gallery receptionist Elaine, and tyranical dispatcher Louie. For almost everyone, the cab company is just a temporary job that can be left behind when they make it in their chosen professions. The core of the company is disillusioned Alex (Judd Hirsch), who's sure he will be driving a cab for the rest of his life. Burned-out ex-hippie minister Reverend Jim and mechanic Latka Gravas (Andy Kaufman) round out the group.
---
Also Read: Shows Like 'Night Court' If You Miss the Original Series
---
Synopsis: Disorder in the court! That's the order of the day when a parade of zany–and often bizarre–characters passes before unconventional and unpredictable Judge Harry T. Stone (Harry Anderson) in the hilarious comedy Night Court.
Becker (Pluto TV)
Synopsis: Dr. John Becker goes through his daily routine of being a doctor, stopping at his favorite diner, and other various situations, all the while hating life and everything around him.
Synopsis: Comedian Steve Byrne finds new life in his old neighborhood in this sitcom executive produced by Vince Vaughn. Byrne stars as a successful New York corporate attorney who returns home to Pittsburgh to take over his father's pub. So begins his quest for a more meaningful and rewarding life…behind the bar!
---
Also Read: Shows Like 'MASH' To Watch If You Miss the Series
---
Synopsis: A fast-paced and fun-filled series relating the antics of a mobile army surgical hospital crew during the Korean war. They are basically dedicated surgeons who turn to humor as relief from the front-line operating room.
Synopsis: This unlicensed, makeshift establishment in Abby's backyard is the perfect gathering place for locals to find camaraderie and sanctuary. To maintain the perfect bar ecosystem, all patrons must abide by a specific set of rules.
---
Also Read: Comedy Shows Like 'It's Always Sunny in Philadelphia' To Watch While Waiting For Season 16
---
It's Always Sunny in Philadelphia (Hulu)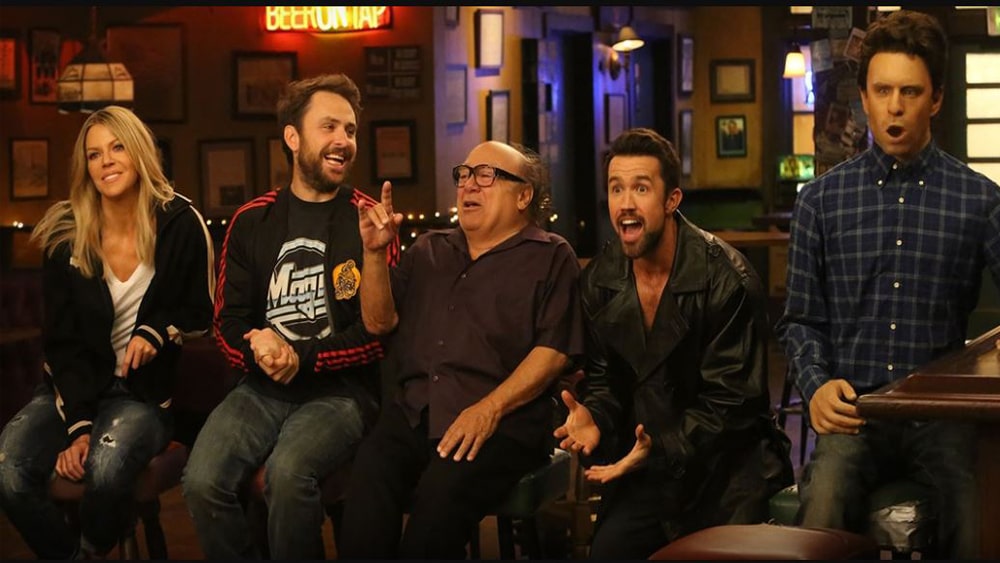 Synopsis: It's Always Sunny in Philadelphia features Mac, Dennis, Charlie, Sweet Dee and Frank, five ne'er-do-wells who own and operate Paddy's Pub in Philadelphia. Their constant scheming usually lands them in a world of hurt, yet they never seem to learn from their mistakes. As they say, some things never change. So prepare for more depraved schemes, half-baked arguments, and absurdly underhanded plots to subvert one another.