Call the Midwife is one of the most light-hearted and coziest medical series, and the best thing about the series is that it is loved by everyone. The medical drama series recently concluded its very hit Season 11 and has been renewed for a twelfth season. So, if are missing the series while the next season of Call the Midwife comes out here are some shows you could watch to pass the time.
---
Also Read: Shows Like 'All Creatures Great and Small' To Watch While Waiting for Season 4
---
All Creatures Great and Small
Synopsis: James Herriot's adventures as a veterinarian in 1930's Yorkshire get a glorious new adaptation in a seven-part series based on his beloved books. Exciting newcomer Nicholas Ralph will make his television debut as the iconic vet who became renowned for his inspiring humor, compassion and love of life.
Doc Martin
Synopsis: Martin Clunes (Men Behaving Badly) is brilliant in this fish-out-of-water comedy about a hotshot London surgeon forced to retrain as a GP and relocate to a sleepy Cornish village.
Northern Exposure
Synopsis: Fresh out of New York's Columbia University, cocky young Dr. Joel Fleischman (Rob Morrow) is looking forward to his comfortable position in Alaska's largest city. Upon his arrival, Joel finds himself a fish-out-of-water as he's instead assigned to a tiny Alaskan village where the offbeat locals would love him to stay forever.
Hart of Dixie
Synopsis: Rachel Bilson (The O.C.) leads a stellar ensemble cast in this fish-out-of-water comedic drama about small-town living, big-city attitudes and complicated love triangles. Aspiring heart surgeon Dr. Zoe Hart (Bilson) must take a job as a general practitioner to secure an important fellowship the following year. Offered a position by a mysterious southern country doctor, this lifelong New Yorker packs her bags, slips on her stilettos and leaves Manhattan for life in BlueBell, Alabama, where no one has ever seen the likes of Dr. Zoe Hart. Zoe feels the culture shock of her new surroundings immediately, but in the South, things aren't always as they seem…and Zoe might just discover she belongs in this town more than she ever could have imagined. Jaime King, Wilson Bethel, Cress Williams, Tim Matheson and Scott Porter also star.
---
Also Read: Shows Like 'Virgin River' To Watch While Waiting For Season 5
---
Virgin River
Synopsis: Searching for a fresh start, a nurse practitioner moves from LA to a remote northern California town and is surprised by what — and who — she finds. Virgin River stars Alexandra Brekenridge, Martin Henderson and Tim Matheson.
Harlots
Synopsis: Set against the backdrop of 18th century Georgian London, Harlots is a powerful family drama offering a brand new take on the city's most valuable commercial activity – sex. Based on the stories of real women, the series follows Margaret Wells (Morton) and her daughters, as she struggles to reconcile her roles as mother and brothel owner. When her business comes under attack from Lydia Quigley (Manville), a rival madam with a ruthless streak, Margaret will fight back, even if it means putting her family at risk. Brown Findlay will star as Charlotte, Margaret's eldest daughter and the city's most coveted courtesan who begins to grapple with her position in both society and her immediate family. Written by acclaimed playwright and screenwriter, Moira Buffini (Jane Eyre, Tamara Drewe) and based upon an original idea by Moira Buffini and Alison Newman, Harlots is the first commission for Monumental Pictures, the independent company founded by Oscar nominated producers Alison Owen (Suffragette, Tulip Fever) and Debra Hayward (Bridget Jones's Baby, Les Misérables).
The Knick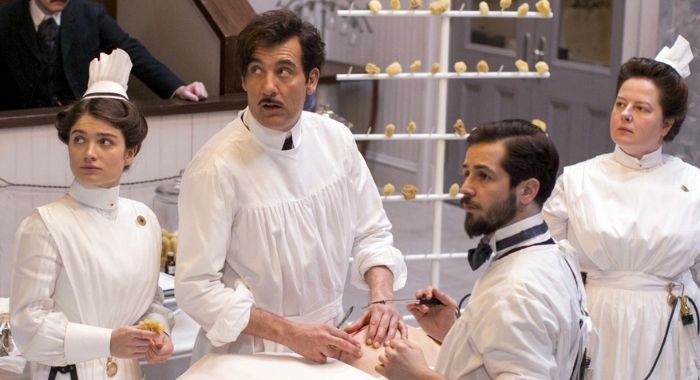 Synopsis: A brilliant surgeon pushes the boundaries of medicine, morality and race relations at a NYC hospital at the turn of the 20th century. Directed by Steven Soderbergh–the show follows Dr. John Thackery (Clive Owen) and his groundbreaking work at the Knickerbocker Hospital as it faces a period of major upheaval.
The Durrells in Corfu
Synopsis: Keeley Hawes (Upstairs Downstairs) stars as an intrepid widow who decamps from dreary England to a sun-dappled Greek island with her four recalcitrant children, ages 11 to 21, on this adaptation of Gerald Durrell's My Family and Other Animals and its two sequels. Alongside Hawes' matriarch Louisa Durrell are eldest son, Larry (Josh O'Connor), a budding writer on his way to becoming the famous novelist Lawrence Durrell; son number two, Leslie (Callum Woodhouse), an impulsive firearms enthusiast; daughter Margo (Daisy Waterstone), sixteen and man-crazy; and eleven-year-old Gerry (Milo Parker), who only has eyes for wildlife and grew up to be a world-renowned naturalist.
Land Girls
Synopsis: Follow the lives, loves, highs, and lows of members of the Women's Land Army working at the Hoxley Estate during World War II. As men fought on the battlefields, women from all walks of life worked the farms that fed the nation, doing their part to keep the home front running.
London Hospital
Synopsis: Romance, surgery. and history combine in the vivid, atmospheric drama based on the lives and case notes of doctors, nurses and patients at the Royal London Hospital a century ago.