Burn Notice is one of the most underrated action thriller series ever. The USA Network series follows Michael Weston, an ex-CIA agent who was burned by the agency without any explanation or reason. The burn notice makes it impossible for him to work anywhere else as the burn notice deems him as an unreliable agent. Weston is provided with two choices either stay in Miami, Florida or get arrested. Weston chooses to stay in Miami while trying to find who was behind ruining his life. Burn Notice premiered in 2007 and ran for seven seasons and one spin-off film, and the series ended over nine years ago in 2013. So, if you miss the series here are some of the best shows like Burn Notice you can watch to pass the time.
---
Also Read: Best Spy Shows Like 'Slow Horses' To Watch While Waiting For Season 2
---
Slow Horses
Synopsis: Slow Horses is a darkly humorous espionage drama that follows a dysfunctional team of British intelligence agents who serve in a dumping ground department of MI5 known un-affectionately as Slough House. Oldman stars as Jackson Lamb, the brilliant but irascible leader of the spies, who end up in Slough House due to their career-ending mistakes as they frequently find themselves blundering around the smoke and mirrors of the espionage world.
---
Also Read: Best Spy Movies to Watch If You Loved 'Slow Horses'
---
Covert Affairs
Synopsis: Meet Annie Walker (Piper Perabo, Coyote Ugly): smart, stunning and the CIA's newest field operative in one of their most secretive branches. Suddenly summoned by headquarters for active duty one month before training is over, she's quickly thrown into a shadowy world full of cons, killers and international crime rings. What she doesn't know is there's something—or someone—from her past that her bosses want badly enough to put her in harm's way. She just has to survive long enough to find out why.
Person of Interest
Synopsis: Set in New York City, this procedural centers on an ex-CIA agent, presumed dead, who partners with a mysterious billionaire to prevent violent crimes. Using data siphoned off the U.S. intelligence agencies' threat matrix — information not related to terrorism, but rather violent crimes of a personal nature — during each episode, the former CIA agent and his enigmatic partner identify a "person of interest" and set about solving the mystery of the impending crime. Tapping into the world's Big Brother-like surveillance network, the shadowy duo knows that something bad is going to happen; it's their mission to discover what that event will be…. and somehow prevent it.
The Enemy Within
Synopsis: In this character-based psychological thriller, Erica Shepherd (Jennifer Carpenter), a brilliant former CIA operative now known as one of the most notorious traitors in recent American history, is serving life in a Supermax prison. Against every fiber of his being, but with nowhere else to turn, FBI agent Will Keaton (Morris Chestnut) enlists Shepherd to help track down a fiercely dangerous and elusive criminal she knows all too well. While Shepherd and Keaton have different motivations for bringing the enemy to justice, they both know that to catch a spy… they must think like one. The cast includes Jennifer Carpenter, Morris Chestnut, Raza Jaffrey, Kelli Garner, Cassandra Freeman and Noah Mills.
---
Also Read: Best Shows Like 'Condor' To Watch If You Loved the Spy Series
---
Condor
Synopsis: Based on the novel "Six Days of the Condor" by James Grady and screenplay "Three Days of the Condor" by Lorenzo Semple Jr. and David Rayfiel, Condor follows CIA analyst (Max Irons) who stumbles onto a plan that threatens the lives of millions. Joe Turner has always been conflicted about his work for the CIA. But when something he's discovered gets his entire office killed, leaving Joe as the only survivor and forcing him to go on the run, the theoretical reservations he's harbored turn into all-too-real moral dilemmas. Under pressure, Joe will be forced to redefine who he is and what he's capable of in order to discover the truth and to stop a plot that threatens the lives of millions. Starring Max Irons, William Hurt, Leem Lubany, Angel Bonnani, Kristen Hager, with Mira Sorvino and Bob Balaban and special guest star Brendan Fraser.
Nikita
Synopsis: In this sexy and suspenseful series featuring international action star Maggie Q (Mission: Impossible III) in the title role, Nikita has gone rogue. Division is an ultra-secret government agency whose operatives are recruited young people with severed ties to family, friends and society. Trained to be invisible assassins, no one ever leaves Division — except the charming and deadly Nikita, who has managed to escape, making it her mission to undermine the now-corrupt organization. A force to be reckoned with, the rogue Nikita taunts Division, staying on their radar, but always one step ahead. Yet as determined as Nikita is to bring down her former agency, there are those just as determined to stop her. Division's newest recruit, Alex (Lyndsy Fonseca, Kick-Ass), is a beautiful young woman who seems destined to replace Nikita as their next top operative. Filled with twists and thrills, Nikita also stars Shane West, Aaron Stanford, Melinda Clarke and Xander Berkeley.
Alias
Synopsis: Sydney Bristow (Jennifer Garner) discovers that her employer, SD6, is not part of the government but actually an enemy organization. She goes to work undercover at SD6 as a double agent, while actually working with the CIA. Her greatest ally is another fellow double agent: her father.
Leverage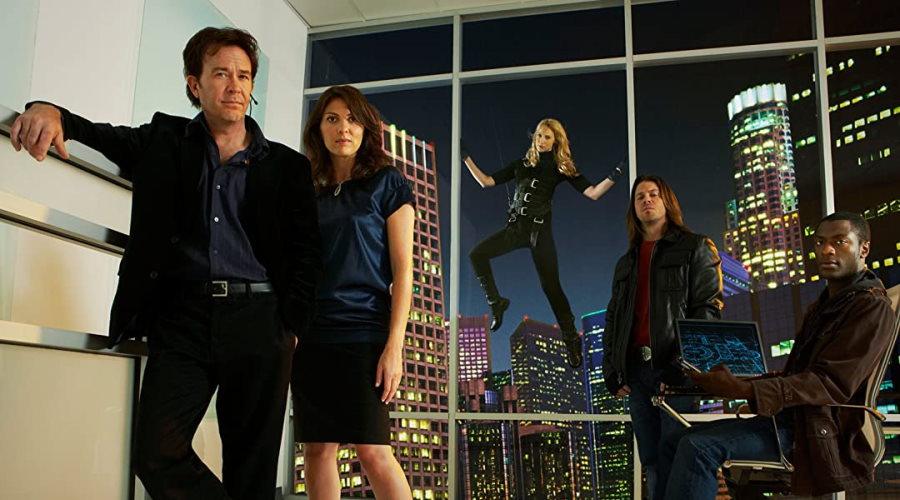 Synopsis: A highly skilled team forms to settle scores against those who use power and wealth to victimize others. The team is Nate Ford (the brains), Sophie Devereaux (the grifter), Eliot Spencer (the hitter), Alec Hardison (the hacker), and Parker (the theif).
---
Also Read: Best Comedy Shows Like 'Chuck' To Watch If You Are Still Waiting For 'The Chuck Movie'
---
Chuck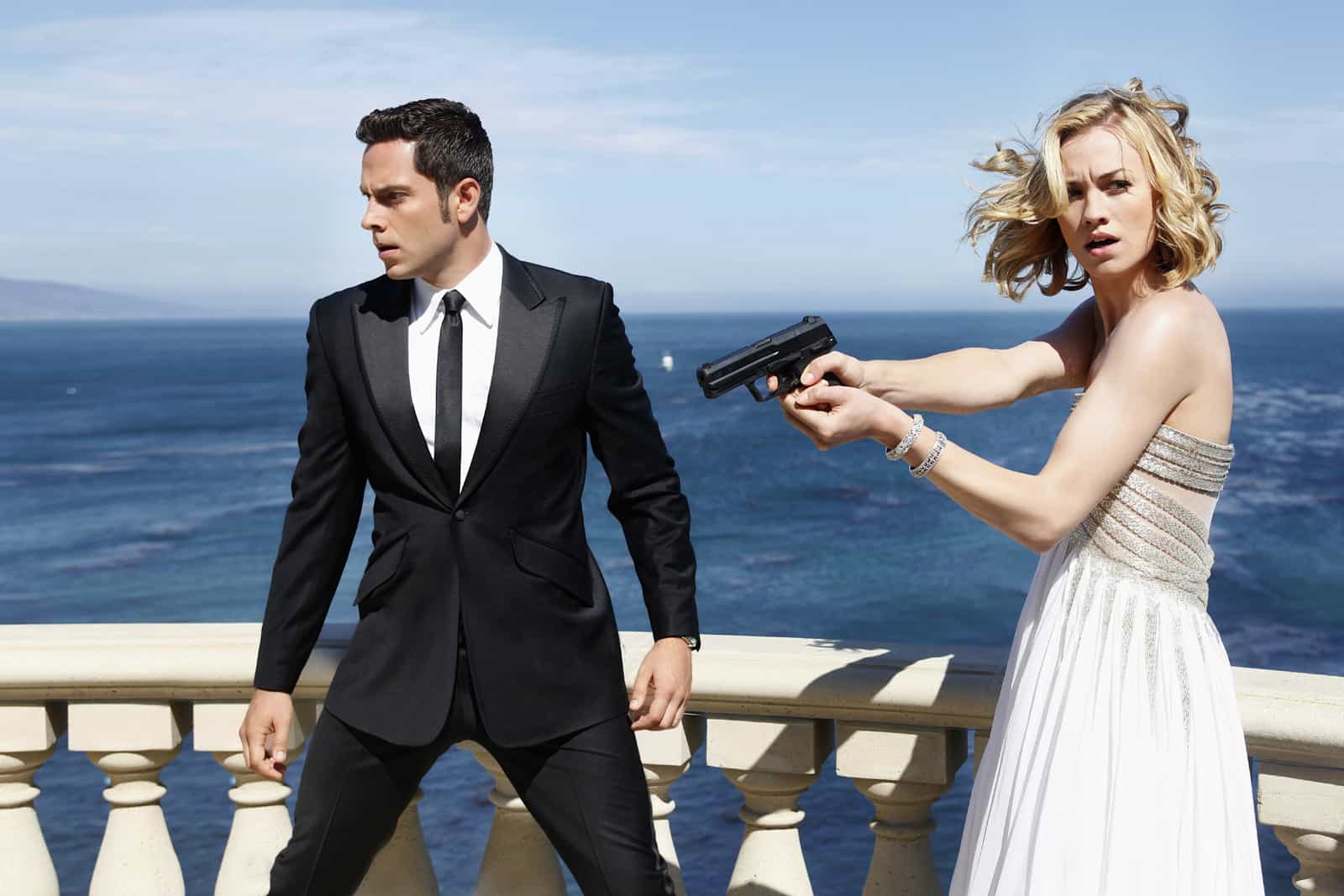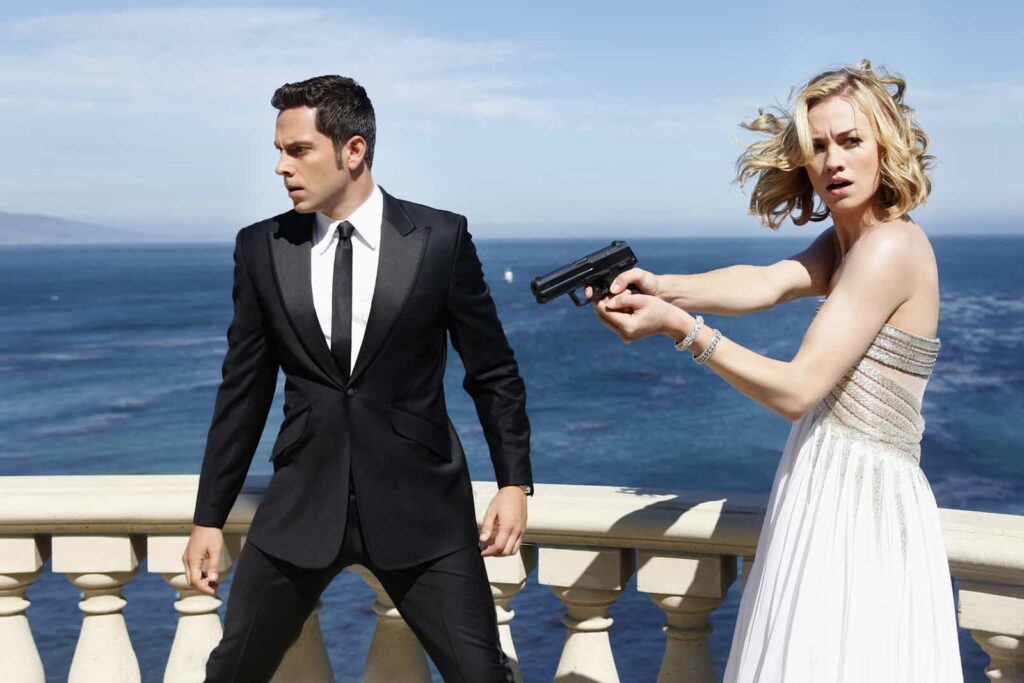 Synopsis: When Chuck Bartowski opens an e-mail subliminally encoded with government secrets, he unwittingly downloads an entire server of sensitive data into his brain. Now, the fate of the world lies in the unlikely hands of a guy who works at a Buy More Electronics store. Instead of fighting computer viruses, he must now confront assassins and international terrorists. With the government's most precious secrets in Chuck's head, Major John Casey of the National Security Agency assumes the responsibility of protecting him. His partner is the CIA's top agent — and Chuck's first date in years — Sarah Walker. They'll try to keep him safe by trading in his pocket protector for a bulletproof vest. Also starring are Joshua Gomez as Morgan Grimes, Chuck's best buddy, and Sarah Lancaster as Chuck's ever-supportive sister, Ellie.
Blindspot
Synopsis: Sullivan Stapleton (300: Rise of an Empire), Jaimie Alexander (Thorfilms) and Oscar® nominee Marianne Jean-Baptiste (Without a Trace) star in this one-hour action thriller from Berlanti Productions (The Flash, Arrow, Pan) and writer/executive producer Martin Gero. Stapleton stars as hardened FBI agent Kurt Weller, who is drawn into a complex conspiracy when a naked amnesiac, Jane Doe (Alexander), is found in Times Square covered in a series of cryptic tattoos …including his name on her back. As Weller and his teammates at the FBI — among them, wartime vet Edgar Reed, the secretive Tasha Zapata and Assistant Director Mayfair (Jean-Baptiste) — begin to investigate the veritable treasure map that are Jane Doe's tattoos, they are drawn into a high-stakes underworld that twists and turns through a labyrinth of secrets and revelations — the information they uncover might ultimately change the world. At the center of this mystery is the relationship between Weller and Jane Doe. With every passing day, Jane unveils a new skill or a hidden talent without understanding its origin, while Weller is drawn deeper into his troubled, complicated relationship with this enigmatic woman. They both strive to make a connection, unaware of the dangerous blindspot that threatens them.
You can Subscribe to our Newsstand on Google News, Click the below Button
Subscribe Now