Boston Legal is definitely one of the most intriguing and fun legal procedural series ever made. The series is made even better by the leading duo of the series played to perfection by James Spader and William Shatner. Boston Legal ran for five brilliant seasons from 2004 to 2008. It has been over 14 years since the series finale aired so we thought if you also miss Boston Legal here are some similar shows you could watch next.
Synopsis: Set in Boston, the award-winning "The Practice" centers on the passionate attorneys of Donnell, Young, Dole & Frutt. To these lawyers, every case is important and every client worth a fight to the bitter end. Legal maneuvering is the firm's modus operandi and they have it down to a science, making even the most questionable arguments seem convincing. And while they can't – and don't – win every trial, the pursuit of justice remains the priority until the final verdict is announced…and sometimes afterwards. Pursuing justice, however, often confronts the firm with serious ethical and moral issues of conscience. "The Practice" is one of television's most acclaimed series. The popular drama has won a Golden Globe Award for Best Drama Series, a Peabody Award, Viewers for Quality Television Award, was nominated several times for Emmy awards (winning twice) and received an American Bar Association Silver Gavel Award, among many others.
---
Also Read: Shows Like 'Suits' To Watch If You Miss the Series
---
Synopsis: Suits delves into the fast-paced, high-stakes world of a Manhattan Corporate law firm where hotshot attorney, Harvey Specter (Gabriel Macht) makes a risky move by hiring legal prodigy Mike Ross (Patrick J. Adams) as his new associate despite not having a college or law degree. The two are forced to keep up the charade as they become an irrepressible duo. Boundaries are crossed, alliances are tested and fallouts are inevitable in the riveting nine seasons which also stars Meghan Markle, Gina Torres, Sarah Rafferty, Rick Hoffman, Dulé Hill, Amanda Schull, and Katherine Heigl.
The Lincoln Lawyer (Netflix)
Synopsis: ​Mickey Haller (Manuel Garcia-Rulfo), an iconoclastic idealist, runs his law practice out of the back seat of his Lincoln, as he takes on cases big and small across the expansive city of Los Angeles. Based on the series of bestselling novels by renowned author Michael Connelly, the first season is based on the second book in The Lincoln Lawyer series, The Brass Verdict. The Lincoln Lawyer also stars Neve Campbell, Becki Newton, Jazz Raycole, and Angus Sampson. Connelly is an executive producer and writer of the series. The series was developed for television by Ted Humphrey who serves as showrunner, executive producer, and writer. Ross Fineman and Kelley are also executive producers.
Synopsis: When Law & Order premiered in its first season, it represented a conscious shift away from many of the conventional one-hour dramatic series of the era. Emmy-Award winner Michael Moriarty and the critically acclaimed George Dzundza head the cast of this unique crime-drama series shot entirely on location in New York.
---
Also Read: Shows Like 'The Newsroom' To Watch If You Miss the Series
---
The Newsroom (HBO Max)
Synopsis: From Oscar® and Emmy® winner Aaron Sorkin ('The Social Network', 'The West Wing'), 'The Newsroom®' takes a behind-the-scenes look at the high-rated cable-news program at the fictional ACN Network, focusing on the on- and off-camera lives of its cable news anchor (Jeff Daniels), his executive producer (Emily Mortimer), his newsroom staff and their boss. 'The Newsroom' team sets out on a mission to "do the news well" in the face of corporate and commercial obstacles, and their own personal entanglements.
Synopsis: Once a powerful lawyer, Billy McBride is now burned out and washed up, spending more time in a bar than a courtroom. When he reluctantly agrees to pursue a wrongful death lawsuit against the biggest client of the massive law firm he helped create, Billy and his ragtag team uncover a vast and deadly conspiracy, pitting them all in a life-or-death trial against the ultimate Goliath.
Bull (The Roku Channel)
Synopsis: Bull stars Michael Weatherly as Dr. Jason Bull in a TV drama inspired by the early career of Dr. Phil McGraw, founder of one of the most prolific trial consulting firms of all time. Brilliant, brash, and charming, Dr. Bull is the ultimate puppet master as he combines psychology, human intuition, and hightech data to learn what makes jurors, attorneys, witnesses and the accused tick. Bull employs an expert team at Trial Analysis Corporation including his quickwitted former brother-in-law, lawyer Benny Colón (Freddy Rodriguez), Marissa Morgan (Geneva Carr), a cutting-edge neurolinguistics expert; former NYPD detective Danny James (Jaime Lee Kirchner); haughty millennial hacker Cable McCrory (Annabelle Attanasio), who is responsible for gathering cyber intelligence; and Chunk Palmer (Christopher Jackson), a fashion-conscious stylist and former All-American lineman who fine tunes clients' appearances for trial. In high stakes legal proceedings, Bull's combination of remarkable insight into human nature, three PhDs, and a top-notch staff create winning strategies in hopes of tipping the scales of justice in his clients' favor.
The Good Fight (Paramount+ & The Roku Channel)
Synopsis: An enormous financial scam has destroyed the reputation of a young lawyer, Maia Rindell, while simultaneously wiping out her mentor and godmother Diane Lockhart's savings. Forced out of Lockhart & Lee, they join Lucca Quinn at one of Chicago's preeminent law firms.
---
Also Read: Shows Like 'The West Wing' To Watch If You Miss the Series
---
The West Wing (HBO Max)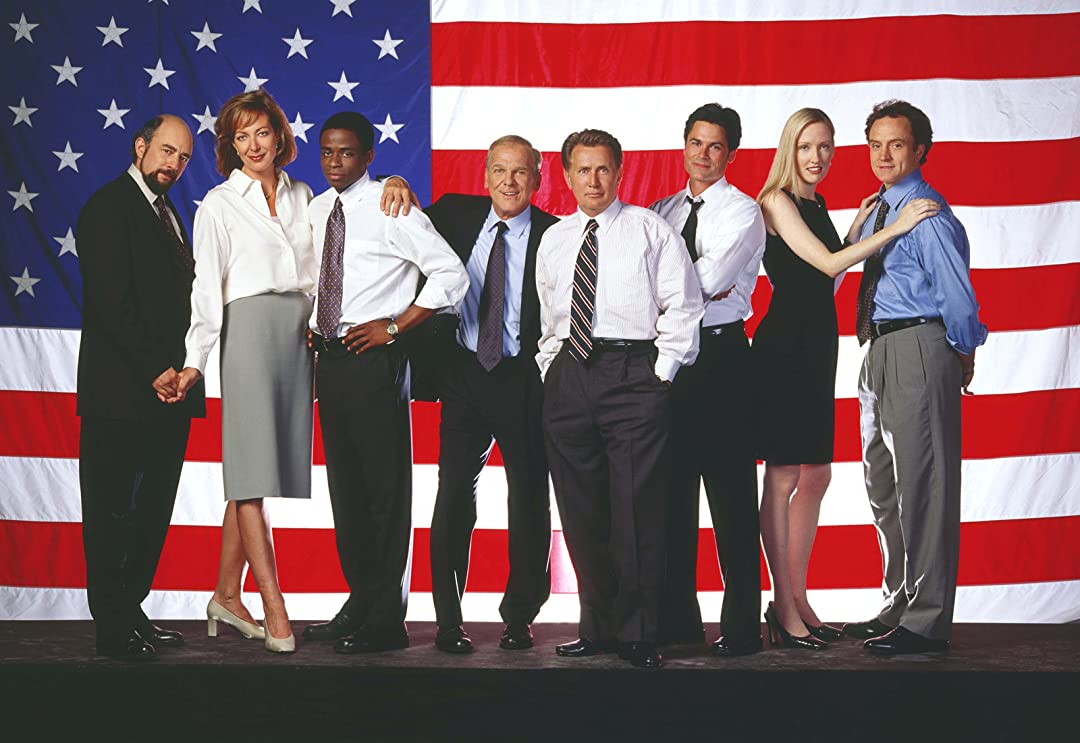 Synopsis: The West Wing ventured where no other TV series had gone before: an extraordinarily intimate look at an American President and the inner workings of the White House. Here, are all episodes of the series that won 26 Emmys, including 4 for Outstanding Drama Series. Hail to chief – and to the creators and stars of this ground-breaking series.
Studio 60 on the Sunset Strip is another one of Aaron Sorkin's creations and while it is not as popular as The West Wing or The Newsroom, mostly because it ran for only one season. The NBC series is choke-filled with those Sorkin moments that everyone loves. Studio 60 is about a team of writers, actors, and backstage crew who are responsible for putting on a live sketch comedy series much like SNL on the fictional television network NBS. The series stars the immensely talented Matthew Perry and Bradley Whitford as the protagonists of the series. Studio 60 follows Matt Albie (Perry) and Danny Tripp (Whitford) who return to take over the series as head writer and producer of the series after an unforeseen event shocks the fans of the series within series. Studio 60 also stars Sarah Paulson as Harriet, Amanda Peet as Jordan, Steven Weber as Jack, Timothy Busfield as Cal, Merritt Wever as Suzanne, and Simon Helberg.