Bored to Death is definitely one of the most brilliant comedy shows ever made. The HBO series starring Jason Schwartzman, Ted Danson, and Zach Galifianakis follows Jonathan Ames, a writer who has become bored with his life and to come out of his funk he starts pretending to be a private detective. In his new weird profession, he is joined by his boss (Danson) and his best friend (Galifianakis). Bored to Death ran for three brilliant seasons ending its run in 2011. So, if you miss the series here are some shows you could watch next.
---
Also Read: Shows Like 'Only Murders in the Building' To Watch While Waiting For Season 3
---
Only Murders in the Building (Hulu)
Synopsis: From the minds of Steve Martin, Dan Fogelman & John Hoffman comes a comedic murder-mystery series for the ages. Only Murders in the Building follows three strangers (Steve Martin, Martin Short, and Selena Gomez) who share an obsession with true crime and suddenly find themselves wrapped up in one. When a grisly death occurs inside their exclusive Upper West Side apartment building, the trio suspects murder and employs their precise knowledge of true crime to investigate the truth. As they record a podcast of their own to document the case, the three unravel the complex secrets of the building which stretch back years. Perhaps even more explosive are the lies they tell one another. Soon, the endangered trio comes to realize a killer might be living amongst them as they race to decipher the mounting clues before it's too late.
---
Also Read: Dark Comedy Shows Like 'Search Party' To Watch If You Miss the Series
---
Search Party (HBO Max)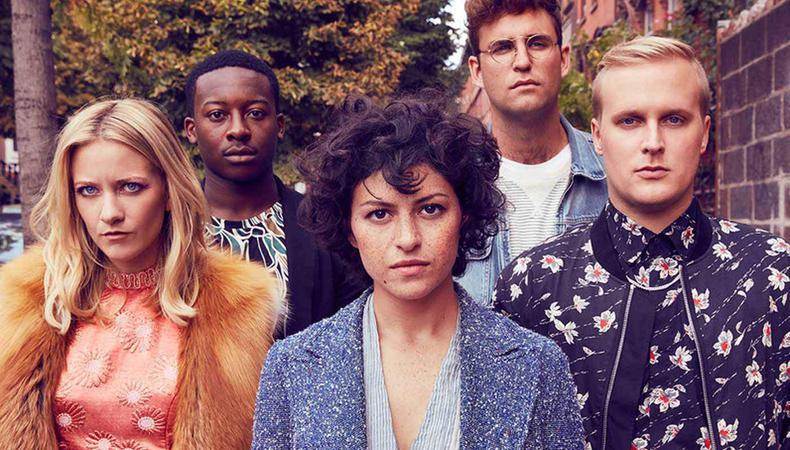 Synopsis: The disappearance of former college acquaintance Chantal leads several 20-somethings to get entangled in the mystery of how she went missing. Leading the search party is Dory, a lifelong doormat who works as a rich housewife's assistant. Dory makes it her personal mission to find Chantal — and she's bringing her friends into the investigation with her. Self-diagnosed narcissist Elliott, who puts his ego aside long enough to agree to help Dory, is particularly good at detective work. Bubbly actress Portia excels at chatting up suspects for information because of her desperate need to be in the spotlight. Sheltered-but-sweet doofus Drew has to grow a spine to help solve the mystery and save his deteriorating relationship with Dory. Dory's ex-boyfriend Julian seeks the truth, regardless of who it hurts, because of his background as a journalist.
---
Also Read: Shows Like 'Castle' To Watch If You Miss the Series
---
Castle (Hulu)
Synopsis: Rick Castle is one of the world's most successful crime authors. But when his rock star lifestyle isn't enough, this bad boy goes looking for new trouble – and finds it working with smart, beautiful Detective Kate Beckett.Inspired by her professional record and intrigued by her buttoned-up personality, Castle's found the model for his bold new character – whether she likes it or not. Now with the mayor's permission, Castle's on her case and in her way. Kate's initial disdain for Castle turns to grudging respect as he quickly proves that a background in plotting murders can be a valuable asset in catching killers. As they solve a new crime together each week, they're partnership grows – as does their love-hate relationship. These two may not always see eye to eye, but together they might just write a whole new chapter in crime solving.
---
Also Read: Best Shows Like 'Psych' To Watch If You Miss the Series
---
Synopsis: "PSYCH" is a quick-witted dramedy about a young police consultant Shawn Spencer (James Roday, "The Dukes of Hazzard") who solves crimes with powers of observation so acute that he's convinced Santa Barbara PD detectives into thinking he's psychic. Raised in Santa Barbara by a family of cops, Shawn possesses uncanny powers of observation honed by his police officer father, Henry, who drilled young Shawn to note even the smallest of details from his surroundings as a way of grooming him for his inevitable career in the family business. With the reluctant assistance of his best friend Gus, Shawn uses his skills of observation and charismatic personality to become the detective he was trained to be, opening his own PI agency – Psych – and solving cases for an ever-suspicious, but grudgingly impressed, police force.
---
Also Read: Shows Like 'Monk' To Watch if You Miss the Series
---
Synopsis: He's ingenious, he's phobic, he's obsessive-compulsive. Two-time Emmy and Golden Globe-winner Tony Shalhoub is former police detective Adrian Monk. The brilliant Monk is now back fighting crime and his abnormal fears of germs, cars, heights, crowds and virtually everything else known to man.
---
Also Read: Shows Like 'The Flight Attendant' To Watch After Season 2
---
The Flight Attendant (HBO Max)
Synopsis: The Flight Attendant is a story of how an entire life can change in one night. A flight attendant (Kaley Cuoco) wakes up in the wrong hotel, in the wrong bed, with a dead man – and no idea what happened. The dark comedic thriller is based on the novel of the same name by New York Times bestselling author Chris Bohjalian.
---
Also Read: Movies & Shows Like 'The Afterparty' To Watch While Waiting For Season 2
---
The Afterparty (Apple TV+)
Synopsis: From Academy Award winners Chris Miller and Phil Lord ("Spider-Man: Into the Spider-Verse," "The Lego Movie," "21 Jump Street"), "The Afterparty" is a genre-defying series centered on a murder mystery at a high school reunion, with each episode exploring a different character's account of the fateful evening in question, all through the lens of popular film genres and unique visuals to match the storyteller's perspective.
---
Also Read: Shows Like 'Community' To Watch While Waiting For The Movie (#AndAMovie)
---
Community (Netflix & Hulu)
Synopsis: From Dan Harmon (The Sarah Silverman Program) and Emmy Award-winning directors Joe and Anthony Russo (Arrested Development) comes Community, a smart comedy series about a band of misfits who attend Greendale Community College. At the center of the group is Jeff Winger (Joel McHale, The Soup), a fast-talkin' lawyer whose degree has been revoked. With some help from his fellow classmates.
---
Also Read: Shows Like 'Pushing Daisies' To Watch If You Miss the Series
---
Pushing Daisies (HBO Max)
Synopsis: This forensic fairytale follows Ned, a young man with a very special gift. As a boy, Ned discovered that he could return the dead briefly back to life with just one touch. Now a pie maker, Ned puts his ability to good use, not only touching dead fruit and making it ripe with everlasting flavor, but working with a private investigator to crack murder cases by raising the dead and getting them to name their killers. But the tale gets complicated when Ned brings his childhood sweetheart, Chuck, back from the dead–and keeps her alive. Chuck becomes the third partner in Ned and Emerson's private-investigation enterprise, encouraging them to use Ned's skills for good, not just for profit. Life would be perfect for Ned and Chuck, except for one cruel twist: If he ever touches her again, she'll go back to being dead, this time for good.
---
Also Read: Shows Like 'Barry' To Watch After Season 4
---
Barry (HBO Max)
Synopsis: A dark comedy starring Bill Hader ("Saturday Night Live"), who created and executive produced the series along with Alec Berg (HBO's "Silicon Valley"), Barry focuses on a depressed, low-rent hitman from the Midwest (Hader, in the title role) who falls in love with acting while on a job in LA. The supporting cast features Stephen Root, Henry Winkler and Sarah Goldberg.