Showtime's hit series Billions returned with its sixth season today and as everyone knew the series is missing a very major character and the audience can surely feel it, for many fans Damian Lewis' Bobby Axelrod was their favorite character (including me). Billions while still being a very solid series has left the fans a bit disappointed, because it should have ended with Lewis' departure from the series. But again the series is still enjoyable and we made a list of shows like Billions so that you can watch them while waiting for the next season.
---
Also Read: Best Shows Like 'Suits' To Watch If You Miss the Series
---
Suits
Synopsis: "Suits" will launch its freshman season with stars Gabriel Macht ("Love and Other Drugs"), as one of Manhattan's top corporate lawyers sets out to recruit a new hotshot associate and hires the only guy that impresses him – Patrick J. Adams ("Lost") as Mike Ross, a brilliant but unmotivated college dropout. Though he isn't actually a lawyer, this legal prodigy has the book smarts of a Harvard law grad and the street smarts of a hustler. However, in order to serve justice and save their jobs, both these unconventional thinkers must continue the charade.
---
Also Read: Best Shows Like 'Succession' About Bad People
---
Succession
Synopsis: Power, politics, money…it's all in the family in this provocative, funny series about a highly dysfunctional dynasty. When Logan Roy (Brian Cox), CEO of one of the world's largest media and entertainment conglomerates, considers retirement, each of his four grown children follows a personal agenda that doesn't always sync with those of their siblings–or of their father.
Goliath
Synopsis: Once a powerful lawyer, Billy McBride is now burned out and washed up, spending more time in a bar than a courtroom. When he reluctantly agrees to pursue a wrongful death lawsuit against the biggest client of the massive law firm he helped create, Billy and his ragtag team uncover a vast and deadly conspiracy, pitting them all in a life or death trial against the ultimate Goliath.
Industry
Synopsis: The cutthroat world of international finance is seen through the eyes of a talented outsider fighting to prove her worth in this exhilarating HBO drama series. Myha'la Herrold stars as Harper Stern, the determined young woman who finds herself among a group of enterprising young graduates vying to secure their futures at Pierpoint & Co., a leading bank in London.
The Good Fight
Synopsis: An enormous financial scam has destroyed the reputation of a young lawyer, Maia Rindell, while simultaneously wiping out her mentor and godmother Diane Lockhart's savings. Forced out of Lockhart & Lee, they join Lucca Quinn at one of Chicago's preeminent law firms.
Ozark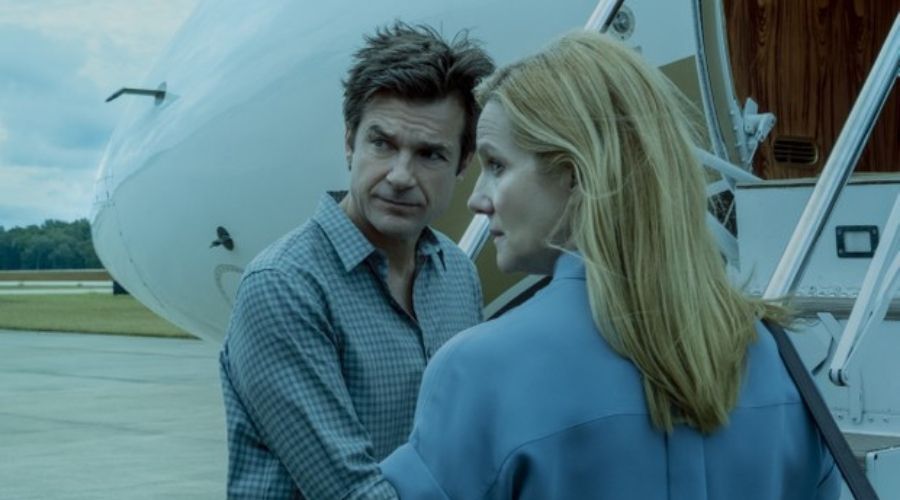 Synopsis: Ozark is a thrilling drama set in the present-day and follows the Byrde family's journey from their normal, suburban Chicago life to their dangerous criminal enterprise in the Ozarks, Missouri. The series explores capitalism, family dynamics, and survival through the eyes of (anything but) ordinary Americans.
House of Cards
Synopsis: A ruthless politician will stop at nothing to conquer Washington, D.C., in this Emmy and Golden Globe-winning political drama.
Damages
Synopsis: A rising star lawyer crosses paths with a cutthroat veteran attorney who will stop at nothing to win the cases shehandles, even if it means manipulating and endangeringthe family and friends of those around her.
Halt and Catch Fire
Synopsis: Halt and Catch Fire: In 1983, personal computing was anyone's game. Navigating the thin line between visionary and fraud, genius and delusion, an unlikely trio – a visionary, an engineer, and a prodigy – take personal and professional risks in the race to build a computer that will change the world as they know it. The battle for CTRL begins.
---
Also Read: Best Shows Like 'Better Call Saul' To Watch After the Final Season
---
Better Call Saul
Synopsis: Better Call Saul is the prequel to the award-winning series Breaking Bad, set six years before Saul Goodman (Bob Odenkirk) became Walter White's lawyer. When we meet him, the man who will become Saul Goodman is known as Jimmy McGill, a small-time lawyer searching for his destiny, and, more immediately, hustling to make ends meet. Working alongside, and often against, Jimmy is "fixer" Mike Erhmantraut (Jonathan Banks), a beloved character introduced in Breaking Bad. The series will track Jimmy's transformation into Saul Goodman, the man who puts "criminal" in "criminal lawyer."