Better Things is a brilliant comedy-drama that is good for a laugh and a cry now and then. The FX series follows Sam Ford, a divorced Hollywood actress who is also a single parent. Ford juggles her duties as a parent and a professional actor. Better Things ran for five brilliant seasons ending its run in 2022 so if you also miss the series here are some shows you could watch next.
Cougar Town (Hulu)
Synopsis: Courteney Cox stars as Jules, a recently divorced single mother exploring the honest truths about dating and aging in our beauty and youth obsessed culture. While most women in their twenties go through life experiencing the challenges and often humorous pitfalls of meeting men, Jules took on the responsibilities of marriage and raising a son. Now in her forties, she embarks on a journey to self-discovery whilst surrounded by fellow divorcees and singletons eager to live or re-live a time gone by.
Difficult People (Hulu)
Synopsis: Difficult People hails from Julie Klausner who stars alongside Emmy®-nominated Billy on the Street host Billy Eichner. As best friends living in New York City, their typical, irreverent behavior lands them in some very awkward situations.
Breeders (Hulu)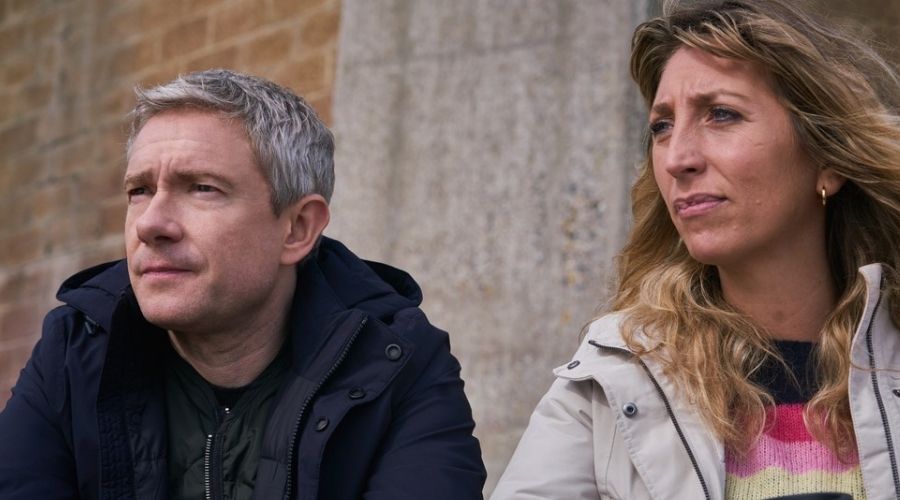 Synopsis: FX's Breeders is an uncompromising comedy that explores the lives of Paul (Martin Freeman) and Ally (Daisy Haggard) as they juggle full-time careers, aging parents, a mortgage and the unenviable curveballs of parenting their young children. When Ally's estranged father appears on their doorstep, the family essentially takes on a third child – but this one comes with baggage and opinions.
Life in Pieces (Hulu)
Synopsis: James Brolin, Dianne Wiest and Colin Hanks head an all-star cast in this hilarious new series that features four short stories each week about the members of one eccentric family!
Synopsis: Anna Faris and Emmy® winner Allison Janney star in a new comedy from Chuck Lorre (The Big Bang Theory, Two and a Half Men, Mike & Molly). Anna Faris plays Christy, a single mom whose newly found sobriety has given her the ability to see her life clearly … and she does not like the view. Now she must try to untangle years of reckless decisions in order to make a better life for her and her kids. But she discovers that just because you want to be a better person doesn't mean it's going to be easy. Everywhere she looks there are challenges: She is trying to stop drinking in wine country, have a healthy romance with her unavailable boss, raise her young son to be a good man despite his father's influence, convince her troubled teenage daughter to make better choices than she did, and — perhaps the most difficult task — forgive her estranged mother, Bonnie (Janney), for not giving her any of the tools she needed to handle life in the first place
Synopsis: A multi-ethnic family with a mix of foster and biological kids are being raised by two moms. Stef Foster, a dedicated police officer, and her partner Lena Adams, a school Vice Principal, have built a strong family with Stef's biological son from a previous marriage, Brandon, and their adopted twins, Mariana and Jesus. Their lives are turned upside down when Lina meets Callie, a teen with an abusive past who has spent her life in foster homes. Lena and Stef decide to welcome Callie into their home thinking it will be temporary.
Children Ruin Everything (The Roku Channel)
Synopsis: Children Ruin Everything follows a set of parents as they raise their two young children and struggle to hold on to their pre-kid life. But can one be a parent and have the strong desire to live a beautiful, easy, cool, not-covered-in-snot life?
Synopsis: Rob Delaney and Sharon Horgan write and star in this R-rated comedy about a one-week stand between a Boston ad exec and a London schoolteacher that leads to an accidental pregnancy. When Rob moves to the UK to help figure things out, cultures clash and hormones flare as these two realize they don't know the first thing about each other.
Workin' Moms (Netflix)
Synopsis: Can women have it all? Some days yes and some days… not so much. Workin' Moms follows the loves, careers, and friendships of four 30-something urban moms.
The Duchess (Netflix)
Synopsis: Katherine Ryan will Executive Produce, write and star in her debut scripted series The Duchess, following the powerful and problematic choices of a fashionably disruptive single mom living in London. Her daughter, Olive, is her greatest love so she debates a second child with her greatest enemy — Olive's dad. Can two wrongs make another right?