Bates Motel is based on the 1960 film Psycho's characters and the two lead stars are Freddie Highmore as Norman Bates and Vera Farmiga as his mother. This mother-son duo shows us how creepy can a show get between a psychopath and a crazy mother. The three-time Emmy-nominated series is no doubt the best series to be produced by the network A&E. Bates Motel ran from 2013 to 2017, and the series has a total of five seasons. So, if you miss also miss the series here are some more shows you could watch to fill up your time.
---
Also Read: Shows Like 'Servant' To Watch While Waiting After Season 4
---
Servant (Apple TV+)
Synopsis: From M. Night Shyamalan, Servant follows a Philadelphia couple in mourning after an unspeakable tragedy creates a rift in their marriage and opens the door for a mysterious force to enter their home.
Synopsis: Emmy and Golden Globe winner Gillian Anderson (The X-Files) smolders as a British detective summoned to Belfast to solve a high-profile murder. She quickly recognizes the signs of a serial killer, but the culprit (Jamie Dornan, Once Upon a Time) has already targeted his next victim.
---
Also Read: Best Shows Like 'Hannibal' To Watch If You Miss the Series
---
Hannibal (Hulu & Plex)
Synopsis: The dark and haunting series "Hannibal" returns for a third season, revealing the fates of characters hanging in the balance, and the continuing psychological cat-and-mouse games they face. After the shocking events of the Season 2 finale, Hannibal (Mads Mikkelsen) is on the run in Europe – accompanied by his psychiatrist Bedelia Du Maurier (Gillian Anderson) – sporting a new identity, but servicing the same insatiable appetite. As the lives of Will (Hugh Dancy), Jack (Laurence Fishburne) and Alana (Caroline Dhavernas) converge toward Hannibal again, each with their own motivations to catch him once and for all, their deadly dance turns in startling and unexpected ways. In the second half of the season, Jack implores Will to help him catch a new threat, a serial killer preying on families, known in the press as the Tooth Fairy, but self-proclaimed as The Great Red Dragon. The hunt may force Will to turn to an unwelcome source of insight – his old adversary, Hannibal.
Mr. Mercedes (Peacock)
Synopsis: A demented killer taunts a retired police detective with a series of lurid letters and emails, forcing the ex-cop to undertake a private, and potentially felonious, crusade to bring the killer to justice before he can strike again. Based on the bestselling novel by Stephen King. Directed by Jack Bender and adapted for television and executive produced by David E. Kelley.
---
Also Read: Best Shows Like 'Castle Rock' To Watch If You Miss the Series
---
Castle Rock (Hulu)
Synopsis: Castle Rock takes viewers into the chilling world of acclaimed best-selling author Stephen King in this psychological horror series from J.J. Abrams' Bad Robot Productions in association with Warner Bros. Television. The drama series stars André Holland (Moonlight, Selma, 42), Melanie Lynskey (Togetherness, Up in the Air), and Bill Skarsgård (It, Atomic Blonde) with Jane Levy (Suburgatory, Shameless) and Sissy Spacek (Carrie, Coal Miner's Daughter) and special guest star Scott Glenn (The Leftovers). A psychological-horror series set in the Stephen King multiverse, Castle Rock combines the mythological scale and intimate character storytelling of King's best-loved works, weaving an epic saga of darkness and light, played out on a few square miles of Maine woodland.
Synopsis: Set 10 years after Dexter went missing in the eye of Hurricane Laura, the series finds him living under an assumed name in the small town of Iron Lake, New York. Dexter may be embracing his new life, but in the wake of unexpected events in this close-knit community, his Dark Passenger beckons.
---
Also Read: Best Shows Like 'Twin Peaks' To Watch If You Miss the Series
---
Synopsis: "She's dead. Wrapped in plastic." Date: Friday, February 24, 1989: Homecoming Queen Laura Palmer is found dead, washed up on a riverbank, and wrapped in plastic sheeting. FBI Special Agent Dale Cooper is called in to investigate the murder of this young woman in the small, Northwestern town of Twin Peaks. What he doesn't know is that in Twin Peaks, no one is innocent.
---
Also Read: Best Shows Like 'Mindhunter' To Watch If You Miss the Series
---
Mindhunter (Netflix)
Synopsis: In the late 1970s two FBI agents expand criminal science by delving into the psychology of murder and getting uneasily close to all-too-real monsters. Mindhunter features Jonathan Groff (Looking), Holt McCallanay (Sully), Anna Torv (Fringe) and Hannah Gross (Unless). The series is directed by David Fincher (Gone Girl, The Social Network, Zodiac), Asif Kapadia (Amy, Senna), Tobias Lindholm (A War, A Hijacking) and Andrew Douglas (The Amityville Horror, U Want Me 2 Kill Him?). Fincher, Joshua Donen (Gone Girl, The Quick and the Dead) Charlize Theron (Girlboss, Hatfields & McCoys) and Cean Chaffin (Gone Girl, Fight Club) are Executive Producers.
---
Also Read: Shows Like 'Cruel Summer' To Watch If You Miss the Series
---
Cruel Summer (Hulu)
Synopsis: From the executive producer, Jessica Biel, comes the chilling story of one girl, Kate Wallis, who goes missing. And another girl, Jeanette Turner, who mysteriously takes over her life. Told over 3 summers in the 90s, Cruel Summer will leave you torn between who to believe and what 'the truth' even looks like. Because the deeper you go in this mystery, the darker it gets. In this twisted tale, the truth is how you see it.
---
Also Read: Shows Like Netflix's 'You' to Watch While Waiting For Season 4 Part 2
---
You (Netflix)
Synopsis: From executive producer/writers Greg Berlanti and Sera Gamble, and based on Caroline Kepnes' best-selling novel of the same name, YOU is a 21st century love story about an obsessive, yet brilliant twentysomething who uses the hyper connectivity of today's technology to make the woman of his dreams fall in love with him. "What would you do for love?" When a brilliant bookstore manager crosses paths with an aspiring writer, his answer becomes clear: anything. Using the Internet and social media as his tools to gather the most intimate of details and get close to her, a charming and awkward crush quickly becomes obsession as he quietly and strategically removes every obstacle — and person — in his way.
---
Also Read: Best Shows Like 'Fargo' To Watch If You Loved the Series
---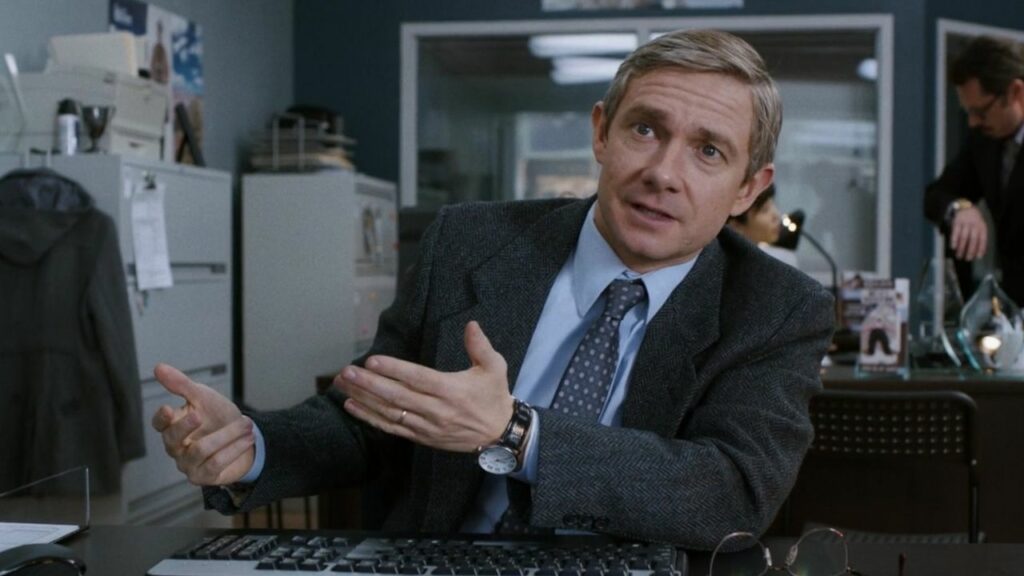 Synopsis: Fargo, adapted by novelist/writer Noah Hawley and inspired by the film of the same title follows all-new "true" crime case with new characters, all entrenched in the trademark humor, murder and "Minnesota nice" that has made the film an enduring classic.