Avenue 5 is one of the most funniest and witty comedy-drama series on streaming. The brilliant sci-fi comedy series starring Hugh Laurie, Zach Woods, and Lenora Crichlow takes place on a spaceship named Avenue 5 taking the people of earth on a vacation into space, but after a malfunction in Avenue 5 veers them off course, the captain on the sheep tries to calm the passengers down and prepares for the journey ahead. Created by Armando Iannucci the brilliant HBO series was canceled after its second season but if you miss the series here are some shows you could watch next.
---
Also Read: Shows Like 'Space Force' To Watch If You Miss the Series
---
Space Force (Netflix)
Synopsis: A decorated pilot with dreams of running the Air Force, four-star general Mark R. Naird (Steve Carell) is thrown for a loop when he finds himself tapped to lead the newly formed sixth branch of the US Armed Forces: Space Force. Skeptical but dedicated, Mark uproots his family and moves to a remote base in Colorado where he and a colorful team of scientists and "Spacemen" are tasked by the White House with getting American boots on the moon (again) in a hurry and achieving total space dominance.
Star Trek: Lower Decks (Paramount+)
Synopsis: Developed by Emmy Award winner Mike McMahan, STAR TREK: LOWER DECKS, a new half-hour animated comedy series, focuses on the support crew serving on one of Starfleet's least important ships, the U.S.S. Cerritos, in 2380. Ensigns Mariner, Boimler, Rutherford and Tendi have to keep up with their duties and their social lives, often while the ship is being rocked by a multitude of sci-fi anomalies.
---
Also Read: Shows Like 'Veep' To Watch If You Miss the Series
---
Veep (HBO Max)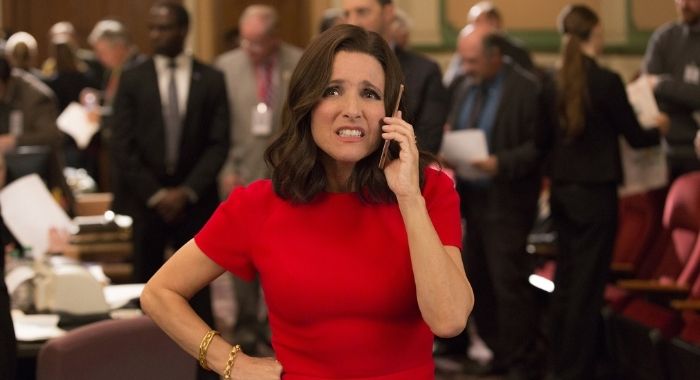 Synopsis: Julia Louis-Dreyfus stars in this comedy series that follows the whirlwind day-to-day existence of former President and Vice President Selina Meyer as she tries to claw her way back to being Commander in Chief in spite of her screwball staff. The ensemble cast includes Tony Hale as Selina's right-hand man; Anna Chlumsky as her chief of staff, and more.
---
Also Read: Shows Like 'The Orville' To Watch After Binging Season 3
---
The Orville (Hulu)
Synopsis: From Emmy Award-winning executive producer and creator Seth MacFarlane, THE ORVILLE is a live-action, one-hour space adventure series set 400 years in the future that follows The Orville, a mid-level exploratory spaceship. Its crew, both human and alien, face the wonders and dangers of outer space, while also dealing with the familiar, often humorous problems of everyday life.
---
Also Read: Shows Like 'Futurama' To Watch If You Miss the Original Series
---
Futurama (Hulu)
Synopsis: While delivering pizza on New Year's Eve 1999, Philip J. Fry is accidentally cryonically frozen and thawed out one thousand years into the future. From the creator of "The Simpsons," "Futurama" is a sci-fi animated comedy.
---
Also Read: Shows Like 'The Thick Of It' To Watch If You Miss the Series
---
Synopsis: Award-winning comedian Armando Iannucci directs this satirical comedy set in the world of British politics. The team at the Department of Social Affairs and Citizenship find themselves in a world dominated by internal politics, power and the media. They have no choice but to do as Number 10 tells them, else face the wrath of the Prime Minister's Machiavellian spin doctor, Malcolm Tucker.
Synopsis: At the forefront of this expeditionary force is the HMS Camden Lock, helmed by the irrepressible, if a little tetchy, Commander Henderson. Ably assisted by a crew of misfits – the further they are from Earth the better, quite frankly – the Commander steers his ship through the stars, giving orders from his big swivelly chair. His crew? Well, you wouldn't wish on your worst enemy… or maybe you would… Experience the highs, the lows, the anti-gravity failures, the annoying talking mops, and, of course, the wars with alien races. Lots of wars. Always in the national interest, of course.
---
Also Read: Shows Like 'Upload' To Watch While Waiting For Season 3
---
Synopsis: From Emmy-Award winning writer Greg Daniels (The Office, Parks and Recreation) comes Upload, a new sci-fi comedy series set in a technologically advanced future where hologram phones, 3D food printers and automated grocery stores are the norm. Most uniquely, humans can choose to be "uploaded" into a virtual afterlife. The series follows a young app developer, Nathan Brown (Robbie Amell), who winds up in the hospital following a self-driving car accident, needing to quickly decide his fate. After a rushed deliberation with his shallow girlfriend Ingrid (Allegra Edwards), he chooses to be uploaded to her family's luxurious virtual afterlife, the Horizen company's "Lakeview." Once uploaded in Lakeview, Nathan meets his customer service "Angel" Nora Anthony (Andy Allo), who at first is his charismatic concierge and guide, but quickly becomes his friend and confidante, helping him navigate this new digital extension of life.
---
Also Read: Shows Like 'Succession' to Watch While Waiting For Season 4
---
Succession (HBO Max)
Synopsis: ​Power, politics, money…it's all in the family in this provocative, bitingly funny drama series about a highly dysfunctional dynasty. When aging, uber-wealthy patriarch Logan Roy (Brian Cox), CEO of one of the world's largest media and entertainment conglomerates, decides to retire, each of his four grown children follows a personal agenda that doesn't always sync with those of their siblings–or of their father. After Logan changes his mind about stepping down, he endures the often-childish bickering of his heirs while others in their orbit position themselves for a post-Logan world that seems imminent, though not predestined. Jeremy Strong, Kieran Culkin, Sarah Snook and Alan Ruck co-star as Logan's children; also with Hiam Abbass, Nicholas Braun and Matthew Macfadyen.
Red Dwarf (Crackle)
Synopsis: Chicken soup machine repairman and intergalactic loser Dave Lister awakesuspended animation to discover he is the lone survivor of a radiation lis now three million years into deep space and the last surviving memberhuman race. Dave is soon joined by a hologram of his dead bunkmate, a liform who's evolved from his pet cat, and a neurotic sanitation mechanoid. Together this unlikely bunch of heroes attempt to find their way back tounder the guidance of Holly, the ship's senile computer, encountering a heap of smeg on the way.