Atypical is one of the most hilarious comedies that will have you in pieces in its serious moments. The brilliant Netflix series follows Sam, a teenager who is on the autism spectrum while he may not understand any social cues that will not stop him from trying and helping him will be his overprotective mother, great father, cool sister, and hilarious best friend. Atypical ran for four brilliant seasons ending its run in 2021. So, if you miss the series here are some shows you could watch next.
---
Also Read: Shows Like 'Sex Education' To Watch While Waiting For Season 4
---
Sex Education (Netflix)
Synopsis: Sex Education is a Netflix comedy-drama starring Asa Butterfield, Gillian Anderson, Ncuti Gatwa, Aimee Lou Wood, Connor Swindells, Kedar Williams-Stirling, and Emma Mackey. The show follows Otis Milburn, an awkward teenage virgin who channels the knowledge of his sex therapist mother to counsel his peers at school, with his classmate Maeve Wiley. The series was created by Laurie Nunn. It is directed by Ben Taylor; and by Kate Herron, Sophie Goodhart, Alice Seabright, and Runyararo Mapfumo.
The A Word (Not Streaming in the USA)
Synopsis: Dramatic, thought-provoking and lighthearted, THE A WORD captures an authentic portrait of a contemporary family after their young son is diagnosed with autism. The series tracks the lives of 5-year-old Joe (Max Vento); Joe's parents, Paul (Lee Ingleby, Our Zoo, Inspector George Gently) and Alison (Morven Christie, Grantchester), who struggle with parenting philosophies; his aunt and uncle, Nicola (Vinette Robinson, Sherlock) and Steve (Greg McHugh, Fresh Meat), who are working through unfaithfulness in their marriage; and his grandfather, Maurice (Chris Eccleston, The Leftovers, Fortitude), a recent widower and the owner of the family brewery.
Synopsis: Featuring an all-star ensemble cast, including Lauren Graham (Gilmore Girls), Peter Krause (Six Feet Under), Dax Shepard (Baby Mama), and Craig T. Nelson (Coach), Parenthood follows four grown siblings of the far-from-perfect Braverman clan as they try to balance kids and careers, dreams and commitments, and romance or a total lack thereof. Join some of the best actors on television for a genuinely funny and heartwarming journey through the most challenging and rewarding role of a lifetime—being a parent.
---
Also Read: Shows To Watch If You Miss 'The End of the F***ing World' For More Dark Stories & Humor
---
The End of the F***ing World (Netflix)
Synopsis: Inspired by a comic book, THE END OF THE F***ING WORLD, is a black humoured road movie-style drama with an unlikely love story at its heart. James and Alyssa are rebel teenagers running away from home. From dreary suburbia and rundown shopping malls to lush landscapes and big vistas, they're on a quest to find a better life with Alyssa's idol – her estranged father. This is an emotional coming-of-age drama where two outcast teenagers from a disillusioned generation come together and learn what it feels like to make a human connection for the very first time.
The Fosters (Hulu)
Synopsis: A multi-ethnic family with a mix of foster and biological kids are being raised by two moms. Stef Foster, a dedicated police officer, and her partner Lena Adams, a school Vice Principal, have built a strong family with Stef's biological son from a previous marriage, Brandon, and their adopted twins, Mariana and Jesus. Their lives are turned upside down when Lina meets Callie, a teen with an abusive past who has spent her life in foster homes. Lena and Stef decide to welcome Callie into their home thinking it will be temporary.
Young Sheldon (HBO Max & Paramount+)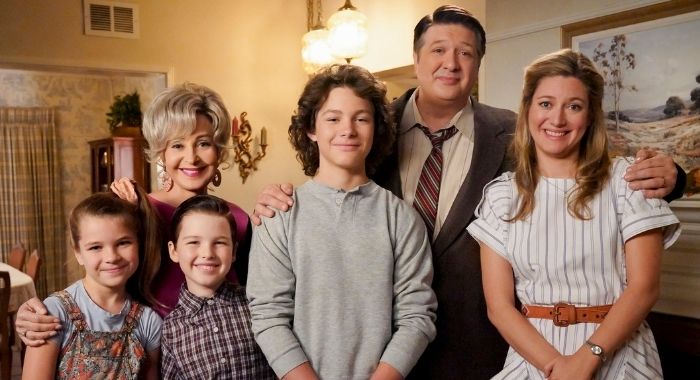 Synopsis: For 9-year-old Sheldon Cooper it isn't easy growing up in East Texas. Being a once-in-a-generation mind capable of advanced mathematics and science isn't always helpful in a land where church and football are king. And while the vulnerable, gifted and somewhat naïve Sheldon deals with the world, his very normal family must find a way to deal with him. His father, George, is struggling to find his way as a high school football coach and as father to a boy he doesn't understand. Sheldon's mother, Mary, fiercely protects and nurtures her son in a town where he just doesn't fit in. Sheldon's older brother, Georgie, does the best he can in high school, but it's tough to be cool when you're in the same classes with your odd 9-year-old brother. Finally, there's Sheldon's twin sister, Missy, who sometimes resents all the attention Sheldon gets, but also remains the one person who can reliably tell Sheldon the truth. For 10 years on The Big Bang Theory, audiences have come to know the iconic, eccentric and extraordinary Sheldon Cooper. This single-camera, half-hour comedy gives us the chance to meet him in childhood, as he embarks on his innocent, awkward and hopeful journey toward the man he will become.
---
Also Read: Shows Like 'Never Have I Ever' To Watch While Waiting For Season 4
---
Never Have I Ever (Netflix)
Synopsis: Never Have I Ever is a coming-of-age comedy about the complicated life of a modern-day first-generation Indian American teenage girl. The series stars newcomer, Maitreyi Ramakrishnan as Devi, an overachieving high school sophomore who has a short fuse that gets her into difficult situations. Never Have I Ever is created by executive producer Mindy Kaling, with Lang Fisher serving as executive producer, showrunner and writer.
Synopsis: The series follows Jack, Harrison, and Violet, 20-something roommates on the autism spectrum, as they strive to get a job, keep a job, make friends, fall in love, and navigate a world that eludes them. With the help of their families, aide, and sometimes even each other, these roommates experience setbacks and celebrate triumphs on their own unique journeys towards independence and acceptance.
Speechless (Hulu)
Synopsis: Maya DiMeo is a mom on a mission who will do anything for her husband, Jimmy, and kids Ray, Dylan, and JJ, her eldest son with special needs.
---
Also Read: Shows Like 'Derry Girls' To Watch If You Miss the Series
---
Derry Girls (Netflix)
Synopsis: Set in Derry Northern Ireland in the 1990s, Derry Girls is a candid, one-of-a-kind comedy about what it's like to be a teenage girl living amongst conflict. It's a warm, laugh out loud funny and honest look at the lives of an ordinary family living through the Troubles in the early nineties. Armed police in armoured Land Rovers, British Army check points and 'peace' walls are all an everyday reality for Erin. But, despite all that, she has other things to worry about, like the fact the boy she's in love with (actually in LOVE with), doesn't know she exists. Or that her Ma and Aunt Sarah make her include her weirdo cousin in EVERYTHING she does. Or that head teacher, Sister Michael, refuses to acknowledge Erin as a literary genius. Not to mention the fact that her second best friend has ALMOST had sex, whereas Erin's never even kissed anyone yet. Like all teenage girls, Erin has her own Troubles. Derry Girls is based on writer Lisa McGee's (Indian Summers, Being Human) own experiences of growing up in Northern Ireland amidst immense civil conflict.