A.P. Bio is the antithesis of every comedy about teachers ever made just like It's Always Sunny in Philadelphia is the antithesis of Friends, and the fun thing is that Glenn Howerton stars in both of those shows. A.P. Bio follows Jack Griffin, a philosophy professor as he is pushed out of his job at Harvard and banished to Toledo living in his dead mom's house and not teaching the A.P. Bio class in Whitlock High School. A.P. Bio ran for four brilliant seasons but it was canceled after that. So, if you miss the series here are some shows you could watch next.
---
Also Read: Shows Like 'Community' To Watch While Waiting For The Movie (#AndAMovie)
---
Community (Netflix & Hulu)
Synopsis: From Dan Harmon (The Sarah Silverman Program) and Emmy Award-winning directors Joe and Anthony Russo (Arrested Development) comes Community, a smart comedy series about a band of misfits who attend Greendale Community College. At the center of the group is Jeff Winger (Joel McHale, The Soup), a fast-talkin' lawyer whose degree has been revoked. With some help from his fellow classmates, Winger forms a study group who eventually learn more about themselves than their course work.
The Mick (Hulu)
Synopsis: The Mick is a no-holds-barred comedy that gives new meaning to the phrase "dysfunctional family." Mickey (Kaitlin Olson, It's Always Sunny in Philadelphia) is an unapologetic degenerate, who suddenly finds herself stuck in affluent Greenwich, CT, raising her spoiled niece and nephews. Sabrina is an ambitious, 18-going-on-30-year-old who is a worthy adversary to Mickey. Thirteen-year-old Chip is an arrogant, entitled neocon-in-the-making. And 7-year-old Ben is an adorably fragile nerd. It's pretty much everything Mickey has never wanted. Regardless, she's determined transform these little monsters into honest, hardworking, decent members of society — something she knows absolutely nothing about and she may discover it's not the buzzkill she always thought it would be.
Bad Education
Synopsis: They talk too much, don't pay attention and have a poor attitude. Must try harder, especially as they're the teachers. Silly comedy from Jack Whitehall, with Layton Williams.
Vice Principals (HBO Max)
Synopsis: Danny McBride (HBO's 'Eastbound and Down') and Walton Goggins (TV's 'Justified' and 'The Shield') team up in this HBO comedy series about two high-school vice principals who forge an unholy alliance to take down the school's new principal.
---
Also Read: Shows Like 'Derry Girls' To Watch If You Miss the Series
---
Derry Girls (Netflix)
Synopsis: Set in Derry Northern Ireland in the 1990s, Derry Girls is a candid, one-of-a-kind comedy about what it's like to be a teenage girl living amongst conflict. It's a warm, laugh out loud funny and honest look at the lives of an ordinary family living through the Troubles in the early nineties. Armed police in armoured Land Rovers, British Army check points and 'peace' walls are all an everyday reality for Erin. But, despite all that, she has other things to worry about, like the fact the boy she's in love with (actually in LOVE with), doesn't know she exists. Or that her Ma and Aunt Sarah make her include her weirdo cousin in EVERYTHING she does. Or that head teacher, Sister Michael, refuses to acknowledge Erin as a literary genius. Not to mention the fact that her second best friend has ALMOST had sex, whereas Erin's never even kissed anyone yet. Like all teenage girls, Erin has her own Troubles. Derry Girls is based on writer Lisa McGee's (Indian Summers, Being Human) own experiences of growing up in Northern Ireland amidst immense civil conflict.
Synopsis: Based in a secondary school in Bristol, this popular drama follows a group of young teachers whose unruly lives and loves are not dissimilar from their adolescent charges. Set as much in the pub as in the classroom, they are continually discovering that life can be much more difficult when school is out.
Synopsis: Gerry has joined Xavier Academy, a prestigious and expensive private school which offers grades 5-12 and has students 10-18 years old. Although thrilled to be teaching for a career, Gerry finds it challenging that his new job has him teaching not in his area of expertise – gym – but in the social studies department.
Bad Teacher (Crackle)
Synopsis: Bad Teacher is about an always-inappropriate, fearless and unapologetic former trophy wife who masquerades as a teacher in order to find a new man after her wealthy husband leaves her. Ari Graynor, Sara Gilbert, Ryan Hansen, David Alan Grier, Kristin Davis and Sara Rodier star.
This Way Up (Hulu)
Synopsis: This Way Up is a comedy about moving on, moving forward and trying to find happiness. Aine, played by Irish writer & comedienne Aisling Bea, is a whip smart English-as-a-foreign language (TEFL) teacher trying to pull her life back together after a "teeny little nervous breakdown", as her sister Shona, played by Sharon Horgan, worries, not only about her younger sibling, but also about her own life choices. The TEFL school where Aine teaches brings together a room full of characters also trying to find their own hope, direction and happiness in this messy world.
---
Also Read: Comedy Shows Like 'It's Always Sunny in Philadelphia' To Watch While Waiting For Season 16
---
It's Always Sunny in Philadelphia (Hulu)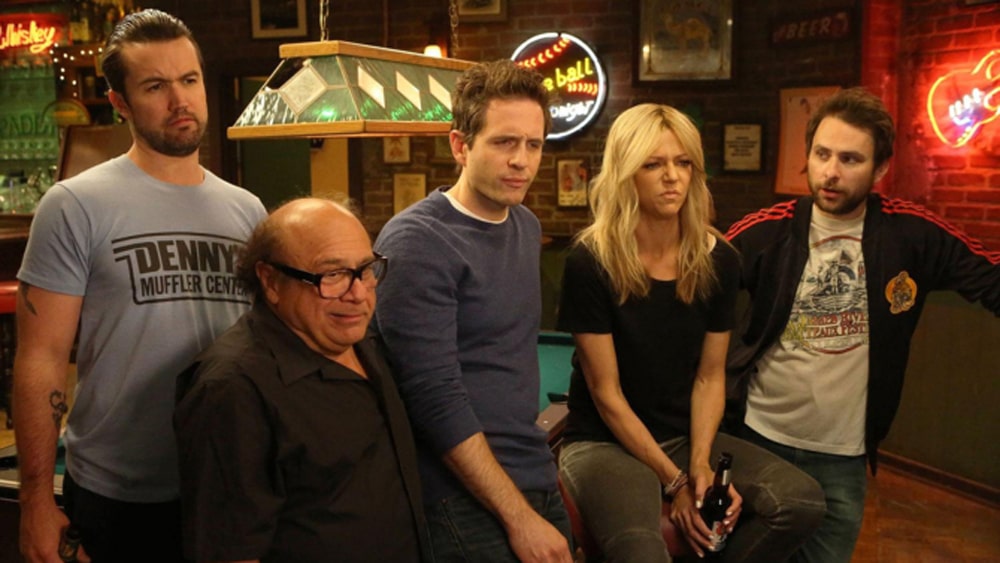 Synopsis: It's Always Sunny in Philadelphia features Mac, Dennis, Charlie, Sweet Dee and Frank, five ne'er-do-wells who own and operate Paddy's Pub in Philadelphia. Their constant scheming usually lands them in a world of hurt, yet they never seem to learn from their mistakes. As they say, some things never change. So prepare for more depraved schemes, half-baked arguments, and absurdly underhanded plots to subvert one another.