Sex and the City is one of those shows that has left its mark on television history. The original series won eight Golden Globes and Seven Emmys, and it ended in 2004, nearly eighteen years ago after that, we got to see two Sex and the City movies, even though they weren't recieved well by critics, they were welcome addition to the franchise. This takes us to the present nearly 11 years of not knowing what's happening to our favorite characters and HBO Max launches a reboot miniseries titled And Just Like That… While the series is maybe not that good, if you just wanted to see Carrie, Miranda, and Charlotte again, you got everything you wanted, but now it has come to an end. And Just Like That… has been renewed for a second so while you wait for Season 2 here are some shows you could watch until then.
---
Also Read: Comedy Shows Like 'The Mindy Project' To Watch If You Miss the Series
---
The Mindy Project (Netflix, Hulu & Prime Video)
Synopsis: A single-camera comedy, starring Mindy Kaling, that follows a skilled OB/GYN navigating the tricky waters of both her personal and professional life, as she pursues her dreams of becoming the perfect woman, finding the perfect man and getting her perfect romantic comedy ending.
The Bold Type (Hulu)
Synopsis: Revealing a glimpse into the outrageous lives and loves of those behind the global women's magazine, "Scarlet", The Bold Type centers around the rising generation of women finding their own voices in a sea of intimidating leaders. Inspired by the life of former Cosmopolitan magazine editor-in-chief (Joanna Coles), the series weaves together stories that explore self-expression, sexuality, freedom and equality.
The Golden Girls (Hulu)
Synopsis: The Golden Girls is the story of four older women who share a house in Miami Beach, Florida. Bea Arthur plays Dorothy, a divorced school teacher, with a sardonic wit. Rue McClanahan plays Blanche, a man-hunting Southern Belle. Betty White plays Rose, a very sweet woman who is somewhat spacey. Rounding out the trio is Estelle Getty, playing Dorothy's outspoken mother, Sophia.
Run the World (Starz & The Roku Channel)
Synopsis: "Run the World" is an eight-episode, half-hour series that tells the story of a group of Black women – vibrant, fiercely loyal best friends – who work, live, and play in Harlem as they strive for world domination. At its core, it's an unapologetically female show about enviable friendship and not only surviving – but thriving together.
Synopsis: From writer Tracy Oliver (Girls Trip), Harlem is a new comedy following a group of stylish and ambitious best girlfriends in Harlem NYC, the mecca of Black culture in America. Camille is a popular young anthropology professor at Columbia with extensive knowledge of the dating norms of many cultures, but has a hard time navigating her own love life; Tye is a successful, queer dating app creator who prefers keeping vulnerability—and romantic partners—at arm's length; Quinn is a hopeless romantic and trust fund fashion designer who is trying to give back to the world while running a struggling business; Angie is a confident, vibrant, and filter-free singer and actress who also lives rent-free and fabulously with Quinn. Together, they level up from their 20s into the next phase of their careers, relationships, and big city dreams.
---
Also Read: Shows Like The CW's 'Gossip Girl' To Watch If You Miss the Series
---
Gossip Girl (HBO Max)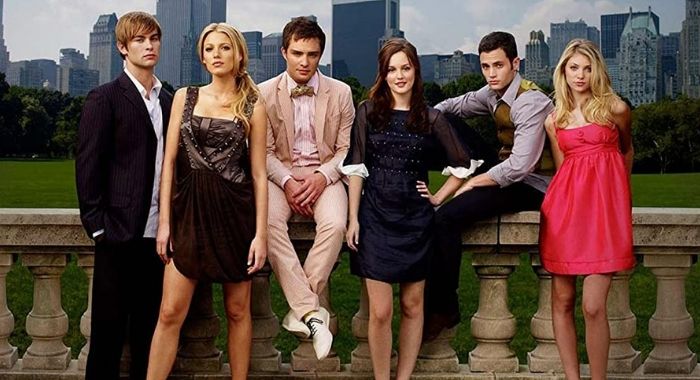 Synopsis: Based on the best-selling series of young-adult novels by Cecily von Ziegesar and executive produced by Josh Schwartz ("Chuck," "The O.C.") & Stephanie Savage ("The O.C."), "Gossip Girl" is a one-hour drama based on the lives of privileged Manhattan prep school teens. The students first learn that Serena van der Woodsen, once the Upper East Side's most notorious party girl, is back in town the way they learn all the important news in their lives: from the blog of the all-knowing albeit ultra-secretive Gossip Girl.
---
Also Read: Shows Like 'Emily in Paris' To Watch While Waiting For Season 4
---
Emily in Paris (Netflix)
Synopsis: Emily, an ambitious twenty-something marketing executive from Chicago, unexpectedly lands her dream job in Paris when her company acquires a French luxury marketing company — and she is tasked with revamping their social media strategy. Emily's new life in Paris is filled with intoxicating adventures and surprising challenges as she juggles winning over her work colleagues, making friends, and navigating new romances.
Synopsis: Pulsing with the explosive energy of the unknown and the exciting urban setting of 1980s New York, The Carrie Diaries stars the enticing AnnaSophia Robb (Soul Surfer) as Carrie Bradshaw, an inquisitive and thoughtful teen coming of age in the suburbs, who is beckoned by the glamorous and gritty distant Manhattan as she maneuvers high school and asks her first questions about sex, love and loss.
---
Also Read: Shows Like 'Love Life' To Watch If You Miss the Series
---
Love Life (HBO Max)
Synopsis: This romantic comedy series tracks Darby Carter across her twenties as she navigates work and romance in New York City, often with the insecurities of youth bubbling to the surface. We first meet Darby in 2012 as an NYU grad living with three roommates: impulsive best friend Sara, Sara's easy-going boyfriend Jim, and brutally honest friend Mallory. Following Darby over the next several years, Love Life shows how each of Darby's encounters brings her closer to finding her "person", even if she doesn't know it yet.
---
Also Read: Shows Like HBO's 'Girls' To Watch If You Miss the Series
---
Girls (HBO Max)
Synopsis: Hannah and her friends are just four girls trying to figure out what they want–from life…from men…from themselves. In Season 1 of this coming-of-age comedy series, Hannah (Lena Dunham) struggles to achieve her dream of becoming a successful writer in the wake of being cut off financially by her parents. Fortunately, she has three close friends for support–Marnie (Allison Williams), Jessa (Jemima Kirke), and Shoshanna (Zosia Mamet)–in this intimate and often-comical look at friendship, relationships and self-discovery.