Alex Rider is a fun espionage drama and even though it consists of outlandish concepts, the high-octane action series provides a pretty entertaining watch. Based on a novel series of the same name by Anthony Horowitz, the series follows the eponymous character, a teenage boy who gets recruited into the MI6 to take down some of the most nefarious organizations threatening the peace on earth. Alex Rider has aired two great seasons until now, and the third season is on its way. So, while you wait for Season 3 here are some shows you should watch while waiting.
---
Also Read: Shows Like 'The Recruit' To Watch While Hoping For Season 2
---
The Recruit (Netflix)
Synopsis: The Recruit centers around Owen Hendricks (Noah Centineo), a young CIA lawyer whose first week on the job turns upside down when he discovers a threatening letter by former asset Max Meladze (Laura Haddock), who plans to expose the agency unless they exonerate her of a serious crime. Owen quickly becomes entangled in a dangerous and often absurd world of power politics and mischievous players, as he travels the world in hopes of completing his assignment and making a mark at the CIA.
---
Also Read: Shows Like 'Condor' To Watch If You Loved the Spy Series
---
Synopsis: Based on the novel "Six Days of the Condor" by James Grady and screenplay "Three Days of the Condor" by Lorenzo Semple Jr. and David Rayfiel, Condor follows CIA analyst (Max Irons) who stumbles onto a plan that threatens the lives of millions. Joe Turner has always been conflicted about his work for the CIA. But when something he's discovered gets his entire office killed, leaving Joe as the only survivor and forcing him to go on the run, the theoretical reservations he's harbored turn into all-too-real moral dilemmas. Under pressure, Joe will be forced to redefine who he is and what he's capable of in order to discover the truth and to stop a plot that threatens the lives of millions. Starring Max Irons, William Hurt, Leem Lubany, Angel Bonnani, Kristen Hager, with Mira Sorvino and Bob Balaban and special guest star Brendan Fraser.
---
Also Read: Shows Like 'Hanna' To Watch If You Miss the Series
---
Synopsis: In equal parts high-concept thriller and coming-of-age drama, HANNA follows the journey of an extraordinary young girl raised in the forest, as she evades the relentless pursuit of an off-book CIA agent and tries to unearth the truth behind who she is.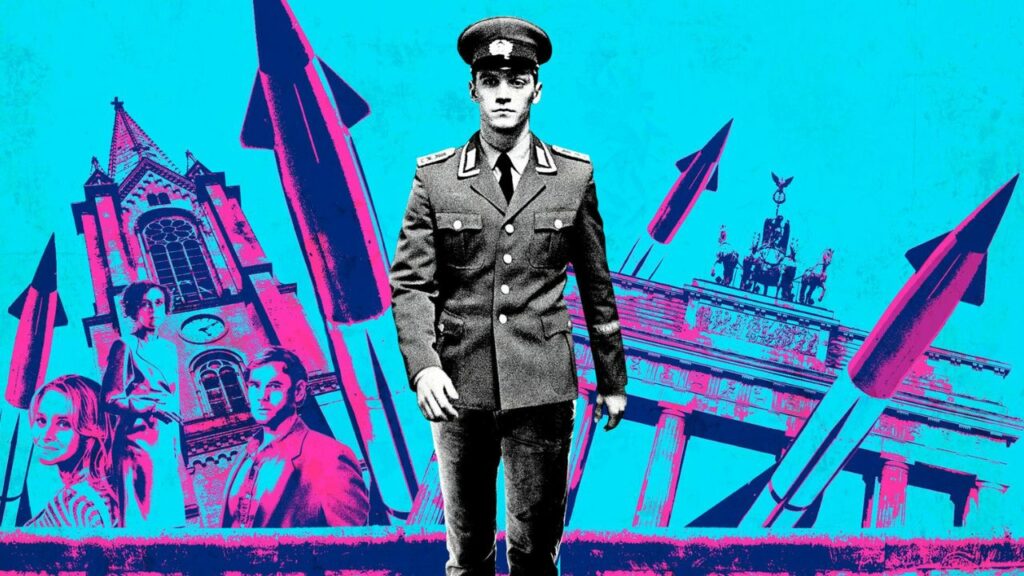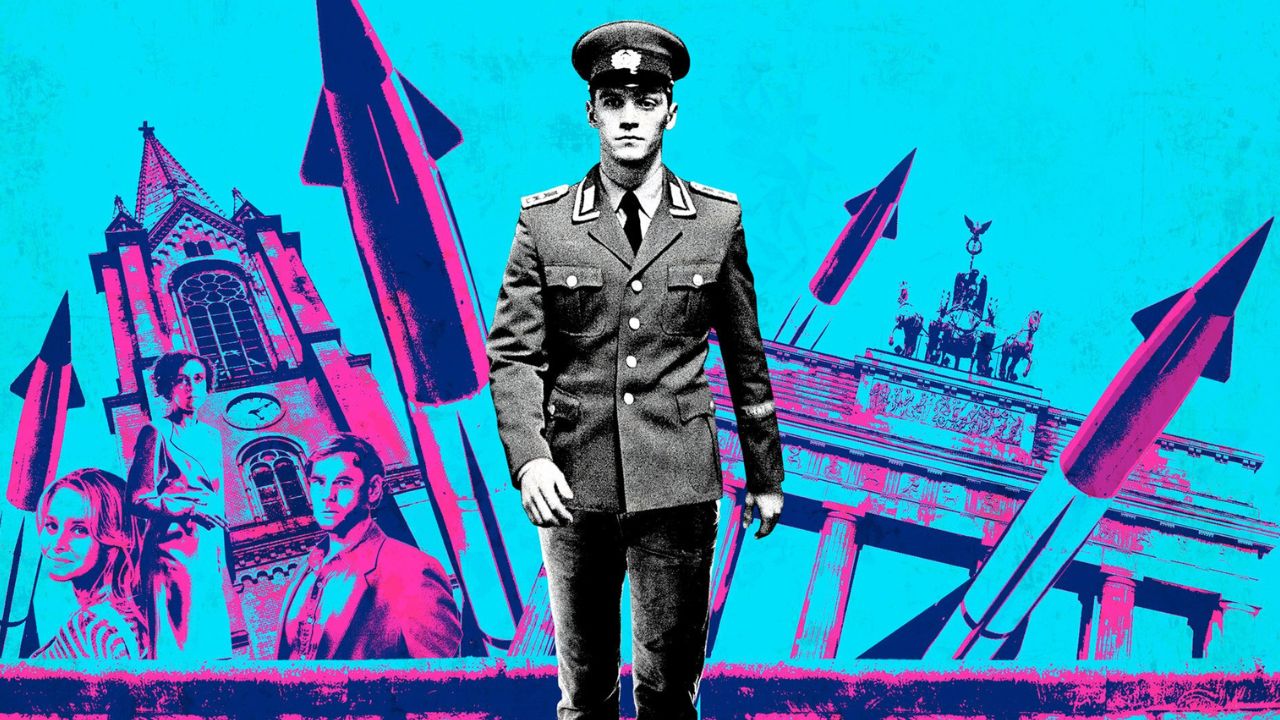 Synopsis: Deutschland 83 follows Martin Rauch, a young spy caught between two worlds, who is sent by the East German Intelligence Service (the HVA) to discover NATO's military intentions. Set against a backdrop of fervent political feeling and the threat of nuclear war, Martin must leave everything he knows for a new life undercover in the West.
---
Also Read: Spy Shows Like 'The Night Manager' To Watch If You are Still Hoping For Season 2
---
Synopsis: A contemporary interpretation of John le Carré's espionage novel, "The Night Manager" follows former British soldier Jonathan Pine (Tom Hiddleston) who is recruited by intelligence operative Angela Burr (Olivia Colman) to infiltrate the inner circle of international businessman Richard Onslow Roper (Hugh Laurie) and detonate the unholy alliance he has ministered between the intelligence community and the secret arms trade. To reach the heart of Roper's vast empire, Pine must withstand the suspicious interrogations of his venal chief of staff, Major Corkoran (Tom Hollander) and the allure of his beautiful girlfriend Jed (Elizabeth Debicki). In his quest to do the right thing, Pine must first become a criminal himself. Executive producers include John Le Carré, Simon Cornwell, Stephen Cornwell and Stephen Garrett. Writer David Farr also serves as an executive producer as does Academy Award® winner Susanne Bier, who serves as director.
The Little Drummer Girl (YouTube Primetime Subscription)
Synopsis: Based on John le Carré's best-selling literary masterpiece of the same name, The Little Drummer Girl is a passionate love story and a deeply immersive thriller. As audacious now as when the book was first published, it portrays a world in which the lines between hero and villain, and between love and hate, are dangerously in flux. The six-part miniseries stars Emmy® and Golden Globe® Award winner Alexander Skarsgård (Big Little Lies) as Becker, twice Academy Award-nominated Michael Shannon (The Shape of Water) as Kurtz and BAFTA-nominated Florence Pugh (Lady Macbeth) as Charlie. Set in the late 1970s, the pulsating thriller follows Charlie (Pugh), a young, fiery but unfulfilled British actress and idealist whose resolve is tested after she meets the mysterious Becker (Skarsgård) while on holiday in Greece. It quickly becomes apparent that his intentions are not what they seem, and her encounter with him entangles her in a complex plot devised by the spy mastermind Kurtz (Shannon). Charlie takes on the role of a lifetime as a double agent in the 'Theatre of the Real', but despite her natural mastery of the task at hand, she increasingly finds herself inexorably drawn into a dangerous world of duplicity and compromised humanity. Blurring the fine lines between love and hate; truth and fiction; and right and wrong; The Little Drummer Girl weaves a suspenseful and explosive story of espionage and high-stakes international intrigue.
---
Also Read: Comedy Shows Like 'Chuck' To Watch If You Are Still Waiting For 'The Chuck Movie'
---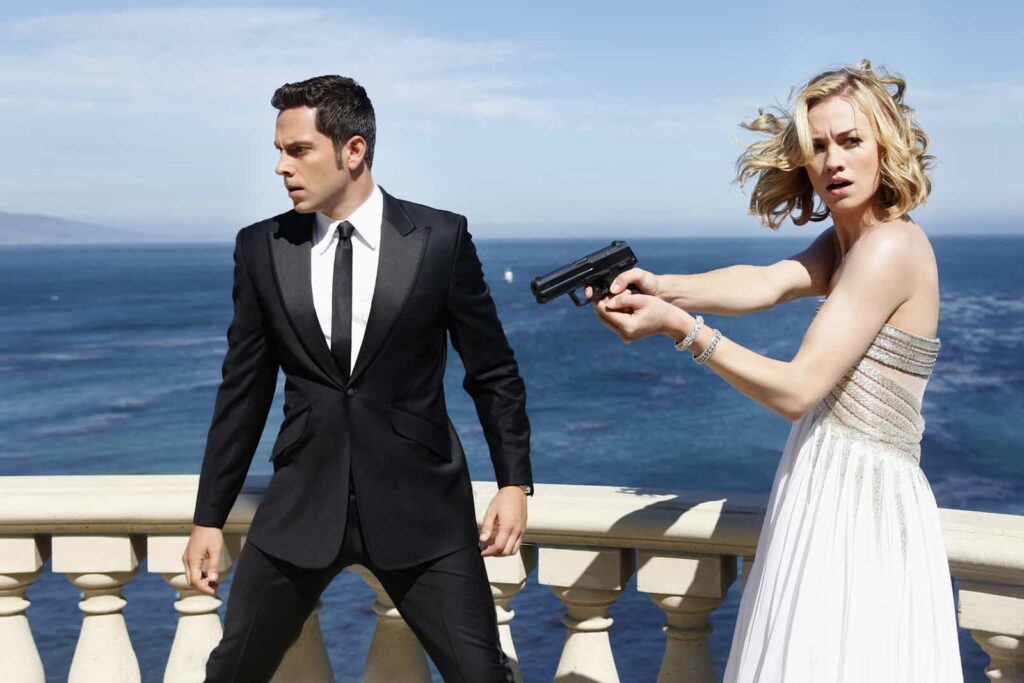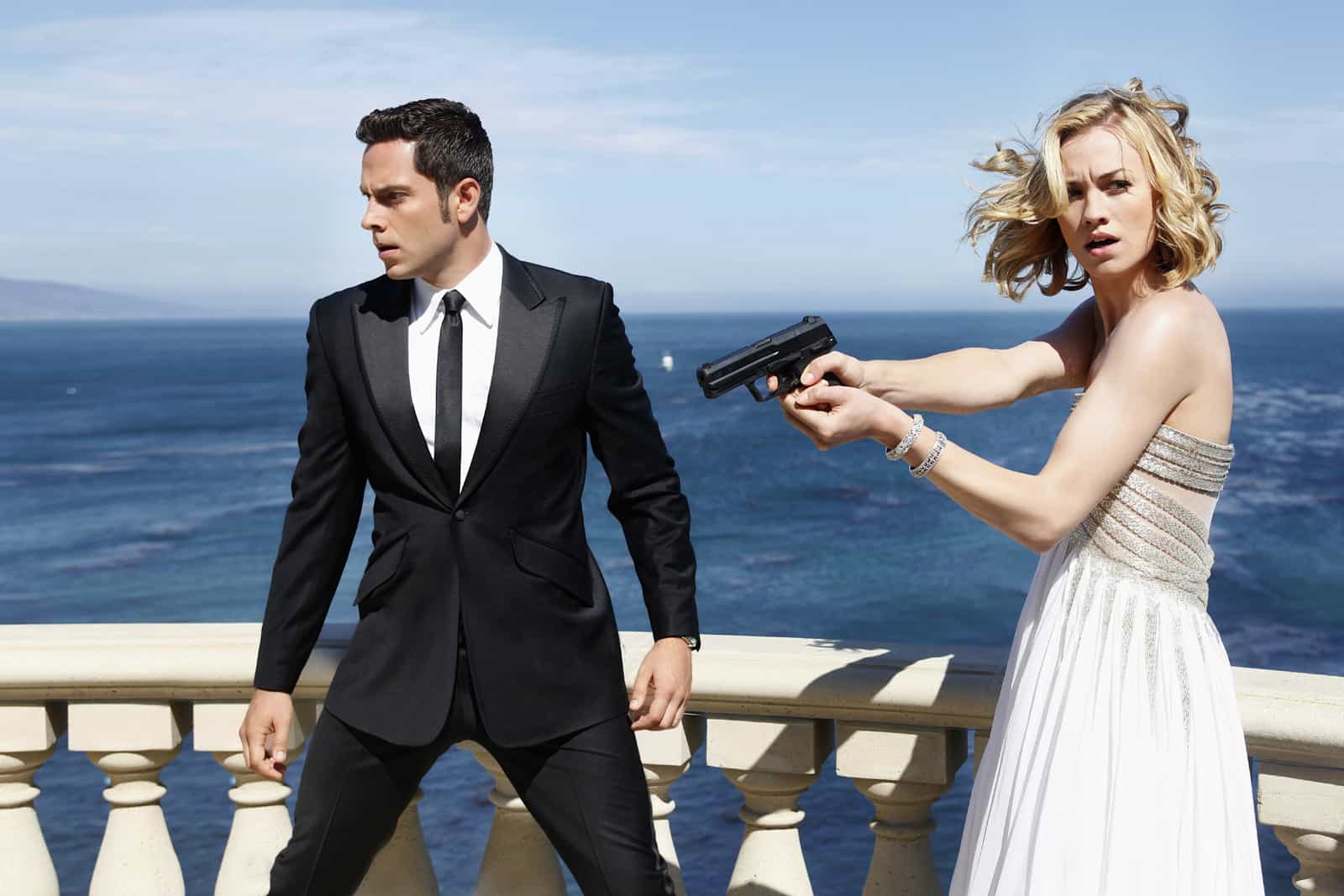 Synopsis: When Chuck Bartowski opens an e-mail subliminally encoded with government secrets, he unwittingly downloads an entire server of sensitive data into his brain. Now, the fate of the world lies in the unlikely hands of a guy who works at a Buy More Electronics store. Instead of fighting computer viruses, he must now confront assassins and international terrorists. With the government's most precious secrets in Chuck's head, Major John Casey of the National Security Agency assumes the responsibility of protecting him. His partner is the CIA's top agent — and Chuck's first date in years — Sarah Walker. They'll try to keep him safe by trading in his pocket protector for a bulletproof vest. Also starring are Joshua Gomez as Morgan Grimes, Chuck's best buddy, and Sarah Lancaster as Chuck's ever-supportive sister, Ellie.
---
Also Read: Spy Shows Like 'Slow Horses' To Watch While Waiting For Season 3
---
Slow Horses (Apple TV+)
Synopsis: Slow Horses is a darkly humorous espionage drama that follows a dysfunctional team of British intelligence agents who serve in a dumping ground department of MI5 known un-affectionately as Slough House. Oldman stars as Jackson Lamb, the brilliant but irascible leader of the spies, who end up in Slough House due to their career-ending mistakes as they frequently find themselves blundering around the smoke and mirrors of the espionage world.
---
Also Read: Shows Like 'Alias' To Watch If You Miss the Series
---
Synopsis: Don Adams stars as Maxwell Smart, a hilariously inept and maladroit operative working for CONTROL, a top secret counterintelligence agency, in Season 1 of this classic, Emmy(R)-winning spy spoof series created by Mel Brooks and Buck Henry.
---
Also Read: Shows Like 'Hunters' To Watch If You Miss the Series
---
Synopsis: Hunters, created by David Weil, premiered exclusively February 21, 2020 on Prime Video. Executive produced by Academy Award-winner Jordan Peele and led by legendary Academy Award-winner Al Pacino and Logan Lerman, Hunters follows a diverse band of Nazi hunters living in 1977 New York City. The Hunters, as they're known, have discovered that hundreds of high-ranking Nazi officials are living among us and conspiring to create a Fourth Reich in the United States. The eclectic team of Hunters will set out on a quest to bring the Nazis to justice and thwart their new genocidal plans. The series also stars Jerrika Hinton, Josh Radnor, Kate Mulvany, Tiffany Boone, Greg Austin, Louis Ozawa, Carol Kane, Saul Rubinek, Dylan Baker and Lena.