Agents of S.H.I.E.L.D. is definitely one of the most unexpected beloved series. The series followed Agent Phil Coulson (Clark Gregg) from the MCU as he leads a team of highly skilled agents, who are experts in fighting aliens and Inhumans. Agents of SHIELD also stars Chloe Bennet, Iain De Caestecker, Ming-Na Wen, Elizabeth Henstridge, Brett Dalton, Henry Simmons, and Natalia Cordova-Buckley. The ABC series premiered in 2013 but it gained a lot of fans after the series separated itself from the mainstream Marvel Universe and started adapting obscure stories, told through its fan-favorite characters. Agents of SHIELD ended with its seventh and final season in 2020 by wrapping all of the story and character arcs beautifully. So, if you miss Agents of SHIELD here are some more shows you could watch to fill up your time.
---
Also Read: Shows Like 'Legends of Tomorrow' To Watch After Season 7
---
DC's Legends of Tomorrow (Netflix)
Synopsis: When heroes alone are not enough, the world needs legends. Having seen the future, traveling rogue Rip Hunter assembles a disparate group of both heroes and villains to confront the unstoppable threat of the immortal Vandal Savage—a threat which not only puts the planet at stake, but all of time itself. From the creators of The Flash and Arrow comes this super hero team-up that combines characters from both shows—in addition to new heroes from the DC Comics pantheon. Featuring Arrow's Brandon Routh as The Atom and Caity Lotz as the resurrected Sara Lance/White Canary; with The Flash's Victor Garber as Dr. Martin Stein alongside Wentworth Miller as Captain Cold and Dominic Purcell as Heat Wave; plus, the newest heroes Rip Hunter, Jeff Jackson and the reincarnated warrior queen Hawkgirl, this singular super hero spinoff series pits the ragtag team against one of the most powerful villains in the DC Comics universe.
Agent Carter (Disney+)
Synopsis: Agent Peggy Carter is dealt a serious blow as she finds herself marginalized when men return home from fighting in 1946. Working for the covert Strategic Scientific Reserve, Peggy must balance administrative work and going on secret missions.
Killjoys (Fubo TV)
Synopsis: There is a planetary system known as the Quad, it is a place on the brink of a bloody interplanetary class war. There is a threesome of fun, loving, and intriguing bounty hunters. They attempt to remain impartial as they chase deadly citizens and other impostors living on the four planets, yet their ingenious ways to capture these deadly citizens confront their own personal issues in more than one way.
---
Also Read: Mind-Bending Shows Like 'Fringe' To Watch If You Miss the Series
---
Synopsis: The critically acclaimed FRINGE explores the ever-blurring line between science fiction and reality, where hybrid monsters tear through sewers, thieves walk through walls and portals open to parallel universes. Unable to police a world in which science has advanced beyond our wildest dreams — and nightmares — FBI Special Agent Olivia Dunham seeks help from eccentric 'fringe' scientist Dr. Walter Bishop and his jack-of-all trades son, Peter. Under the direction of Special Agent Phillip Broyles and assisted by Agents Astrid Farnsworth, Charlie Francis and Lincoln Lee, the Fringe Team investigates unusual incidents that defy human logic and unimaginable events that threaten our very existence on a universal scale.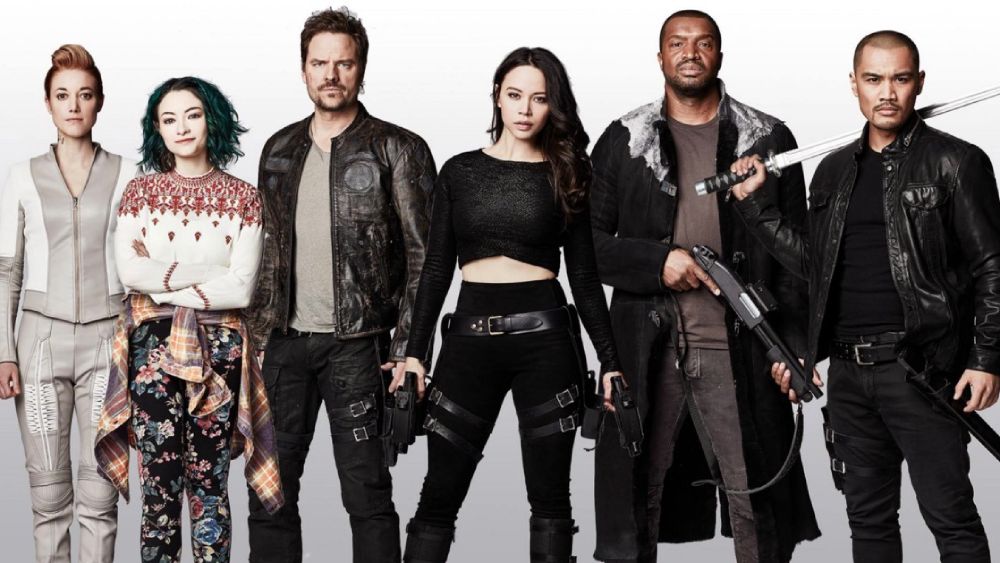 Synopsis: The crew of a derelict ship awakens from stasis with no memories of who they are or how they got onboard. Their search for answers only leads to more questions, as they discover how their own sordid pasts inform an increasingly dangerous future.
Synopsis: Torchwood follows the adventures of a team of investigators led by the enigmatic Captain Jack Harkness. Set in the UK in the present day, the team uses scavenged alien technology to solve crime both alien and human.
---
Also Read: Shows Like 'Doom Patrol' To Watch While Waiting For Season 4 Part 2
---
Synopsis: DOOM PATROL reimagines one of DC's most beloved groups of Super Heroes: Robotman aka Cliff Steele (series star BRENDAN FRASER), Negative Man aka Larry Trainor (series star MATT BOMER), Elasti-Woman aka Rita Farr (series star APRIL BOWLBY) and Crazy Jane (series star DIANE GUERRERO), led by modern-day mad scientist Niles Caulder aka The Chief (series star TIMOTHY DALTON). Each member of the Doom Patrol suffered a horrible accident that gave them superhuman abilities, but also left them scarred and disfigured. Traumatized and downtrodden, the team found their purpose through The Chief, coming together to investigate the weirdest phenomena in existence. Following the mysterious disappearance of The Chief these reluctant heroes will find themselves in a place they never expected to be, called to action by none other than Cyborg (series star JOIVAN WADE), who comes to them with a mission hard to refuse. Part support group, part Super Hero team, the Doom Patrol is a band of superpowered freaks who fight for a world that wants nothing to do with them. Based on the characters created for DC by Arnold Drake, Bob Haney and Bruno Premiani.
The Tomorrow People (Tubi TV)
Synopsis: Stephen Jameson was a "normal" teenager, until he began hearing voices and teleporting in his sleep, never knowing where he might wake up. In desperation, Stephen listens to one of the voices in his head, and it leads him to the Tomorrow People – John, Cara and Russell – and their astonishing abilities of telekinesis, teleportation and telepathic communication. Unwilling to turn his back on either humanity or the world of the Tomorrow People, Stephen sets out on his own path – a journey that could take him into the shadowy past or into an unknown future with THE TOMORROW PEOPLE.
---
Also Read: Shows Like 'The Defenders' To Watch If You Miss the Series
---
The Defenders (Disney+)
Synopsis: Marvel's The Defenders follows Daredevil AKA Matt Murdock (Charlie Cox), Jessica Jones (Krysten Ritter), Luke Cage (Mike Colter) and Iron Fist AKA Danny Rand (Finn Jones), a quartet of singular heroes with one common goal – to save New York City. This is the story of four solitary figures, burdened with their own personal challenges, who reluctantly realize they just might be stronger when teamed together.
Synopsis: Returning to the universe of TNT's hit movie franchise, The Librarian, this new series centers on an ancient organization hidden beneath the Metropolitan Public Library dedicated to protecting an unknowing world from the secret, magical reality hidden all around. This group solves impossible mysteries, fights supernatural threats and recovers powerful artifacts, including the Ark of the Covenant, the Spear of Destiny and Excalibur.
---
Also Read: Shows Like 'Travelers' To Watch If You Miss the Series
---
Travelers (Netflix)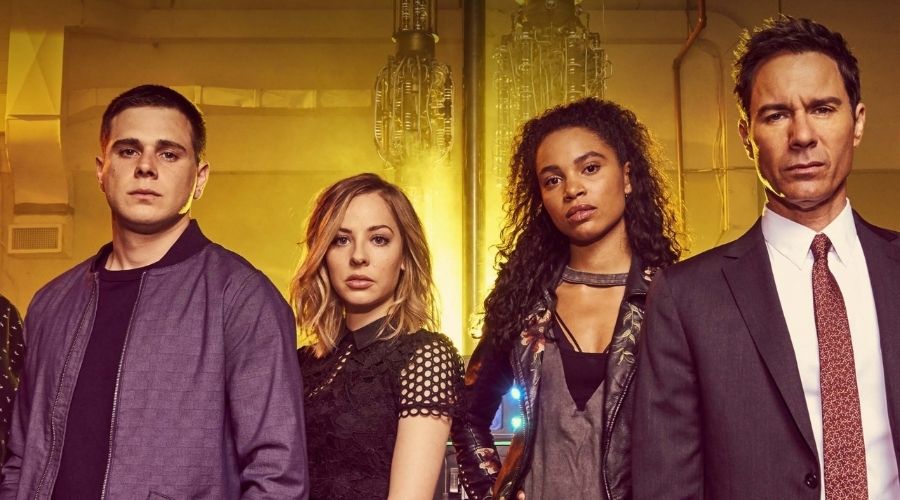 Synopsis: Hundreds of years from now, the last surviving humans discover the means of sending consciousness back through time, directly into people in the 21st century. These "travelers" assume the lives of seemingly random people, while secretly working as teams to perform missions in order to save humanity from a terrible future. These travelers are: FBI Special Agent Grant MacLaren (Eric McCormack), the team's leader; Marcy (Mackenzie Porter), a young, intellectually disabled woman in the care of her social worker, David (Patrick Gilmore); Trevor (Jared Paul Abrahamson), a high school quarterback; Carly (Nesta Marlee Cooper), a single mom in an abusive relationship; and Philip (Reilly Dolman), a heroin-addicted college student. Armed only with their knowledge of history and an archive of social media profiles, the travelers discover that 21st century lives and relationships are as much a challenge as their high-stakes missions.