24 is a thriller drama series with an intriguing which is that every episode of the series is only one hour with the whole season amounting to a single day. Starring Kiefer Sutherland in the lead role of Jack Bauer, the Fox series follows a Counterterrorism agent as he protects his family and country. 24 premiered in 2001, and it ran for nine brilliant seasons ending its run in 2010. It also launched multiple spin-offs, which were not as successful but entertaining nonetheless. So, if you also miss the series here are some similar shows you could watch next.
24: Legacy (Hulu)
Synopsis: Six months ago in Yemen, an elite squad of U.S. Army Rangers, led by Sergeant ERIC CARTER (Corey Hawkins, "Straight Outta Compton"), killed terrorist leader Sheik Ibrahim Bin-Khalid. In the aftermath, Bin-Khalid's followers declared a fatwah against Carter, his squad and their families, forcing them into federal witness protection. But a recent attempt on Carter's own life makes it clear to him that his team is now exposed. To thwart further attacks, Carter enlists REBECCA INGRAM (Miranda Otto, "Homeland"), who quarterbacked the raid that killed Bin-Khalid. She's a brilliant and ambitious intelligence officer who has stepped down from her post as National Director of CTU to support her husband, SENATOR JOHN DONOVAN (Emmy and Golden Globe Award winner Jimmy Smits, "NYPD Blue," "The West Wing"), in his campaign for President of the United States. Decades of sleepless nights and missed anniversaries landed her at the top. With the White House within their grasp, can she truly embrace a new role as First Lady? Or will her love of the action draw her back in? Together, in this fast-paced thrill ride, Carter and Ingram uncover a sophisticated terrorist network that will force them to ask: "Who can we trust?" As they battle Bin-Khalid's devotees, they are forced to confront their own identities, families and pasts.
24: Live Another Day (Not Streaming)
Synopsis: Exiled in London for four years, former Counter Terrorist Unit agent Jack Bauer (Emmy(R) winner Kiefer Sutherland) must spring into action to try to save U.S. President James Heller (William Devane). In retribution for a drone strike he ordered, Heller sits in the crosshairs of the widow of an al-Qaeda leader. Along the way, Jack faces his ex-love, Heller's daughterAudrey (Kim Raver), who's married to chief of staff Mark Boudreau (Tate Donovan). Teaming with CTU operative-turned-hacktivist Chloe O'Brian (Mary Lynn Rajskub), Jack risks everything to try to protect the U.S., prevent a global terrorist attack and outrun the CIA head (Benjamin Bratt) – as the pulse-quickening tension unfolds in real time!
Designated Survivor (Netflix)
Synopsis: A lower-level cabinet member who is suddenly appointed President of the United States after a catastrophic attack on the U.S. Capitol during the State of the Union. In this dramatic thriller, Kirkman will struggle to keep the country and his own family from falling apart, while navigating the highly volatile political arena and while leading the search to find who is responsible for the attack.
---
Also Read: Shows Like 'Homeland' To Watch If You Miss the Series
---
Synopsis: Homeland is an edge-of-your-seat sensation. CIA officer Carrie Mathison (Claire Danes) is tops in her field despite being bipolar, which makes her volatile and unpredictable. With the help of her long-time mentor Saul Berenson (Mandy Patinkin), Carrie fearlessly risks everything, including her personal well-being and even sanity, at every turn. You won't be able to turn away from this gripping, emotional thriller in which nothing short of the fate of our nation is at stake.
---
Also Read: Spy Shows Like 'Tom Clancy's Jack Ryan' To Watch While Waiting For Season 4
---
Synopsis: When CIA analyst Jack Ryan stumbles upon a suspicious series of bank transfers his search for answers pulls him from the safety of his desk job and catapults him into a deadly game of cat and mouse throughout Europe and the Middle East, with a rising terrorist figurehead preparing for a massive attack against the US and her allies.
---
Also Read: Shows Like 'Shooter' To Watch If You Miss the Series
---
Shooter (Netflix)
Synopsis: Shooter is an uncompromising exploration of the definition and evolution of a hero. Ryan Phillippe ("Secrets and Lies") is a producer on the project and will star as Bob Lee Swagger, an expert marksman living in exile who is coaxed back into action after learning of a plot to kill the president. Omar Epps ("House") plays Isaac Johnson, an ex-Marine and former commanding officer of Swagger. Now a Secret Service Agent, he solicits Swagger's expertise for a clandestine operation that has disastrous results.
---
Also Read: Shows Like 'Burn Notice' To Watch If You Miss the Series
---
Synopsis: Michael Westen is a trained spy who receives a "burn notice" for an unstated reason & effectively is fired. Penniless, he returns to his hometown in Miami and freelances while trying to find who burned him.
---
Also Read: Shows Like 'Justified' To Watch While Waiting For the Sequel Series
---
Justified (Hulu)
Synopsis: Based on Elmore Leonard's novella "Fire in the Hole," Justified was developed by Graham Yost and stars Timothy Olyphant as Deputy US Marshal Raylan Givens, a lawman who finds himself drawn back to his home state of Kentucky.
---
Also Read: Shows Like 'Bodyguard' To Watch While Hoping For Season 2
---
Bodyguard (Netflix)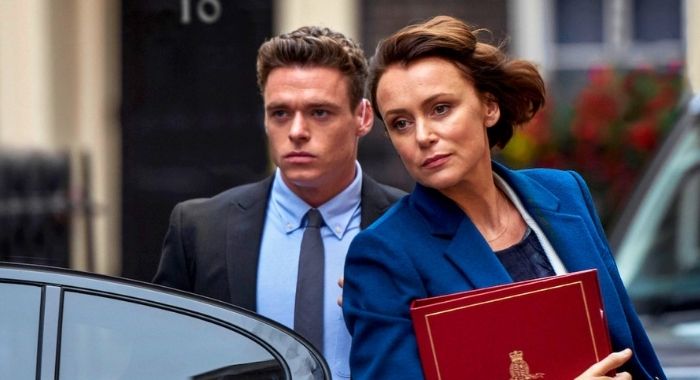 Synopsis: Set in and around the corridors of power, Bodyguard tells the fictional story of David Budd (Richard Madden), a heroic but volatile war veteran now working as a Specialist Protection Officer for the Royalty and Specialist Protection Branch (RaSP) of London's Metropolitan Police Service. When he is assigned to protect the ambitious and powerful Home Secretary Julia Montague (Keeley Hawes), whose politics stand for everything he despises, Budd finds himself torn between his duty and his beliefs. Responsible for her safety, is he actually her biggest threat?
---
Also Read: Shows Like 'The Night Agent' To Watch While Waiting For Season 2
---
The Night Agent (Netflix)
Synopsis: Based on the novel by Matthew Quirk, The Night Agent is a sophisticated, character-based, action-thriller centering on a low level FBI Agent who works in the basement of the White House, manning a phone that never rings — until the night that it does, propelling him into a fast moving and dangerous conspiracy that ultimately leads all the way to the Oval Office.
---
Also Read: Thrilling Shows Like 'Rabbit Hole' To Watch While Hoping For Season 2
---
Synopsis: Private espionage operative John Weir finds himself in the midst of a battle over the preservation of democracy in a world at odds with misinformation, behavioral manipulation, the surveillance state and the interests that control these extraordinary powers.
---
Also Read: Shows Like 'Prison Break' To Watch If You Miss the Series
---
Prison Break (Hulu)
Synopsis: Due to a political conspiracy, an innocent man is framed for the death of the vice president's brother. But his own brother will not let him be executed for a crime he didn't commit, and the two plan to escape before his sentence is carried out.
---
Also Read: Shows Like 'Quantico' To Watch If You Miss the Series
---
Quantico (Hulu)
Synopsis: A diverse group of recruits has arrived at the FBI Quantico Base for training. They are the best, the brightest, and the most vetted, so it seems impossible that one of them is suspected of masterminding the biggest attack on New York City since 9/11. Stars Yasmine Al Massri (Nimah Amin), Johanna Braddy (Shelby Wyatt), Priyanka Chopra (Alex Parrish), Jake McLaughlin (Ryan Booth), Aunganue Ellis (Miranda Shaw), Tate Ellington (Simon Asher), Graham Rogers (Caleb Haas).