12 Monkeys is definitely one of the best time travel dramas ever made. Based on a 1995 film of the same name, the Syfy series follows James Cole and Dr. Cassandra "Cassie" Railly as they try to stop the titular Army of the 12 Monkeys from destroying the world. James Cole has traveled back in time to complete this mission while Cassie is from her own time. 12 Monkeys ran for four brilliant seasons concluding its run in 2018. So, if you miss the brilliant mind-bending series here are some more shows you could watch next.
Travelers (Netflix)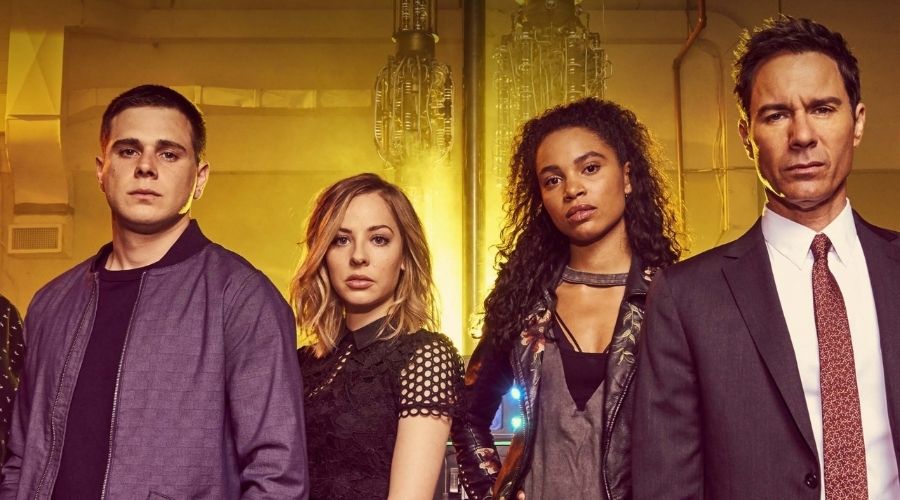 Synopsis: Hundreds of years from now, the last surviving humans discover the means of sending consciousness back through time, directly into people in the 21st century. These "travelers" assume the lives of seemingly random people, while secretly working as teams to perform missions in order to save humanity from a terrible future. These travelers are: FBI Special Agent Grant MacLaren (Eric McCormack), the team's leader; Marcy (Mackenzie Porter), a young, intellectually disabled woman in the care of her social worker, David (Patrick Gilmore); Trevor (Jared Paul Abrahamson), a high school quarterback; Carly (Nesta Marlee Cooper), a single mom in an abusive relationship; and Philip (Reilly Dolman), a heroin-addicted college student. Armed only with their knowledge of history and an archive of social media profiles, the travelers discover that 21st century lives and relationships are as much a challenge as their high-stakes missions.
---
Also Read: Mind-Bending Shows Like 'Dark' To Watch If You Miss the Series
---
Dark (Netflix)
Netflix's mind-bending German thriller series Dark is the best sci-fi and time-travel series of all time and that is a statement that millions of people will agree with. Dark begins with the disappearance of two children which later on evolves into a sinister conspiracy that involves time travel and connections that tie the whole town together. Dark ran for three seasons and with every new season, the series got better and better, which seemed impossible because every season of the series was so perfect.
---
Also Read: Mind-Bending Shows Like 'Fringe' To Watch If You Miss the Series
---
Synopsis: The critically acclaimed FRINGE explores the ever-blurring line between science fiction and reality, where hybrid monsters tear through sewers, thieves walk through walls and portals open to parallel universes. Unable to police a world in which science has advanced beyond our wildest dreams — and nightmares — FBI Special Agent Olivia Dunham seeks help from eccentric 'fringe' scientist Dr. Walter Bishop and his jack-of-all trades son, Peter. Under the direction of Special Agent Phillip Broyles and assisted by Agents Astrid Farnsworth, Charlie Francis and Lincoln Lee, the Fringe Team investigates unusual incidents that defy human logic and unimaginable events that threaten our very existence on a universal scale.
Synopsis: Orphan Black is a Sci-Fi thriller starring Tatiana Maslany in the lead role of Sarah, an outsider and orphan whose life changes dramatically after witnessing the suicide of a woman who looks just like her. Sarah hopes that cleaning out the dead woman's bank account will solve all of her problems. Instead, her problems multiply – and so does she.
---
Also Read: Best Shows Like 'The X-Files' To Watch If You Miss the Series
---
The X-Files is one of the biggest series of the 1990s, also regarded as one of the most influential series the Fox series follows Fox Mulder and Dana Scully investigating the most mind-bending paranormal activities. The series' original run was for 9 seasons with the series being revived in 2016 for two more seasons making the total season number 11 seasons.
---
Related: Shows Like 'Dirk Gently's Holistic Detective Agency' To Watch If You Miss the Series
---
Dirk Gently's Holistic Detective Agency (Hulu)
Synopsis: Welcome back to the world of Dirk Gently's Holistic Detective Agency. Every season is a dizzying, smart, dangerous, unexpected (for us, not the people involved) and fun adventure that explores a different genre. Season one is about time travel with body-swapping.
---
Also Read: Shows Like 'Resident Alien' To Watch While Waiting For Season 3
---
Resident Alien (Peacock)
Synopsis: An alien crash lands on Earth and must pass himself off as small-town human doctor Harry Vanderspeigle. Arriving with a secret mission to kill all humans, Harry starts off living a simple life…but things get a bit rocky when he's roped into solving a local murder and realizes he needs to assimilate into his new world.
---
Also Read: Best Shows Like Marvel's 'Legion' If You Miss The Series
---
Legion (Hulu)
Synopsis: Legion follows the story of "David Haller," a man who believed he was schizophrenic but discovered he might be the most powerful mutant in the world. With help from a team of specialists, David harnessed his unique abilities and learned he'd been haunted by a malicious parasite. Now, David is all that stands in the way of "Amahl Farouk" from attaining infinite and world-ending power.
Continuum
Synopsis: Contiuum is a police drama starring Rachel Nichols as Kiera Cameron, a cop from the future who finds herself trapped in the present day. When a group of fanatical terrorists escapes their planned execution in the year 2077 by vaulting back in time to 2012, they inadvertently sweep dedicated City Protective Services officer, Kiera, along with them. With unexpected assistance from teen tech genius Alec Sadler, Kiera infiltrates the local police department and forms an uneasy alliance with her new partner, detective Carlos Fonnegra. Though desperate to get back to her husband and son, Kiera concentrates on bringing down the terrorists before they can change the course of history forever.
---
Also Read: Best Shows Like 'Lost' To Watch If You Miss the Series
---
Lost will always be one of those shows that people will compare another shows to because during its run and even after it ended the mystery series remained at the top. Lost has a very brilliant and fascinating story involving a tropical island, smoke monsters, and time travel. While the series is highly regarded many fans of the series do admit that its finale is confusing at the very least and doesn't do justice to the series.