Hulu has one of the greatest TV show libraries in all of the streaming services, it has something for everyone, from comedy shows to thrillers and from sci-fi shows to horror, so today we are going to list the best shows exclusively on Hulu you can watch right now.
The Bear
Synopsis: FX's new original series The Bear follows Carmen "Carmy" Berzatto (Jeremy Allen White), a young chef from the fine dining world, who comes home to Chicago to run his family sandwich shop – The Original Beef of Chicagoland – after a heartbreaking death in his family. A world away from what he's used to, Carmy must balance the soul-crushing realities of small business ownership, his strong-willed and recalcitrant kitchen staff and his strained familial relationships, all while grappling with the impact of his brother's suicide. The Bear is about food, family, the insanity of the grind, the beauty of Sense of Urgency and the steep slippery downsides. As Carmy fights to transform both The Original Beef of Chicagoland and himself, he works alongside a rough-around-the-edges kitchen crew that ultimately reveal themselves as his chosen family. In addition to White, this half-hour series stars Ebon Moss-Bachrach, Ayo Edebiri, Abby Elliott, Lionel Boyce and Liza Colón-Zayas, with Edwin Lee Gibson and Matty Matheson in recurring roles.
---
Also Read: Best Shows Like 'Under the Banner of Heaven' To Watch If You Loved the Series
---
Under the Banner of Heaven
Synopsis: FX's Under the Banner of Heaven, the original limited series inspired by the true crime bestseller by Jon Krakauer, follows the events that led to the 1984 murder of Brenda Wright Lafferty (Daisy Edgar-Jones) and her baby daughter in a suburb in the Salt Lake Valley, Utah. As Detective Jeb Pyre (Andrew Garfield) investigates events which transpired within the Lafferty family, he uncovers buried truths about the origins of the LDS religion and the violent consequences of unyielding faith. What Pyre, a devout Mormon, unearths leads him to question his own faith.
The Terror
Synopsis: The Terror is an anthology series exploring historical speculative fiction based on true events.
---
Also Read: Best Shows Like 'Only Murders in the Building' To Watch While Waiting For Season 2
---
Only Murders in the Building
Synopsis: From the minds of Steve Martin, Dan Fogelman & John Hoffman comes a comedic murder-mystery series for the ages. Only Murders in the Building follows three strangers (Steve Martin, Martin Short, and Selena Gomez) who share an obsession with true crime and suddenly find themselves wrapped up in one. When a grisly death occurs inside their exclusive Upper West Side apartment building, the trio suspects murder and employs their precise knowledge of true crime to investigate the truth. As they record a podcast of their own to document the case, the three unravel the complex secrets of the building which stretch back years. Perhaps even more explosive are the lies they tell one another. Soon, the endangered trio comes to realize a killer might be living amongst them as they race to decipher the mounting clues before it's too late.
The Dropout
Synopsis: Money. Romance. Tragedy. Deception. Hulu's limited series "The Dropout," the story of Elizabeth Holmes (Amanda Seyfried) and Theranos is an unbelievable tale of ambition and fame gone terribly wrong. How did the world's youngest self-made female billionaire lose it all in the blink of an eye? The Dropout stars Amanda Seyfried as Elizabeth Holmes and Naveen Andrews as Sunny Balwani. The limited series also includes guest stars Utkarsh Ambudkar, Kate Burton, Michel Gill, LisaGay Hamilton, William H. Macy, Elizabeth Marvel, Laurie Metcalf, Dylan Minnette, Alan Ruck, Sam Waterston, Michaela Watkins and more.
---
Also Read: Best Shows Like 'The Great' To Watch While Waiting For Season 3
---
The Great
Synopsis: EMMY® NOMINATED The Great is a satirical, comedic drama about the rise of Catherine the Great from outsider to the longest reigning female ruler in Russia's history. A fictionalized, fun and anachronistic story of an idealistic, romantic young girl, who arrives in Russia for an arranged marriage to the mercurial Emperor Peter. Hoping for love and sunshine, she finds instead a dangerous, depraved, backward world that she resolves to change. All she has to do is kill her husband, beat the church, baffle the military and get the court onside. A very modern story about the past which encompasses the many roles she played over her lifetime as lover, teacher, ruler, friend, and fighter. Incorporating historical facts occasionally, the series stars Elle Fanning as Catherine, Nicholas Hoult, Phoebe Fox, Adam Godley, Gwilym Lee, Charity Wakefield, Douglas Hodge, Sacha Dhawan, Sebastian de Souza, Bayo Gbadamosi and Belinda Bromilow.
PEN15
Synopsis: Pen15 is an R-rated "traumedy" set in middle school as it really happened in the year 2000. Anna Konkle and Maya Erskine play versions of themselves as thirteen year old outcasts, surrounded by actual thirteen year olds. In this world, seventh grade never ends and the pains of growing up are inevitable.
---
Also Read: Comedy Shows Like 'How I Met Your Father' To Watch While Waiting For Season 2
---
How I Met Your Father
Synopsis: In the near future, Sophie (Hilary Duff) is telling her son the story of how she met his father: a story that catapults us back to the year 2021 where Sophie and her close-knit group of friends are in the midst of figuring out who they are, what they want out of life, and how to fall in love in the age of dating apps and limitless options. The series stars Hilary Duff, Christopher Lowell, Francia Raisa, Tom Ainsley, Tien Tran, Suraj Sharma as well as recurring stars, Kim Cattrall, Daniel Augustin, Ashley Reyes and Josh Peck.
Fargo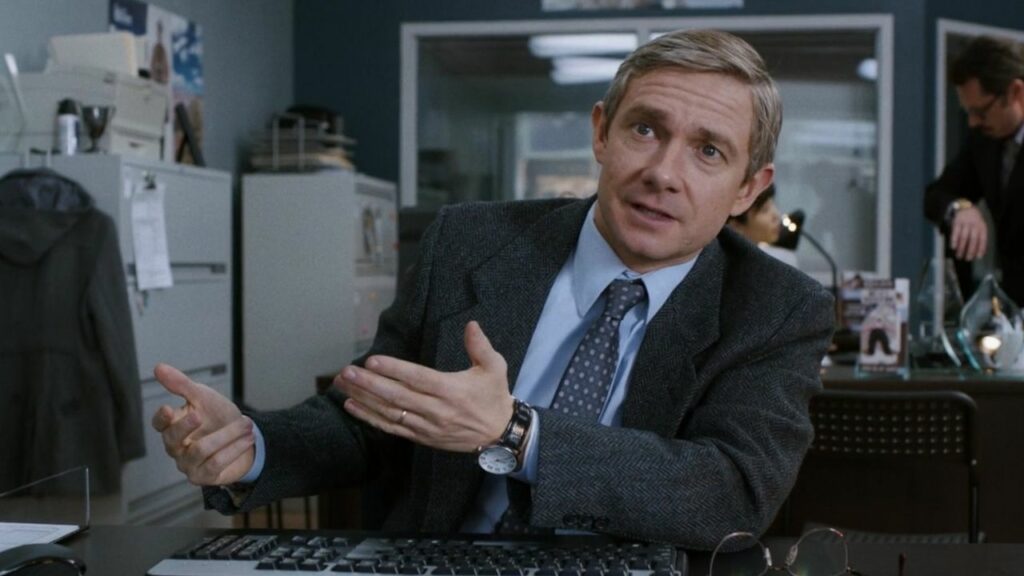 Synopsis: Fargo, adapted by novelist/writer Noah Hawley and inspired by the film of the same title follows all-new "true" crime case with new characters, all entrenched in the trademark humor, murder and "Minnesota nice" that has made the film an enduring classic.
---
Also Read: Best Shows Like 'Solar Opposites' To Watch While Waiting For Season 3
---
Solar Opposites
Synopsis: A team of four aliens escape their exploding home world only to crash land into a move-in ready home in suburban America. They are evenly split on whether Earth is awful or awesome. Korvo (Justin Roiland) and Yumyulack (Sean Giambrone) only see the pollution, crass consumerism, and human frailty while Terry (Thomas Middleditch) and Jesse (Mary Mack) love humans and all their TV, junk food and fun stuff. Their mission: protect the Pupa, a living super computer that will one day evolve into its true form, consume them and terraform the Earth.
Normal People
Synopsis: Based on Sally Rooney's New York Times best-selling novel, Normal People tracks the tender but complicated relationship of Marianne and Connell from the end of their school days in a small town in the west of Ireland to their undergraduate years at Trinity College. At school, he's well-liked and popular, while she's lonely, proud, and intimidating. But when Connell comes to pick up his mother from her cleaning job at Marianne's house, a strange and indelible connection grows between the two teenagers – one they are determined to conceal. A year later, they're both studying in Dublin and Marianne has found her feet in a new social world but Connell hangs at the sidelines, shy and uncertain. The series stars Daisy Edgar-Jones (War of the Worlds, Cold Feet) as Marianne, and Paul Mescal, in his first television role, as Connell.
---
Also Read: Best Shows Like 'The Handmaid's Tale' To Watch While Waiting For Season 5
---
The Handmaid's Tale
Synopsis: "The Handmaid's Tale" is the story of the dystopian Gilead, a totalitarian society in what was formerly part of the U.S. Facing a plunging birthrate, Gilead is ruled by a fundamentalism regime that treats women as property. As one of the few remaining fertile women, Offred is a Handmaid, one of the caste of women forced into sexual servitude as an attempt to repopulate a devastated world. Offred navigates between Commanders, their wives, domestic Marthas, and her fellow Handmaids.
Mrs. America
Synopsis: Mrs. America tells the story of the movement to ratify the Equal Rights Amendment (ERA), and the unexpected backlash led by a conservative woman named Phyllis Schlafly, aka "the sweetheart of the silent majority." Through the eyes of the women of the era – both Schlafly and second wave feminists Gloria Steinem, Betty Friedan, Shirley Chisholm, Bella Abzug and Jill Ruckelshaus – the series explores how one of the toughest battlegrounds in the culture wars of the 70s helped give rise to the Moral Majority and forever shifted the political landscape. Mrs. America features an all-star team in front of and behind the cameras. Two-time Academy Award and Golden Globe Award winner Cate Blanchett headlines as Phyllis Schlafly, leading a stellar cast portraying some of the most iconic women of the era, including Emmy Award nominated Rose Byrne as Gloria Steinem, Emmy Award winner Margo Martindale as Bella Abzug, Emmy and Golden Globe Award winner Uzo Aduba as Shirley Chisholm, Emmy Award nominated Elizabeth Banks as Jill Ruckelshaus, and Emmy and Golden Globe Award winner Tracey Ullman as Betty Friedan.
---
Also Read: Best Shows Like 'Pam & Tommy' To Watch If You Already Binged the Hulu Series
---
Pam & Tommy
Synopsis: Set in the Wild West early days of the Internet, "Pam & Tommy" is based on the incredible true story of the Pamela Anderson (Lily James) and Tommy Lee (Sebastian Stan) sex tape. Stolen from the couple's home by a disgruntled contractor (Seth Rogen), the video went from underground bootleg-VHS curiosity to full-blown cultural obsession when it hit the Web in 1997. A love story, crime caper and cautionary tale rolled into one, the eight-part original limited series explores the intersection of privacy, technology and celebrity, tracing the origins of our current Reality TV Era to a stolen tape seen by millions but meant to have an audience of just two.
Devs
Synopsis: In Devs, an FX limited series, a young software engineer, Lily Chan, investigates the secret development division of her employer, a cutting-edge tech company based in Silicon Valley, which she believes is behind the murder of her boyfriend. Devs stars Sonoya Mizuno as "Lily Chan;" Nick Offerman as "Forest," the CEO of Amaya; Jin Ha as "Jamie," Lily's former boyfriend; Karl Glusman as "Sergei," Lily's boyfriend; Zach Grenier as "Kenton," Amaya's Head of Security; Stephen McKinley Henderson as "Stewart," one of the top minds working in Amaya's secret development division; Cailee Spaeny as the young, brilliant "Lyndon;" and Alison Pill as "Katie," the gifted quantum physicist and second in command at Amaya. Alex Garland writes, directs and serves as executive producer of Devs along with Andrew Macdonald and Allon Reich of DNA TV, Scott Rudin, Eli Bush and Garrett Basch.
Castle Rock
Synopsis: Castle Rock takes viewers into the chilling world of acclaimed best-selling author Stephen King in this psychological horror series from J.J. Abrams' Bad Robot Productions in association with Warner Bros. Television. The drama series stars André Holland (Moonlight, Selma, 42), Melanie Lynskey (Togetherness, Up in the Air), and Bill Skarsgård (It, Atomic Blonde) with Jane Levy (Suburgatory, Shameless) and Sissy Spacek (Carrie, Coal Miner's Daughter) and special guest star Scott Glenn (The Leftovers). A psychological-horror series set in the Stephen King multiverse, Castle Rock combines the mythological scale and intimate character storytelling of King's best-loved works, weaving an epic saga of darkness and light, played out on a few square miles of Maine woodland.
---
Also Read: Best Shows Like 'Reservation Dogs' To Watch While Waiting For Season 2
---
Reservation Dogs
Synopsis: From Co-Creators and Executive Producers Sterlin Harjo and Taika Waititi, Reservation Dogs is a half-hour comedy that follows the exploits of four Indigenous teenagers in rural Oklahoma who steal, rob and save in order to get to the exotic, mysterious and faraway land of California. "Bear Smallhill" (D'Pharaoh Woon-A-Tai) is destined to be a warrior, and a leader. The only problem is he's not a good fighter, and the gang doesn't really consider him the leader. But with the guidance of a questionable spirit guide, he just might get there. "Elora Danan" (Devery Jacobs) may be the true leader of the group. But she's so focused on getting to California, and so oblivious to her own power, that she often can't see the beauty and goodness in herself and all around her. Street-smart tough girl "Willie Jack" (Paulina Alexis) is the beating heart of the group. She's always looking out for her crew. Meanwhile, "Cheese" (Lane Factor) is the gentle, quiet ride-or-die who is so willing to go along with the group that he never stops to consider what his own dreams might be. One year ago, Daniel, the fifth member of the Reservation Dogs, died. Struggling to make sense of the loss, the remaining four blame their boring, small town and its ability to crush the spirit. They decide to honor Daniel by adopting his dream of getting to California as their own. To succeed, they will have to save enough money, outmaneuver the methheads at the junkyard on the edge of town, constantly dodge conspiracy-obsessed Lighthorseman "Big" (Zahn McClarnon) and survive a turf war against a much tougher rival gang, led by the enigmatic "Jackie" (Elva Guerra). Reservation Dogs has Native rappers, catfish, Indigenous superstitions and spirits both hilarious and terrifying, laughter, tears, unexpected grandmothers, decent people, terrible people and a cavalcade of supporting characters who color and shade this already vibrant world.
Veronica Mars
Synopsis: Spring breakers are getting murdered in Neptune, thereby decimating the seaside town's lifeblood tourist industry. After Mars Investigations is hired by the family of one of the victims to find their son's killer, Veronica is drawn into an epic eight-episode mystery that pits the enclave's wealthy elites, who would rather put an end to the month-long bacchanalia, against a working class that relies on the cash influx that comes with being the West Coast's answer to Daytona Beach.
The Mindy Project
Synopsis: The Mindy Project is a biting new single-camera comedy from Emmy Award-nominated writer/producer and New York Times best-selling author Mindy Kaling ("The Office") that follows a woman who, despite having a successful career, is unlucky in love and desperately needs to get her personal life back on track before her friends and colleagues are forced to stage an intervention. Funny, impatient and politically incorrect, Mindy Lahiri (Kaling) can quote every romantic comedy starring Meg Ryan that exists. She loves the good ones and the bad ones, because the girl always gets the guy. Mindy is determined to be more punctual, spend less money, lose weight and read more books — all in pursuit of becoming a well-rounded perfect woman… who can meet and date the perfect guy.
---
Also Read: Short Shows on Hulu Perfect For Binge-Watching
---
Nine Perfect Strangers
Synopsis: Based on The New York Times bestselling book by author Liane Moriarty, "Nine Perfect Strangers" takes place at a boutique health-and-wellness resort that promises healing and transformation as nine stressed city dwellers try to get on a path to a better way of living. Watching over them during this 10-day retreat is the resort's director, Masha, a woman on a mission to reinvigorate their tired minds and bodies. However, these nine "perfect" strangers have no idea what is about to hit them. The eight-episode series stars Nicole Kidman, Melissa McCarthy, Michael Shannon, Luke Evans, Bobby Cannavale, Regina Hall, Samara Weaving, Melvin Gregg, Asher Keddie, Grace Van Patten, Tiffany Boone and Manny Jacinto.