Netflix's coming-of-age drama series Heartstopper is brilliant and there is no doubt that the fans are excited for Season 2. The Netflix series has a 100% on Rotten Tomatoes and it is a great addition to LGBTQ+ shows. The series is a brilliant blend of feel-good comedy and romance drama, and it helps that it also features a genius cast. While the fans are waiting for Netflix to drop Heartstopper Season 2 here are some movies and shows you could watch while waiting.
Love, Simon (Hulu)
Synopsis: Everyone deserves a great love story. But for seventeen-year old Simon Spier it's a little more complicated: he's yet to tell his family or friends he's gay and he doesn't actually know the identity of the anonymous classmate he's fallen for online. Resolving both issues proves hilarious, terrifying and life-changing. Directed by Greg Berlanti (Dawson's Creek, Brothers & Sisters), written by Isaac Aptaker & Elizabeth Berger (This is Us), and based on Becky Albertalli's acclaimed novel, LOVE, SIMON is a funny and heartfelt coming-of-age story about the thrilling ride of finding yourself and falling in love.
Handsome Devil (Peacock & Tubi)
Synopsis: Award-winning writer/director John Butler (The Stag) returns with Handsome Devil, a charming story of the unlikely friendship between two boarding school roommates – music-mad Ned (Fionn O'Shea) and macho rugby player Conor (Nicholas Galitzine). In this funny and observant coming-of-age tale, the boys take an instant dislike to each other but are encouraged by their English teacher (Andrew Scott) to find their own voices and defy the status quo.
The Half Of It (Netflix)
Synopsis: Shy, straight-A student Ellie is hired by sweet but inarticulate jock Paul, who needs help winning over a popular girl. But their new and unlikely friendship gets complicated when Ellie discovers she has feelings for the same girl.
Love, Victor (Hulu)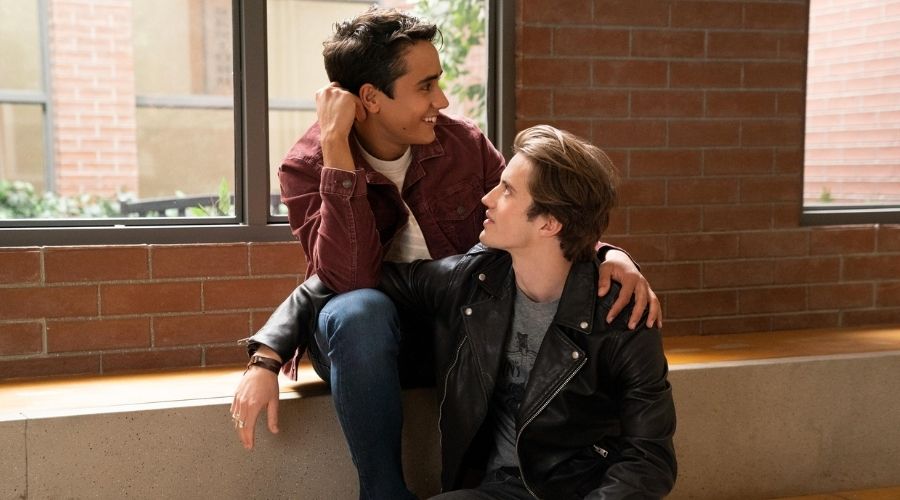 Synopsis: Set in the world of the 2018 groundbreaking film "Love, Simon," the series follows Victor, a new student at Creekwood High School on his own journey of self-discovery, facing challenges at home, adjusting to a new city, and struggling with his sexual orientation. When it all seems too much, he reaches out to Simon to help him navigate the ups and downs of high school. The 10-episode dramedy explores Victor's colorful and complex world, from his loving family, to his new friends and first crushes.
The Thing About Harry (FuboTV)
Synopsis: High school enemies, Harry and Sam, are forced to share a ride to their hometown for a party. Things take a turn when Sam learns Harry has come out. Stuck spending the night together, Harry and Sam wonder if they could be more than friends.
Steven Universe (HBO Max & Hulu)
Synopsis: The Crystal Gems are a team of magical beings who are the self-appointed guardians of the universe. Half-human, half-Gem hero Steven is the little brother of the group. The goofball is learning to save the world using the magical powers that come from his bellybutton and he goes on magical adventures with the rest of the Crystal Gems, even though he's not as powerful or smart as fellow group members Garnet, Amethyst and Pearl. Despite his shortcomings, Steven usually finds a surprising way to save the day.
Julie and the Phantoms (Netflix)
Synopsis: High schooler Julie (Madison Reyes) lost her passion for music after her mom died last year. But when the ghosts of three dreamy musicians (Charlie Gillespie, Owen Patrick Joyner, Jeremy Shada) from 1995 suddenly appear in her mom's old music studio, Julie feels her own inner spirit beginning to reawaken, and she's inspired to start singing and writing songs again. As their friendship with Julie grows, the boys convince her to create a new band together: Julie and the Phantoms. From Emmy and DGA Award-winning director and choreographer Kenny Ortega (High School Musical, Descendants) and choreographer Paul Becker (Descendants, Mirror Mirror) comes a fresh and exciting new musical series about embracing life's ups and downs, following your dreams, and discovering the power of your own voice. Dan Cross and David Hoge (The Thundermans, Pair of Kings) serve as showrunners and executive producers on the series, with executive producers George Salinas and Jaime Aymerich of Crossover Entertainment, as well as Michel Tikhomiroff and Fabio Danesi for Mixer Entertainment. Based on the original Brazilian series Julie e os Fantasmas written by Paula Knudsen, Tiago Mello and Fabio Danesi.
Young Royals (Netflix)
Synopsis: When Prince Wilhelm (Edvin Ryding) arrives at the prestigious boarding school Hillerska he finally gets an opportunity to explore his true self and find out what kind of life he really wants. Wilhelm starts dreaming of a future filled with freedom and unconditional love far away from the royal obligations – but when he unexpectedly becomes next in line for the throne his dilemma is heightened as he has to make a choice. Love or duty.