There are many great shows in this world and many of them get canceled unjustly, and they don't get to finish the story they were trying to tell what's even sadder is that sometimes they end on a note that needs some type of resolution. On Cinemablind we make a point of not ever trying to insert the writer's feelings in any posts but for this one, we kind of had to as most of our team agrees that these shows should not have been canceled. So, here are the 15 series cancellations that enrage me to this day.
---
Also Read: Best Shows Like 'Firefly' To Watch If You Miss the Series
---
Firefly
Synopsis: Five hundred years in the future, there's a whole new frontier, and a crew of the Firefly-class spaceship Serenity is eager to stake a claim on the action. They?ll take any job, legal or illegal, to keep fuel in the tanks and food on the table. But things get a bit more complicated after they take on a passenger wanted by the new totalitarian Alliance regime. Now they find themselves on the run, desperate to steer clear of Alliance ships and the flesh-eating Reavers who live on the fringes of space.
I Am Not Okay With This
Synopsis: I Am Not Okay With This is an irreverent origin story that follows a teenage girl who's navigating the trials and tribulations of high school, all while dealing with the complexities of her family, her budding sexuality, and mysterious superpowers just beginning to awaken deep within her. From director/EP of The End of the F***ing World Jonathan Entwistle and the producers of Stranger Things comes a new series based on the Charles Forsman graphic novel.
---
Also Read: Best Shows Like 'American Gods' To Watch If You Miss the Series
---
American Gods
Synopsis: When Shadow Moon is released from prison, he meets the mysterious Mr. Wednesday and a storm begins to brew. Little does Shadow know, this storm will change the course of his entire life. Left adrift by the recent, tragic death of his wife, and suddenly hired as Mr. Wednesday's bodyguard, Shadow finds himself in the center of a world that he struggles to understand. It's a world where magic is real, where the Old Gods fear both irrelevance and the growing power of the New Gods, like Technology and Media. Mr. Wednesday seeks to build a coalition of Old Gods to defend their existence in this new America, and reclaim some of the influence that they've lost. As Shadow travels across the country with Mr. Wednesday, he struggles to accept this new reality, and his place in it.
Pushing Daisies
Synopsis: This forensic fairytale follows Ned, a young man with a very special gift. As a boy, Ned discovered that he could return the dead briefly back to life with just one touch. Now a pie maker, Ned puts his ability to good use, not only touching dead fruit and making it ripe with everlasting flavor, but working with a private investigator to crack murder cases by raising the dead and getting them to name their killers. But the tale gets complicated when Ned brings his childhood sweetheart, Chuck, back from the dead–and keeps her alive. Chuck becomes the third partner in Ned and Emerson's private-investigation enterprise, encouraging them to use Ned's skills for good, not just for profit. Life would be perfect for Ned and Chuck, except for one cruel twist: If he ever touches her again, she'll go back to being dead, this time for good.
---
Also Read: Best Shows Like 'Futurama' To Watch If You Miss the Original Series
---
Futurama
Synopsis: While delivering pizza on New Year's Eve 1999, Philip J. Fry is accidentally cryonically frozen and thawed out one thousand years into the future. From the creator of "The Simpsons," "Futurama" is a sci-fi animated comedy.
Ash vs. Evil Dead
Synopsis: "Ash vs Evil Dead" follows Ash, the stock boy, aging lothario and chainsaw-handed monster hunter who has spent the last 30 years avoiding responsibility, maturity and the terrors of the Evil Dead. When a Deadite plague threatens to destroy all of mankind, Ash is finally forced to face his demons –personal and literal. Destiny, it turns out, has no plans to release the unlikely hero from its "Evil" grip.
Utopia (UK)
Synopsis: Utopia is a legend. A cult graphic novel rumoured to have predicted the worst disasters of the late twentieth century. Dismissed as the fevered imaginings of a madman by most, and idolised by a handful, only one thing seems certain about Utopia: come into contact with it and you won't be safe for long.
---
Also Read: Best Shows To Watch If You Miss 'Hannibal' Or You Could Just Rewatch The Series
---
Hannibal
Synopsis: FBI Agent Will Graham (Hugh Dancy) hunts the most notorious serial killers. Graham is both gifted and cursed with an extraordinary ability: he can think like his prey, seeing what they see and feeling what they feel. While pursuing an especially troubling, cannibalistic murderer, Special Agent Jack Crawford (Laurence Fishburne) teams Graham with a highly respected psychiatrist – a man with a taste for the criminally minded: Dr. Hannibal Lecter (Mads Mikkelsen).
Studio 60 on the Sunset Strip
Synopsis: Behind the humor of producing the popular late-night comedy sketch show "Studio 60 on the Sunset Strip" is a world of backstage politics and romances, and a very delicate balance between creative talent, on-air personalities and network executives.
Carnivàle
Synopsis: 1934. The Dustbowl. In a time of sandstorms, plagues, drought and pestilence, the final conflict between good and evil is about to begin. This epic HBO series focuses on the battle as it plays out against a pair of unusual backdrops: a traveling carnival working the American Dustbowl circuit, and an evangelical ministry in California.
The IT Crowd
Synopsis: Roy and Moss toil in the squalid basement of a huge company, fielding IT help desk calls. Roy has a lousy attitude coupled with an eye for the ladies, while Moss is dressed by his mother and has an aerosol can of water clipped to his belt with which to spray his ear when it gets hot. Into their life of 'users', pizza, science fiction and firewalls comes middle manager Jen, a spunky can-do career gal who doesn't know one end of a laptop from the other. Can she introduce real life to men who email the fire brigade in an emergency, who invent a psycho for an internet dating site and display sympathetic PMS symptoms once a month? 'The IT Crowd'. It's more than a way of life, it's a sitcom.
---
Also Read: Comedy Shows Like 'Chuck' To Watch If You Are Still Waiting For 'The Chuck Movie'
---
Chuck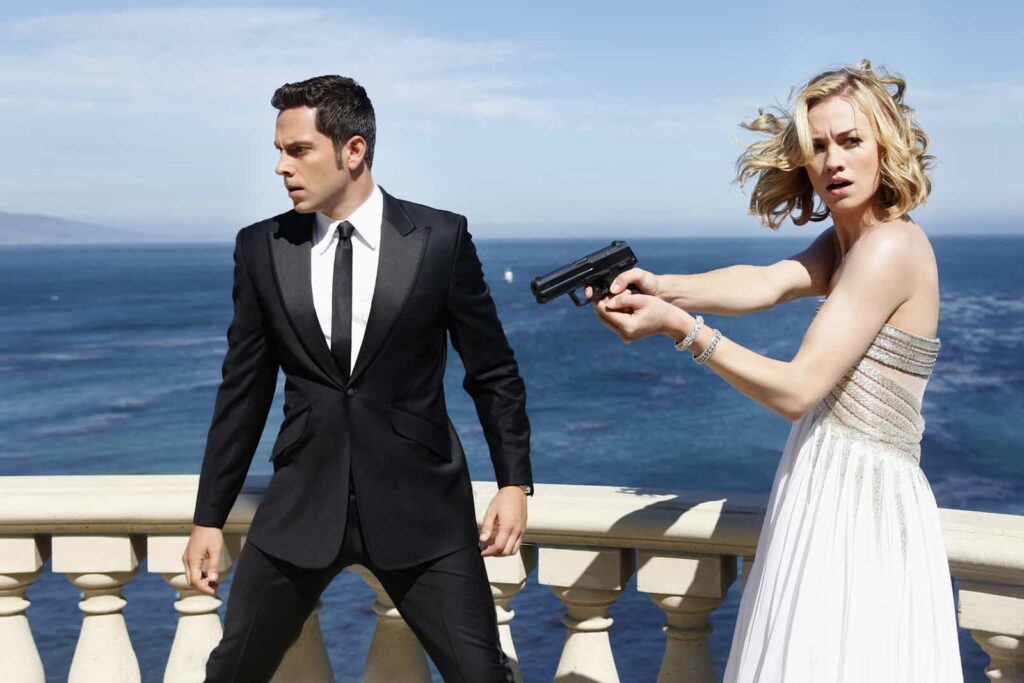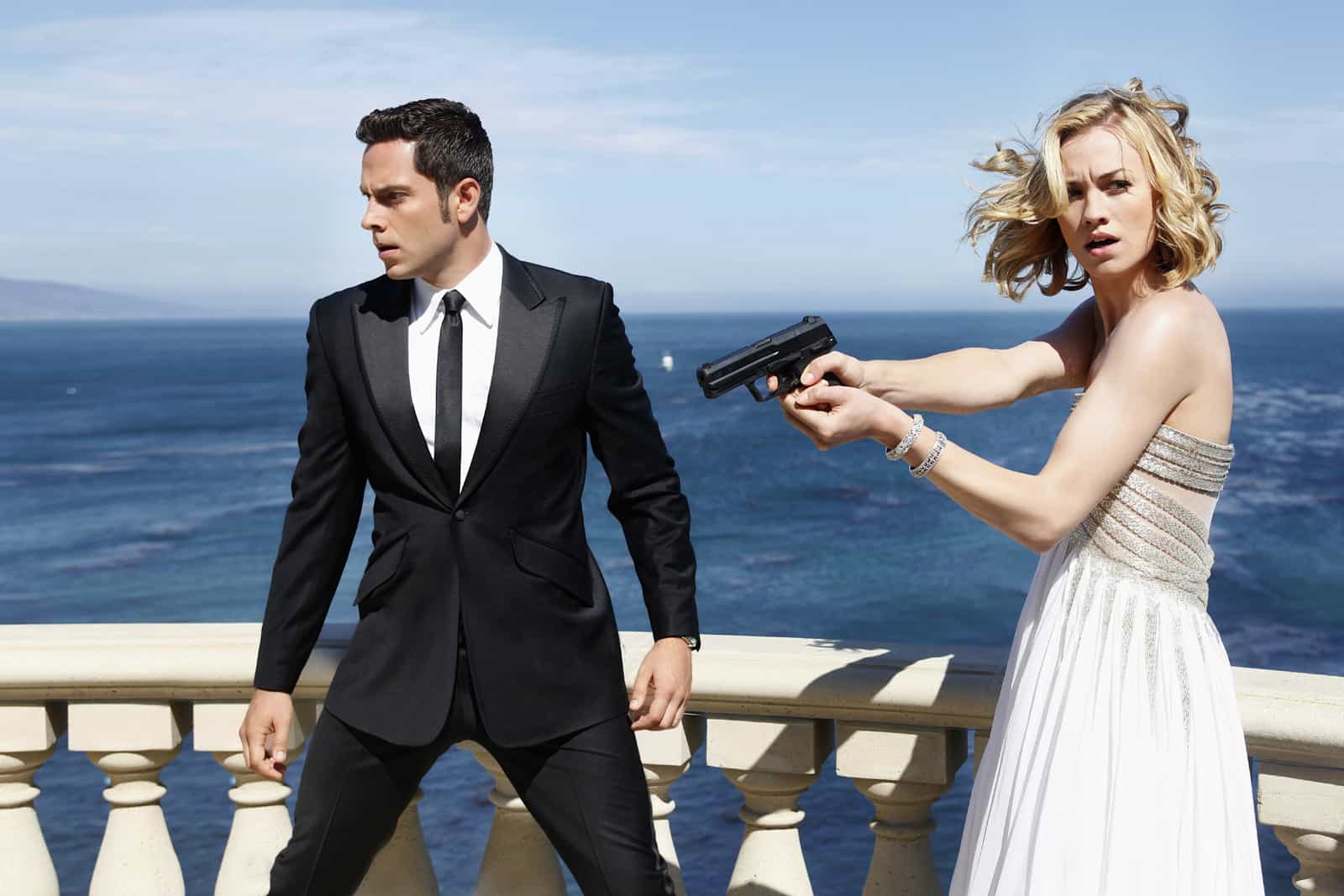 Synopsis: When Chuck Bartowski opens an e-mail subliminally encoded with government secrets, he unwittingly downloads an entire server of sensitive data into his brain. Now, the fate of the world lies in the unlikely hands of a guy who works at a Buy More Electronics store. Instead of fighting computer viruses, he must now confront assassins and international terrorists. With the government's most precious secrets in Chuck's head, Major John Casey of the National Security Agency assumes the responsibility of protecting him. His partner is the CIA's top agent — and Chuck's first date in years — Sarah Walker. They'll try to keep him safe by trading in his pocket protector for a bulletproof vest. Also starring are Joshua Gomez as Morgan Grimes, Chuck's best buddy, and Sarah Lancaster as Chuck's ever-supportive sister, Ellie.
My Name is Earl
Synopsis: In its freshman season, viewers are introduced to Earl Hickey, a lifelong (but oddly lovable) no-account who wins the lottery, then promptly loses the ticket after being hit by a car. In an epiphany, Earl realizes its all because of bad karma. Thus begins Earl's quest to turn his karma around by making amends for all his former misdeeds, of which there are plenty.
Wayne
Synopsis: Wayne can't help himself from righting the world's wrongs. Now, against all odds, he and his one-of-a-kind girlfriend Del are on a road trip from Brockton, Mass to Ocala, Florida to reclaim what's rightfully his: a majestic old car that was stolen from his sick father. With trouble behind them and danger ahead, Wayne and Del are bound to find themselves with their backs against the wall. But that's okay. They've been there before.
---
Also Read: Best Shows Like 'Dirk Gently's Holistic Detective Agency' To Watch If You Miss the Series
---
Dirk Gently's Holistic Detective Agency
Synopsis: Welcome back to the world of Dirk Gently's Holistic Detective Agency. Every season is a dizzying, smart, dangerous, unexpected (for us, not the people involved) and fun adventure that explores a different genre. Season one is about time travel with body-swapping.