HBO's Westworld is one of the most innovative and thought-provoking sci-fi series out there. The series centers around an Old West resembling state-of-the-art theme park which is filled with robot "hosts" that allows every guest to enter into a simulated reality and live out their every desire through the hosts, but when the hosts begin to gain consciousness they get tired of being the pawn in someone's game. While the show is not for everyone, it does offer a lot to enjoy for sci-fi fans, and how the series presents its ideas and relates them to real-world issues is also brilliant. If you like Westworld here are some more shows you should watch next.
Battlestar Galactica (Peacock)
Synopsis: "Battlestar Galactica" is an intriguing take on the classic adventure of a ragtag fleet of humans, the sole survivors of a devastating nuclear attack by the robot Cylons. Faced with an un-winnable battle against a deadly enemy, they are forced to flee under the protection of their one remaining warship, the outdated Battlestar Galactica. Pursued by the Cylons-some of whom have now taken human form-Commander Adama (Olmos) and President Roslin (McDonnell) lead these last remnants of humanity in search of a new home – a planet called Earth.
---
Also Read: Shows Like 'The Handmaid's Tale' To Watch After Season 5
---
The Handmaid's Tale (Hulu)
Synopsis: Adapted from the classic novel by Margaret Atwood, The Handmaid's Tale is the story of life in the dystopia of Gilead, a totalitarian society in what was formerly the United States. Facing environmental disasters and a plunging birthrate, Gilead is ruled by a twisted fundamentalism in its militarized 'return to traditional values'. As one of the few remaining fertile women, Offred (Elisabeth Moss) is a Handmaid in the Commander's household, one of the caste of women forced into sexual servitude as a last desperate attempt to repopulate the world. In this terrifying society, Offred must navigate between Commanders, their cruel Wives, domestic Marthas, and her fellow Handmaids – where anyone could be a spy for Gilead – all with one goal: to survive and find the daughter that was taken from her.
---
Also Read: Shows Like 'The Leftovers' To Watch If You Miss the Series
---
The Leftovers (HBO Max)
Synopsis: It has been called 'The Departure': a stunning global event in which more than 140 million people simply vanished. From 'Lost' co-creator Damon Lindelof and author Tom Perrotta (on whose bestseller this is based) comes this epic drama series that focuses on the 'leftovers' of the town of Mapleton as they react to this inexplicable event three years later.
---
Also Read: Shows Like 'Counterpart' To Watch If You Miss the Series
---
Synopsis: Howard Silk (J.K. Simmons) is a lowly cog in the bureaucratic machinery of a Berlin-based United Nations spy agency. When Howard discovers that his organization safeguards the secret of a crossing into a parallel dimension, he is thrust into a shadow world of intrigue, danger, and double cross… where the only man he can trust is his near-identical counterpart from this parallel world.
---
Also Read: Shows Like 'Raised By Wolves' To Watch If You Miss the Series
---
Raised By Wolves (HBO Max)
Synopsis: From Executive Producer Ridley Scott, Raised by Wolves centers on two androids tasked with raising human children on a mysterious virgin planet. As the burgeoning colony of humans threatens to be torn apart by religious differences, the androids learn that controlling the beliefs of humans is a treacherous and difficult task.
---
Also Read: Sci-Fi Shows Like 'Altered Carbon' To Watch If You Miss the Series
---
Altered Carbon (Netflix)
Synopsis: In the future, human minds are digitized and downloaded from body to body. Last night, the wealthiest man on Earth, Laurens Bancroft (James Purefoy) was murdered. To investigate his death, he brings back ex-Envoy soldier Takeshi Kovacs (Joel Kinnaman / Will Yun Lee) and in exchange, Bancroft offers Kovacs the chance to live again.
---
Also Read: Shows Like 'Lost' To Watch If You Miss the Series
---
Synopsis: ABC's LOST explores the destiny of the passengers of Oceanic Flight 815 who crashed on an island. The survivors not only have to rely on each other, but also cope with the secrets the mysterious island holds. Some become friends, others enemies and some stories remain to be told. There's much more than meets the eye, as it becomes apparent that everyone is somehow connected and that everyone has a purpose.
---
Also Read: Shows Like 'The Expanse' To Watch If You Miss the Series
---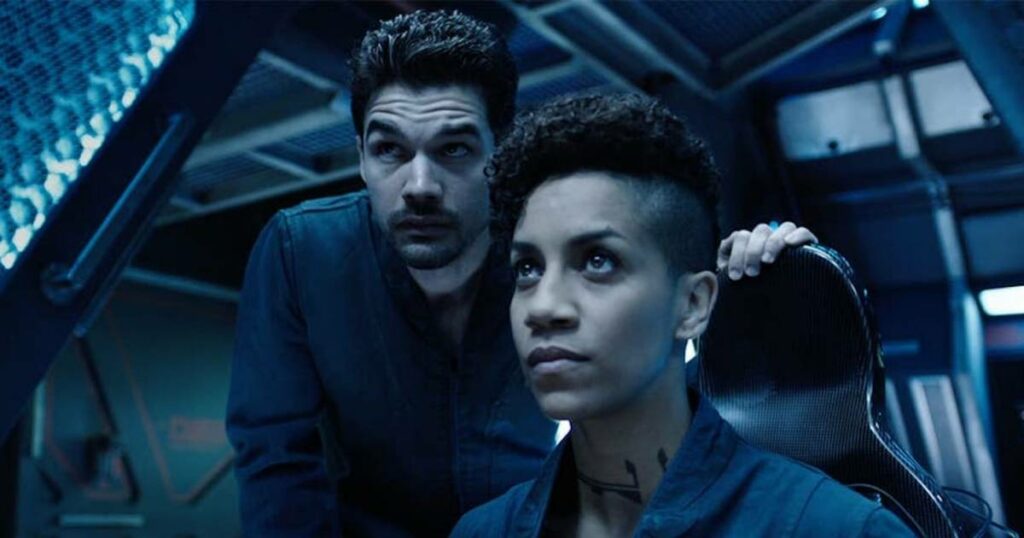 Synopsis: The disappearance of rich-girl-turned-political-activist Julie Mao links the lives of Ceres detective Joe Miller (Thomas Jane), accidental ship captain James Holden (Steven Strait) and U.N. politician Chrisjen Avasarala (Shohreh Aghdashloo). Amidst political tension between Earth, Mars and the Belt, they unravel the single greatest conspiracy of all time.
---
Also Read: Shows Like 'Snowpiercer' To Watch While Waiting For Season 4
---
Snowpiercer
Synopsis: Set more than seven years after the world has become a frozen wasteland, Snowpiercer centers on the remnants of humanity, who inhabit a perpetually-moving train that circles the globe. Class warfare, social injustice and the politics of survival play out in this riveting television adaptation based on the acclaimed movie and graphic novel series of the same name.
---
Also Read: Shows Like 'Black Mirror' To Watch While Waiting For Season 6
---
Black Mirror (Netflix)
Synopsis: Black Mirror is an anthology series that taps into our collective unease with the modern world, with each stand-alone episode a sharp, suspenseful tale exploring themes of contemporary techno-paranoia. Without questioning it, technology has transformed all aspects of our lives; in every home; on every desk; in every palm – a plasma screen; a monitor; a Smartphone – a Black Mirror reflecting our 21st Century existence back at us. The series is created and written by Charlie Brooker, and executive produced by Brooker and Annabel Jones.