Amazon's Prime Video has announced some cancellations that are sure to make some fans very angry and some renewals that are not much of a surprise but will make the fans stress-free about their favorite shows.
The streaming service has announced the renewal of seven of its shows and has officially canceled four shows. Prime Video has also announced that Marvelous Mrs. Maisel will be ending with its fifth and final season.
Check out every Prime Video renewal and cancellation in 2022 below:
---
Also Read: Shows Like 'The Marvelous Mrs. Maisel' To Watch While Waiting For the Final Season
---
The Marvelous Mrs. Maisel – Renewed For its Fifth and Final Season on February 17, 2022
Season 4 (Synopsis): It's 1960 and change is in the air. Looking to hone her act, Midge finds a gig with total creative freedom. But her commitment to her craft—and the places it takes her—creates a rift between her and the family and friends around her.
Cancellations
I Know What You Did Last Summer – Cancelled After Season 1 on January 7, 2022
Synopsis: Written and executive produced by Sara Goodman, I Know What You Did Last Summer is based on Lois Duncan's 1973 novel, which was also the basis of the iconic 1997 film. One year after the fatal car accident that haunted their graduation night, a group of teenagers find themselves bound together by a dark secret and stalked by a brutal killer. As they try to piece together who's after them, they reveal the dark side of their seemingly perfect town—and themselves. Everyone is hiding something, and uncovering the wrong secret could be deadly. I Know What You Did Last Summer is produced by Amazon Studios and Sony Pictures Television. Goodman writes and executive produces alongside Original Film's Neal H. Moritz and Pavun Shetty, Erik Feig, Peter Guber, Atomic Monster's James Wan, Michael Clear, and Rob Hackett, Craig William Macneill and Shay Hatten. The series stars Madison Iseman, Bill Heck, Brianne Tju, Ezekiel Goodman, Ashley Moore, Sebastian Amoruso, Fiona Rene, Cassie Beck, and Brooke Bloom.
As We See It – Cancelled After Season 1 on October 22, 2022
Synopsis: As We See It follows Jack (Rick Glassman), Harrison (Albert Rutecki), and Violet (Sue Ann Pien), twentysomething roommates on the autism spectrum, as they strive to get and keep jobs, make friends, fall in love, and navigate a world that eludes them. With the help of their families, aide, and sometimes even each other, these roommates experience setbacks and celebrate triumphs on their own unique journeys towards independence and acceptance. Series stars Glassman, Rutecki, and Pien all identify as living on the autism spectrum. The series also stars Sosie Bacon as their aide Mandy, Chris Pang as Violet's brother Van, and Joe Mantegna as Jack's father Lou.
Night Sky – Cancelled After Season 1 on July 6, 2022
Synopsis: Spanning space and time, Night Sky follows Irene (Sissy Spacek) and Franklin York (J.K. Simmons), a couple who, years ago, discovered a chamber buried in their backyard which inexplicably leads to a strange, deserted planet. They've carefully guarded their secret ever since, but when an enigmatic young man (Chai Hansen) enters their lives, the Yorks' quiet existence is quickly upended…and the mystifying chamber they thought they knew so well turns out to be much more than they could ever have imagined.
---
Also Read: Shows Like 'The Wilds' To Watch If You Already Miss the Series
---
The Wilds – Cancelled After Season 2 on July 28, 2022
Season 2 (Synopsis): Survival hangs in the balance for a group of teenage girls stranded on a deserted island, after the explosive discovery that what's happening to them is an elaborate social experiment. Season 2 ups the drama and keeps you guessing, with the introduction of more test subjects – a new island of teenage boys – who must also fight for survival under the watchful eye of the experiment's puppet master.
Renewal
---
Also Read: Shows Like 'Reacher' To Watch After Binging Season 1
---
Reacher – Renewed For Season 2 on February 7, 2022
Synopsis: Reacher follows Jack Reacher, a veteran military police investigator who has just recently entered civilian life. Reacher is a drifter, carrying no phone and the barest of essentials as he travels the country and explores the nation he once served. When Reacher arrives in the small town of Margrave, Georgia, he finds a community grappling with its first homicide in 20 years. The cops immediately arrest him and eyewitnesses claim to place Reacher at the scene of the crime. While he works to prove his innocence, a deep-seated conspiracy begins to emerge, one that will require Reacher's keen mind and hard-hitting fists to deal with. One thing above all is for sure: They picked the wrong guy to take the fall.
Harlem – Renewed For Season 2 on February 17, 2022
Synopsis: From writer Tracy Oliver (Girls Trip), Harlem is a new comedy following four stylish and ambitious best girlfriends in Harlem NYC, the mecca of Black culture in America. Camille is a popular young anthropology professor at Columbia with extensive knowledge of the dating norms of many cultures, but has a hard time navigating her own love life; Tye is a successful, queer dating app creator who prefers keeping vulnerability—and romantic partners—at arm's length; Quinn is a hopeless romantic and trust fund fashion designer who is trying to give back to the world while running a struggling business; Angie is a confident, vibrant, and filter-free singer and actress who also lives rent-free and fabulously with Quinn. Together, they level up from their 20s into the next phase of their careers, relationships, and big city dreams.
---
Also Read: Shows Like 'Upload' To Watch If You Have Already Binged Season 2
---
Upload – Renewed For Season 3 on May 11, 2022
Season 2 (Synopsis): Upload is a sci-fi comedy series from Emmy Award-winning writer Greg Daniels (The Office, Parks and Recreation), set in a technologically advanced future where hologram phones, 3D food printers and automated grocery stores are the norm. Most uniquely, humans can choose to be "uploaded" into a virtual afterlife.
In Upload Season Two, Nathan is at a crossroads in his (after) life… his ex-girlfriend Ingrid has unexpectedly arrived to Lakeview hoping to strengthen their relationship, but his heart still secretly yearns for his customer service angel Nora. Meanwhile Nora is off the grid and involved with the anti-tech rebel group "The Ludds." Season Two is packed with new near-future concepts, including Lakeview's newest in-app digital baby program called, "prototykes," and other satirical glimpses of the technological advances and headaches to come.
The Summer I Turned Pretty – Renewed For Season 2 on June 8, 2022
Synopsis: The Summer I Turned Pretty is a multigenerational drama that hinges on a love triangle between one girl and two brothers, the ever-evolving relationship between mothers and their children, and the enduring power of strong female friendship. It is a coming-of-age story about first love, first heartbreak, and the magic of that one perfect summer. The Summer I Turned Pretty stars Lola Tung ("Belly"), Jackie Chung ("Laurel"), Rachel Blanchard ("Susannah"), Christopher Briney ("Conrad"), Gavin Casalegno ("Jeremiah"), Sean Kaufman ("Steven"), Alfredo Narciso ("Cleveland"), Minnie Mills ("Shayla") with Colin Ferguson ("John Conklin"), and Tom Everett Scott ("Adam Fisher").
---
Also Read: Shows Like 'The Boys' To Watch While Waiting For Season 4
---
The Boys – Renewed For Season 4 on June 10, 2022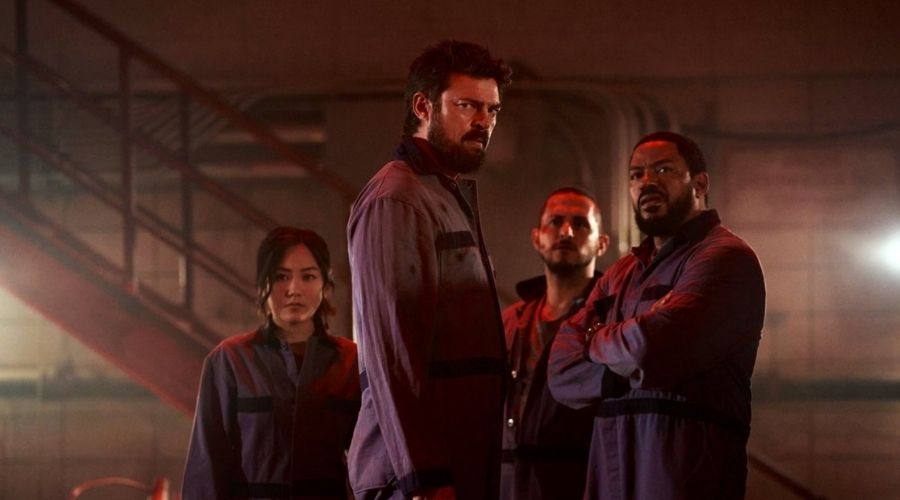 Season 3 (Synopsis): It's been a year of calm. Homelander's subdued. Butcher works for the government, supervised by Hughie of all people. But both men itch to turn this peace and quiet into blood and bone. So when The Boys learn of a mysterious Anti-Supe weapon, it sends them crashing into the Seven, starting a war, and chasing the legend of the first Superhero: Soldier Boy.
The Boys is a fun and irreverent take on what happens when superheroes—who are as popular as celebrities, as influential as politicians, and as revered as gods—abuse their superpowers rather than use them for good. Intent on stopping the corrupt superheroes, The Boys, a group of vigilantes, continue their heroic quest to expose the truth about The Seven and Vought—the multibillion-dollar conglomerate that manages the superheroes and covers up their dirty secrets. It's the seemingly powerless against the super powerful.
---
Also Read: Shows Like 'Outer Range' To Watch If You Liked the Series
---
Outer Range – Renewed For Season 2 on October 6, 2022
Synopsis: Outer Range centers on Royal Abbott (Josh Brolin), a rancher fighting for his land and family, who discovers an unfathomable mystery at the edge of Wyoming's wilderness. A thrilling fable with hints of wry humor and supernatural mystery, Outer Range examines how we grapple with the unknown.
At the onset of the series, the Abbotts are coping with the disappearance of daughter-in-law Rebecca. They are pushed further to the brink when the Tillersons (the gaudy owners of the neighboring profit-driven ranch) make a play for their land. An untimely death in the community sets off a chain of tension-filled events, and seemingly small-town, soil-bound troubles come to a head with the arrival of a mysterious black void in the Abbotts' west pasture. Wild revelations unfold as Royal fights to protect his family; through his eyes, we begin to see how time contains secrets held in the past and unsettling mysteries foreshadowed.